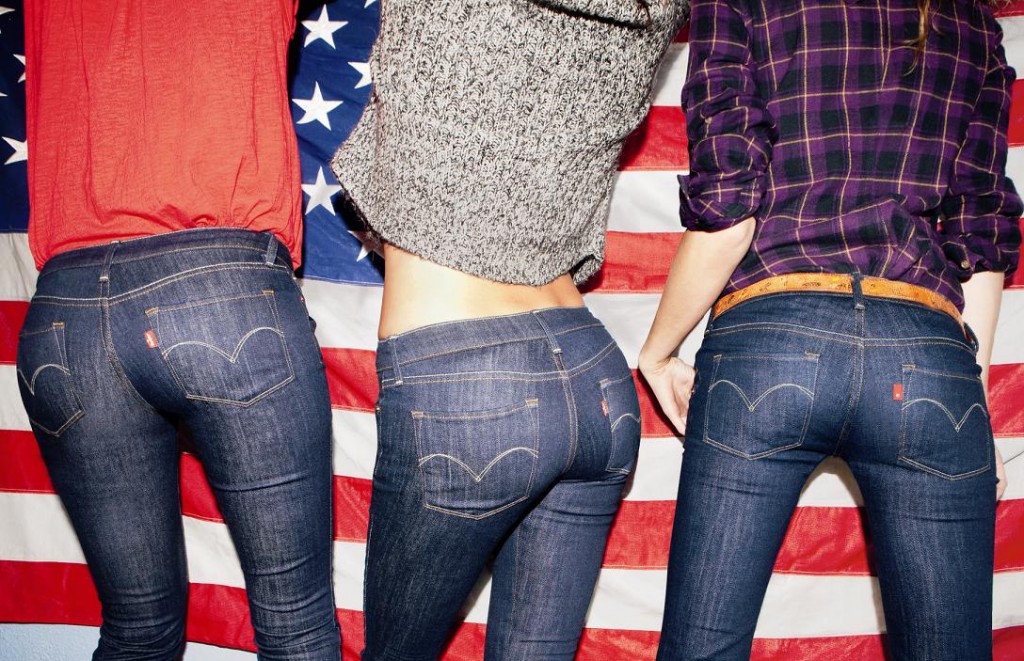 Levi's is a denim brand that is about as popular as water in the Western world. Everyone knows the name and it's one of the first brands that everyone looks to when they think about jeans. Why is that? Well, Levi's were the very first brand to invent jeans. They are responsible for the 5 pocket blues that we all know and love! Since they are such an iconic brand, I thought they definitely deserved the very first post here at The Jeans Blog, so I'm giving you a history lesson on their brand, Levi Strauss & Co.
In 1853, Bavarian-born Levi Strauss moved to Gold Rush era in San Francisco to open a dry goods business. From there, he sold clothes, boots and other goods to the small retail stores of the American West. While Levi was happy doing this, in 1872, Jacob Davis, a tailor from Reno, Nevada, teamed up with Levi Strauss to create and patent work wear riveted-for-strength made of brown cotton duck and true blue denim. After working on this for a year, in 1873 the the blue jean was born! Both Jacob and Levi had created the first blue jean, called "XX" to which the U.S. Patent and Trademark Office granted the patent #139,121 to Levi Strauss & Co. and Jacob Davis for their invention. You may recognise the Two Horse logo on the back patch of Levi's jeans and it demonstrates the incredible strength of the brands clothing. The logo was first branded onto the leather patch of the "XX" jeans in 1886 and is still used today. In 1890, the original "XX" blue jean was then given its iconic lot number 501®. This is still one of their most famous jeans to date!
Branching out the line, in 1895, Levi Strauss & Co. introduced its first bicycle pant, but a few years later in 1902, unfortunately Levi Strauss passed away in the September and his four nephews took over the family business, carrying out his numerous bequests to Bay Area charities, serving children and the poor. I think this was such a lovely thing to do. A few years later in 1906, disaster struck the company again when The San Francisco earthquake and fire destroyed the headquarters and two factories of Levi Strauss & Co. Being a great company though, the employee salaries continued, and temporary headquarters were opened to keep employees working. Soon after, a new factory was built at 250 Valencia Street.
In 1908, The Two Horse trademark was registered in Japan and Levi's global reach began in earnest with markets like Australia and South Africa soon to follow. Going global was a huge deal for the brand and helped launch them into being the most iconic jeans brand there is. A year after in 1909, Levi's branched out again with the introduction of fine khaki pants and coats to LS&Co.'s line of clothing. A few years later in 1912, they also came out with Koveralls for children which were a one-piece denim playsuit. This was incredibly helpful as denim was so strong and sturdy, it meant the overalls would last longer.
In 1918, Freedom-Alls made their appearance. This tunic/trouser outfit was designed to give women freedom of movement and release them from the restrictive clothing of the era. There isn't too much online about these overalls, but I can imagine they were welcomed with open arms by the ladies! A decade later in 1928, it was official. Levi's registered their brand name 'Levi's' as a trademark. Cementing their success in stone.
Now, after this initial history of the brand, how did jeans develop on from work-wear into the fashion statement that they are today? The cowboys may just have something to do with that! In the 1930's, authentic cowboys were wearing Levi's jeans which elevated the brand to a certain status. The Western clothing became synonymous with a life of freedom and independence. This way of life spread across America and Easterners who wanted an authentic cowboy experience headed out to the ranches out West, where they could purchase their first pair of Levi's jeans and take them home to wow their friends – and help spread the Western influence to the rest of the country.
Now comes the fun part! How did jeans become a woman's staple? In 1934, the first jeans for women were made. Called the Lady Levi's, they were made of pre-shrunk denim and constructed with many of the same features of the men's 501 jeans, however they owed their feminine allure to a fashionably high, nipped in waist. I'm sure this territory is starting to sound familiar now isn't it? A couple of years after the Lady Levi's, in 1936 the Red Tab was first placed onto the right back pocket of the jeans and the word LEVI'S® was stitched in white in all capital letters on one side only. The Red Tab was created to differentiate Levi's jeans from competitors.
Now, in 1941 when the war was happening, changes had to be made to Levi's products in order to conform to rules set by the War Production Board for the conservation of raw materials. The famous Arcuate back pocket stitching was then painted instead of stitched to save thread. The back waistband cinch was completely removed and then to conserve metal, so were the watch pocket (this is now known as the coin pocket) rivets. This time period also represented one of global expansion for the brand, showcasing the American icon on GIs overseas.
You may not realise this, but in the 1950's, denim was banned in some schools, especially in the East, for being a bad influence. The portrayal of denim-clad "juvenile delinquents" in movies and on TV led many school administrators to prohibit denim in the classroom, fearing that wearing the rebel uniform would make students go against authority. Living in today's world, I find that so hard to believe that a pair of jeans could cause such rebellion.
Then, in 1954, the Levi's Denim Family line was launched, thanks to denim's new appeal as a leisure fabric. This meant that what was once only work-wear was now branching out into the world of casual attire. In 1960, Levi Strauss & Co. opened its first factory in the South. Located in Blackstone, Virginia, the company insisted that the facility was integrated at a time when desegregation had not yet been mandated by federal law. You can really start to see now just how much of an impact Levi's was having on America!
The new, slimmer silhouettes of the 1960's inspired Slim Fits, this was a 5-pocket twill trouser for young men. Teenagers called them White Levi's because no one knew what to call blue jeans that aren't blue. I found this funny when I found out about it, trying to think back to a time where Levi's was the only fashionable jeans brand there was! Not long after that though, the brand developed a new idea, pre-shrunk Levi's. This meant that Levi's would do the shrinking for you! You may not know what I am on about here, but back then, everyone had to soak their jeans in hot water in order to get them to shrink down to fit. You can still purchase jeans like this today, but 95% of them are pre-shrunk now for ease.
In 1964, Levi Strauss & Co. patented the Sta-Prest® process for creating permanent creases in fine trousers and shirts. The Sta-Prest® pants collection was re-introduced in the Levi's Spring 2012 Collection actually, so you can still get a piece of it without going vintage!
As Levi's were now a global, extremely respected jeans brand, they decided to have some fun and announced the Levi's Denim Art Contest, inviting consumers to submit photos of their decorated jeans and jackets for a special judging. The winners then took a tour of American folk art museums during 1975.
Moving onto the 1980's now, Levi Strauss & Co. made clothing for the athletes at the Olympic Games in 1980 and 1984. Shortly after this, the famous 501® Blues television advertising campaign was launched at the Los Angeles Olympic Games. Some of you may remember this actually. As the 80's saw a load of trends and styles, the brand introduced the Dockers® brand, filling a niche for the baby boomer man who needed something to fill that wardrobe gap between his 501® jeans and his business suit.
This basically gives the history of Levi's and how they came about and developed into what they are today, but they do always keep their heritage and give a nod back quite often. For example, in 1989, the company's 150+ year history was captured in the Levi Strauss & Co. Archives, these are located at the headquarters in San Francisco. All of the old and very first jeans are kept in secure storage and treasured. I did have the chance to look at their Archive collection, but unfortunately I couldn't make it.
As denim sort of cooled down in the 90's as a trend after blowing up in the 80's, Levi's decided to keep the brand alive by launching Levi's® Vintage Clothing in 1996, a line that faithfully reproduces the fits, fabrics and characteristics of historic Levi's garments. This was a way of getting a real vintage pair of jeans in the current market. Then in 1999, something exciting happened for the brand, Time magazine named the 501® jean the Fashion Item of the Century, then in the same year, the 501® jean was reverse engineered and Engineered Jeans were launched worldwide.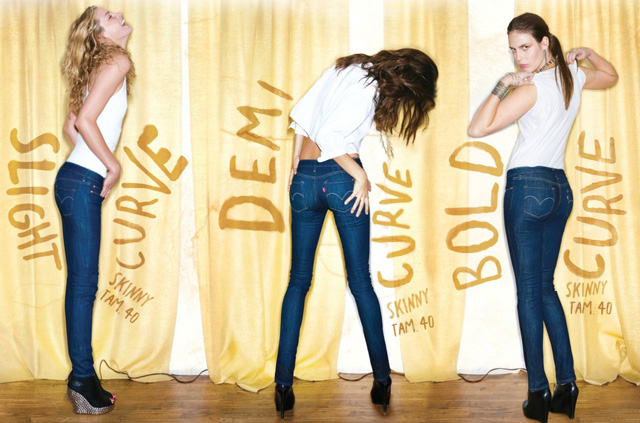 Levi's is still one of the most successful denim brands there is and they are going strong every year. A few years ago in 2010 they launched their brand new Curve ID collection which produces 3 different fits for women, Slight Curve, Demi Curve and Bold Curve. This invention has been a big hit as it means that women of all different shapes can wear Levi's. Some have trouble with gaping at the back, while others have jeans that are baggy in the thighs. This issue has been cured since each of these fits are cut differently, to accommodate the different body shapes. No more having to go up or down a size and sacrifice fit! Curve ID was created as a result of studying more than 60,000 body scans and listening to women around the world of all shapes and sizes.
In 2011, the company started to get more wise and ethical about their production, inventing Levi's® Water<Less™. The average pair of jeans uses 42 liters of water in the finishing process, so the Levi's® Water<Less™ Collection reduces the water consumption by up to 96%. It's the intersection of style and sustainability. Even celebrities like Will.I.Am are behind this and have created a collaboration collection with Levi's.
So, that just about sums up the history and essence of Levi's and I think it also gives a real insight as to what denim was like over the past century and a half and how it has truly developed into what it is today. A multi billion dollar industry which leads the fashion world. Everyone in the Western world owns a pair of jeans, if not multiple pairs, and it's guaranteed to be a wardrobe staple for 99% of people. So many girls love and wear vintage Levi's too, cutting them up into shorts for that high waisted trend, it just simply means that Levi's will always be in fashion now matter how the times change. How many of you love Levi's? You can shop their current collection online at Levi.com.