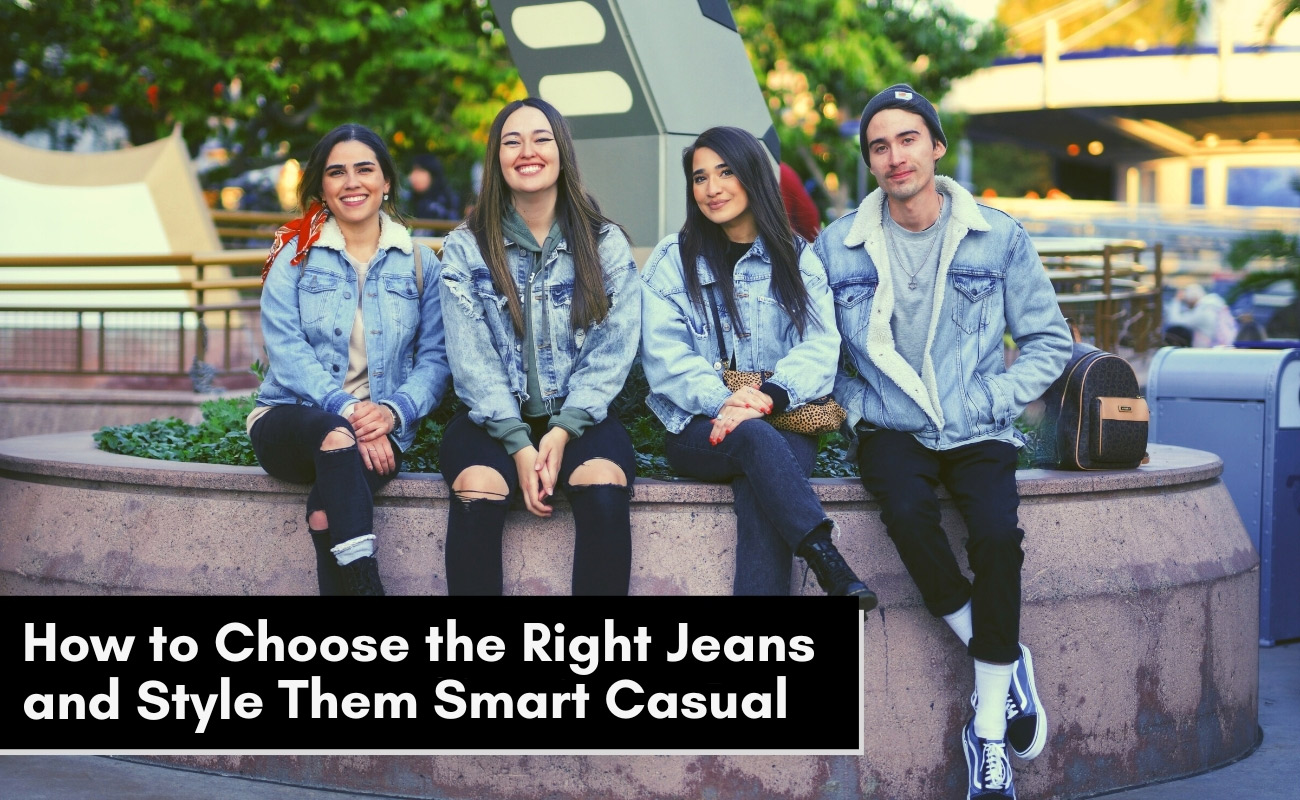 How to Choose the Right Jeans and Style Them Smart Casual
Jeans are a wardrobe staple that have stood the test of time. They are versatile, comfortable and can be dressed up or down depending on the occasion. However, with so many styles, fits, washes and brands to choose from, it can be overwhelming to find the perfect pair. Without knowing how to style different jeans after finding a perfect pair of jeans, any outfit can easily be ruined, as the main factor that counts in any outfit is the right pair of jeans that perfectly matches your outfit and is completely comfortable to wear as well.
Know Your Body Type
The first step in choosing the right jeans is to know your body type. Different body types have different features that can be accentuated or downplayed with the right pair of jeans. Here are some general guidelines to follow, but please check out post linked above for in depth details:
Hourglass: Choose some high-waisted jeans that hug your curves and show off your waistline.
Pear-shaped: Look for bootcut or flared jeans that balance out your hips and thighs.
Apple-shaped: Go for straight-legged jeans that elongate your legs and draw attention away from your midsection.
Athletic: Choose skinny or slim fit jeans that accentuate your toned legs.
Choose the Right Fit
Once you know your body type, it is important to choose the right fit. Jeans should fit snugly around your waist, hips and thighs without being too tight or too loose. Here are some popular fit options:
Skinny: These jeans are form-fitting and hug your body from waist to ankle. They are great for showing off your legs and pairing with oversized tops.
Slim: Slim fit jeans are a slightly looser option than skinny jeans. They are tapered at the ankle and offer a streamlined silhouette.
Straight: Straight-legged jeans have a consistent width from thigh to ankle. They are a classic and versatile option that can be dressed up or down.
Bootcut: Bootcut jeans flare out slightly at the ankle to accommodate boots or heels. They are a great option for balancing out wider hips.
Flared: Flared jeans have a more dramatic flair than bootcut jeans. They are a retro style that can add a touch of drama to any outfit.
Consider the Wash
Jeans come in a variety of washes, from dark indigo to light blue to black. The wash you choose can affect the overall look and feel of your outfit. Here are some popular wash options:
Dark Wash: Dark wash jeans are a classic option that can be dressed up or down. They are versatile and slimming, making them a great choice for any occasion.
Light Wash: Light wash jeans have a more casual and relaxed vibe. They are perfect for pairing with t-shirts and sneakers for a laid-back look.
Black: Black jeans offer a sleek and sophisticated look. They are a great alternative to dress pants for a night out.
Distressed: Distressed jeans have intentional rips, tears, or faded spots. They are a trendy option that can add some edge to your outfit.
Acid Wash: Acid wash jeans have a unique and retro look. They are a bold choice that can make a statement.
Pick the Right Length
Jeans come in a variety of lengths, from ankle-length to full-length to cropped. The length you choose can depend on the style of the jeans and the occasion. Here are some popular length options:
Ankle-length: Ankle-length jeans are a versatile option that can be worn with flats, sneakers or heels. They offer a sleek and modern look.
Full-length: Full-length jeans are a classic option that can be worn with any type of shoe. They offer a timeless and sophisticated look.
Cropped: Cropped jeans hit above the ankle and offer a more casual and playful look. They are perfect for warmer weather or for showing off your favorite shoes.
Styling Jeans Smart Casual
Now that you know how to choose the right pair of jeans, let us talk about how to style different jeans smart casually. Smart casual is a dress code that combines elements of formal wear with casual wear. It is perfect for a variety of occasions, from a night out with friends to a business casual work environment. Here are some tips on how to style your jeans for a smart casual look:
1. Start With a Button-up Shirt 
A button-up shirt is a classic and versatile piece that can elevate any outfit. Essential to every wardrobe and every outfit even closely resembles a formal look. These shirts are highly versatile as they can very easily match every outfit meant for all sorts of occasions. Choose a shirt in a solid color or subtle pattern and tuck it into your jeans. This will create a clean and polished look.
2. Add a Blazer or Jacket 
Layering is key when it comes to smart casual attire. A blazer or jacket can add a touch of sophistication to your outfit. Choose a blazer or jacket in a neutral color like black, navy or gray such as the Rip Wheeler Black Jacket. If both seem out of option, wear a cardigan in a cozy material like cashmere or wool.
3. Choose The Right Shoes 
Shoes can make or break an outfit, so choose wisely. For a smart casual look, opt for shoes that are dressier than sneakers but more casual than dress shoes. Loafers, ankle boots or Chelsea boots are all great options.
4. Accessorize With a Belt and Watch 
Accessories are the finishing touch to any outfit. A belt can add structure to your jeans and a watch can add a touch of sophistication. Choose a belt in a classic leather material and a watch with a clean and simple design.
5. Experiment With Different Washes and Styles 
Do not be afraid to experiment with different washes and styles of jeans. A pair of dark wash skinny jeans can look just as chic as a pair of light wash wide-leg jeans. Mix and match different styles and washes to create a unique and stylish look.
Conclusion
In conclusion, choosing the right pair of jeans and styling them for a smart casual look does not have to be complicated. With these tips and tricks, you can create a polished and sophisticated outfit that is both comfortable and stylish. Remember to choose the right fit, wash and length for your body type and experiment with different jeans style and accessories to make the outfit your own.