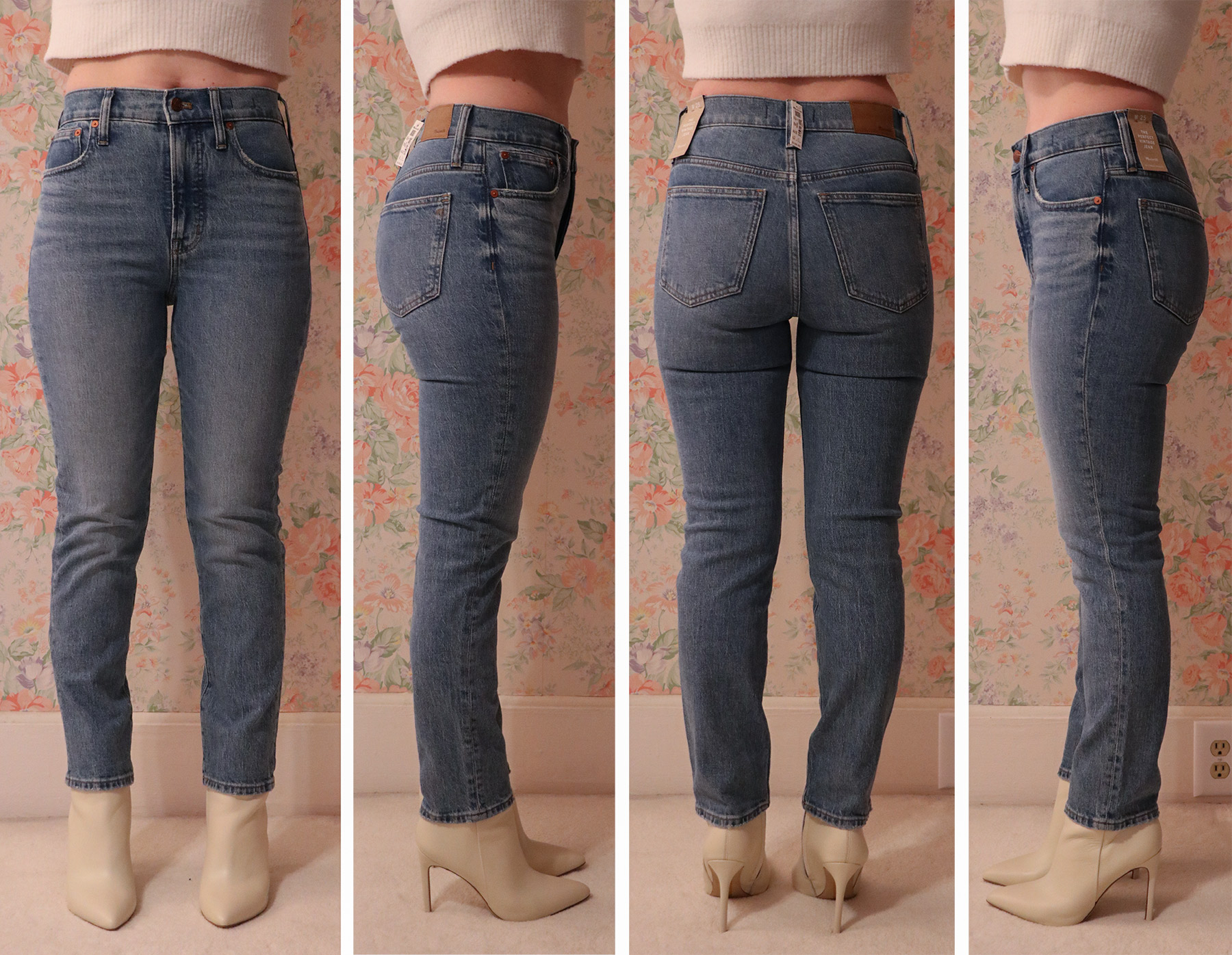 Madewell The Perfect Vintage Jeans Ultimate Guide
I'm back with another denim review! I know many of you have probably been a fan of Madewell for quite some time, however I am more new to the brand. It's not easy to get hold of here in the UK, but while spending a decent amount of time in the USA, I was able to really get to know the brand.
I randomly tried on a pair of their Mid Rise The Perfect Vintage Jeans while I was in one of the boutiques in Columbus, Ohio, and I completely fell in love! I was not expecting to like them as much as I did, but I was so into them that I bought them right there and then. It then led to me purchasing other pairs of Madewell jeans, and now I own three pairs! Ha ha.
The Perfect Vintage jean is one of my favourite cuts from them, so I thought I would put together a guide with the three different rises, as there's a pair for everyone! Of course, if you have any questions, please leave them below and I can answer them for you. So lets get to this review!
Madewell The Perfect Vintage Jean Review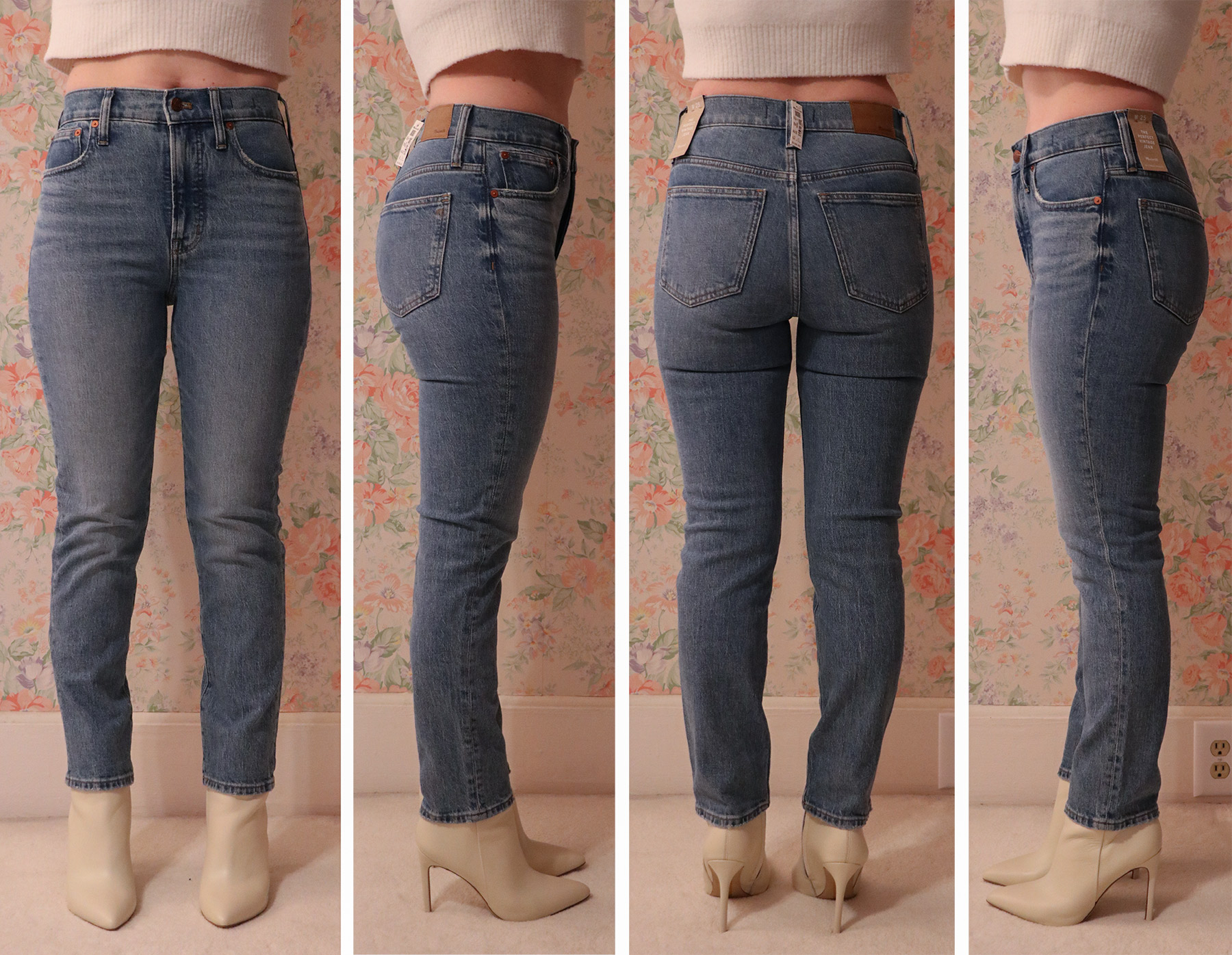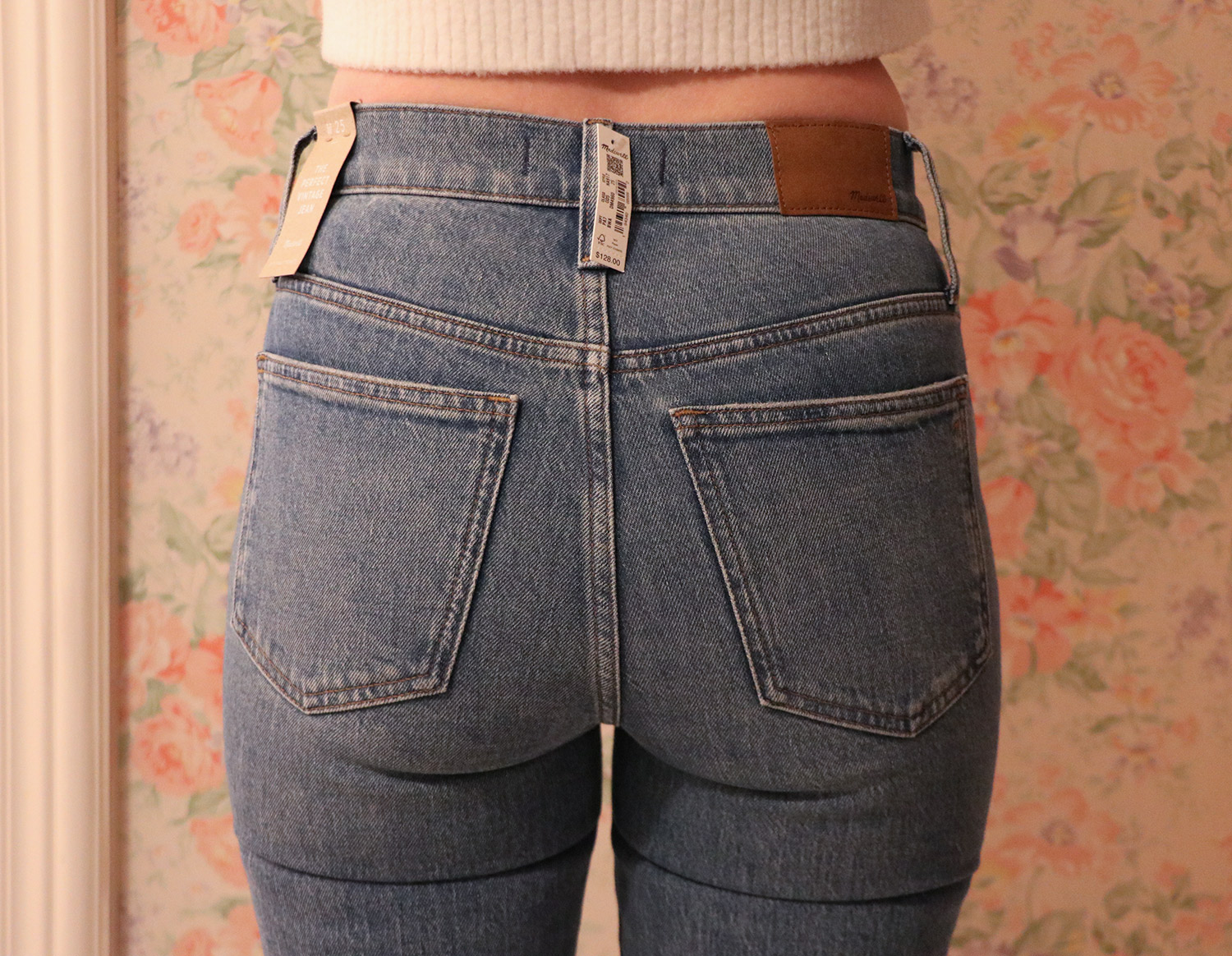 Buy these exact jeans online at Shopbop for $128
These are the original classic Madewell The Perfect Vintage jean, which comes in the most washes. This has been around for quite some time, as it seems to be one of the brand's most popular fits. The rise on these jeans is 11″, so it's pretty high rise. It features a 28″ inseam, and a leg opening of 12.75″, making it between a standard skinny and a straight leg.
I ended up taking size 25 in all of these Madewell jeans, and after having tried on so many different pairs of the brands jeans, I have learned I vary between a 25/26, while I'm mostly a 26/27 in other premium denim brands. So I will say that they do run a bit larger!
This particular wash is called Banner and I actually purchased these jeans on Shopbop. I couldn't find this wash anywhere at Madewell itself, so Shopbop were the only place to have it. I definitely recommend it as it's my favourite in the classic The Perfect Vintage fit. It's a gorgeous looking vintage blue with fading and whiskering in the right places. It looks darker in the photos, so I would say it's a fair bit lighter than this in person, but that's the difference between indoor and outdoor light.
The denim itself is super stretchy, but it still feels comfortable and like a pair of vintage jeans at the same time. It's a really good combination. It's 99% cotton and 1% elastane, so I am expecting them to stretch out a little bit with wear too.
Now comparing all three of the different rises here, I would say that this higher rise would probably be the most universal and easy to wear for absolutely everyone! It holds you in in all the right places and is extremely flattering, especially if you are 5ft 4 and above.
Madewell The Mid Rise Perfect Vintage Jean Review
Buy these exact jeans online at Madewell for $128.com
Next up is the middle pair, the Mid Rise The Perfect Vintage jean by Madewell, and these are my personal favourites! These are the jeans that I was talking about falling in love with in the store and having to buy them right away.
The rise on these jeans is 9.5″, making it slightly higher than most other mid rise jeans, so it's the most flattering! Again with a 28″ inseam, and around a 13″ leg opening, these make for quite literally 'the perfect pair of vintage fit jeans' that you can find.
This wash that I have here is called Clean Black and it's super stretchy! They're a combination of 99% cotton and 1% spandex, so slightly thinner and stretchier than the pair above. The wash isn't as dark as the website makes out – I would say it's a really nice, broken in, faded black.
The fit of these for my height of 5ft 4 is incredible! If you have a shorter torso, or you are shorter like me, the rise hits you in the most flattering place to give your hips a more rounder appearance – which I love. It's a super flattering rise from the back too, and the back pockets of course shape your butt into a perky peach! I'd say these are one of the most flattering pairs of jeans that I own! I 100% recommend this pair!
Madewell The Low Rise Perfect Vintage Jean Review
Buy these exact jeans online at Madewell for $99.99
Lastly, we have the Madewell The Low Rise Perfect Vintage Jeans. The lowest rise of them all, coming in at 8″, so it sits a lot lower below the belly button than the other two pairs, as you can see. There seems to be about a 1.5″ difference between the rises on all of these jeans. The leg opening is around 12.75-13″ again, and the inseam is 28″, so they have the same fit as the others.
The wash on this low rise pair is called Lunar and it's a combination of 99% cotton and 1% spandex again, making it feel very stretchy, but very much like denim. It's also a faded, washed black, and I would say it's probably more faded than the mid rise pair of jeans that I own.
I would say the low-rise version would be absolutely perfect for anyone under 5ft 2! I understand that high rises don't work so well for ladies who are shorter or have a shorter torso (this is why mid-rise is my favourite), so I'm glad they have a low-rise option for you! I did find these to be extremely flattering, just a tiny bit lower rise than I would personally like for myself.
My Final Thoughts
One thing I have noticed with the back pockets on all three of these jeans is that the placement moves up when the rise gets higher. As you can see on the highest rise at the top, the bottom of the pockets come above the crease line under my butt cheeks, and you can see the bottom of the back pockets on the low rise jeans hits me just below the crease. This might be why I find the mid-rise the most flattering as the back pockets hit in the perfect place – right on the crease!
Now as you probably already know, Madewell do make a Curvy fit of these jeans, which is smaller in the waist and has more room through the butt and thighs, for those ladies with killer curves! I personally haven't tried these, but I have tried some of their petite jeans and I can say they run one full size smaller in petite than they do in regular. I don't know what it is with petite in any brand, it's always smaller all over, not just the length, so if you are petite, keep that in mind!
They also come in tall lengths as well. If you prefer a slightly wider leg, they do a straight leg version of The Perfect Vintage. I have to say that Madewell is probably one of the most inclusive brands when it comes to denim as they go from size 23 all the way up to 34 and then into Plus sizing, while running larger.