IAN BERRY'S GIANT DENIM MURAL FOR
150 YEARS OF LEVI'S 501 TO TRAVEL EUROPE
I was excited to see Ian Berry take over Paris's iconic Place de la République with an amazingly massive mural made of course entirely of denim, to celebrate the 150th anniversary of Levi's iconic 501® Jeans after teaming up with the famed American brand. Who else could Levi's have used but my favourite artist and the father of the amazing skills with only blue jeans?
Levi's bills the piece as "a work of art as iconic as the 501® Jean," and is the largest ever made entirely of denim, standing at 13 feet tall and 33 feet long, or four by ten meters, and is made from pre-worn denim. Conceived and crafted by Ian Berry in his East London atelier, the impressive mural was carefully assembled on site in Paris out of hundreds of bits of cut denim jeans.
Ian collaged the pieces of recycled 501® so well that to most it looks like a blue-toned painting, the artist pays tribute to some of the communities and movements that have contributed to the iconic design's legacy. Seven figures representing key cultural archetypes of people, from the cowboys of the 1880s to the punks and queer communities of the 70's, bikers, rebels and one that represents the workers via a Rosie the Riveter type character, appear in a striking composition revealing how Ian Berry and Levi's® pay tribute to those who have made the 501® a timeless fashion item that crosses styles and generations. A banner reading "Legends Never Die" flies symbolically along with the incredible cast of dynamic figures that make up this striking composition.
Earlier in the year, the Levi's® brand introduced its Greatest Story Ever Worn global campaign celebrating the 150th anniversary of the 501® jean as an ever-expanding story, written and rewritten by everyone who wears them. In their own words Levi's said, "As the excitement around the anniversary ramps up, Europe has taken the celebration to another level, partnering with the famous denim artist Ian Berry on a three-day art installation in the heart of Paris."
For the artist whose signature medium is recycled denim, this project holds a very particular significance. "There is no history of blue jeans without Levi Strauss and Jacob Davis, and the 501® is the pinnacle of jeans, so this 150th anniversary definitely feels like a big thing to me," Ian Berry said. "The history is so rich; it was pretty easy to draw inspiration from all the people who did great things in their denim. The result is the largest piece that I have ever attempted. Countless hours went into this work, but I'm immensely proud to finally see the result together."
Ian's name has been linked to Levi's for some time. In fact, LS&Co. historian Tracey Panek is a long-time admirer. "I am a fan of Ian Berry's work and craftsmanship," she said. "He's such a talented artist with a gift for using denim. I keep one of his books in my home!" Recalling her exchanges with the artist around denim legends, Tracey commented, "This project looks amazing. Ian's interpretation of the 501® jeans recurring presence in counterculture and progressive movements is on point. I'm excited to see it myself."
In 2022, Ian Berry unveiled a portrait made especially for the Levi Strauss Museum, the 'jeans inventor's birthplace in Buttenheim, Germany, ready to commemorate this years milestone, and he also created three portraits of Chilean musicians to exhibit at Lollapalooza with Levi's Chile which now hang in the Plaza Egaña Metro station in Santiago where hundreds of thousands of people pass by.
I've spoken to Ian many times over the last decade and more and known his reluctance to work with brands however his choices here with Levi's have been spot on to mark this important moment in history and one where he is making his own.
The latest exhibition in Paris, which was shown for three days at the iconic location, included a complete takeover of a local café with a display of different models of 501® jeans, including the Circular 501® and their most recent launches, the 501® 54' and 501® 81'. Levi's not only showcased its history, but also walked through the process of creation, showing cotton plants and other raw materials that go into their textiles in the ephemeral exhibition to showcase the original jeans brand's history inside the square's Fluctuât Nec Mergitur café.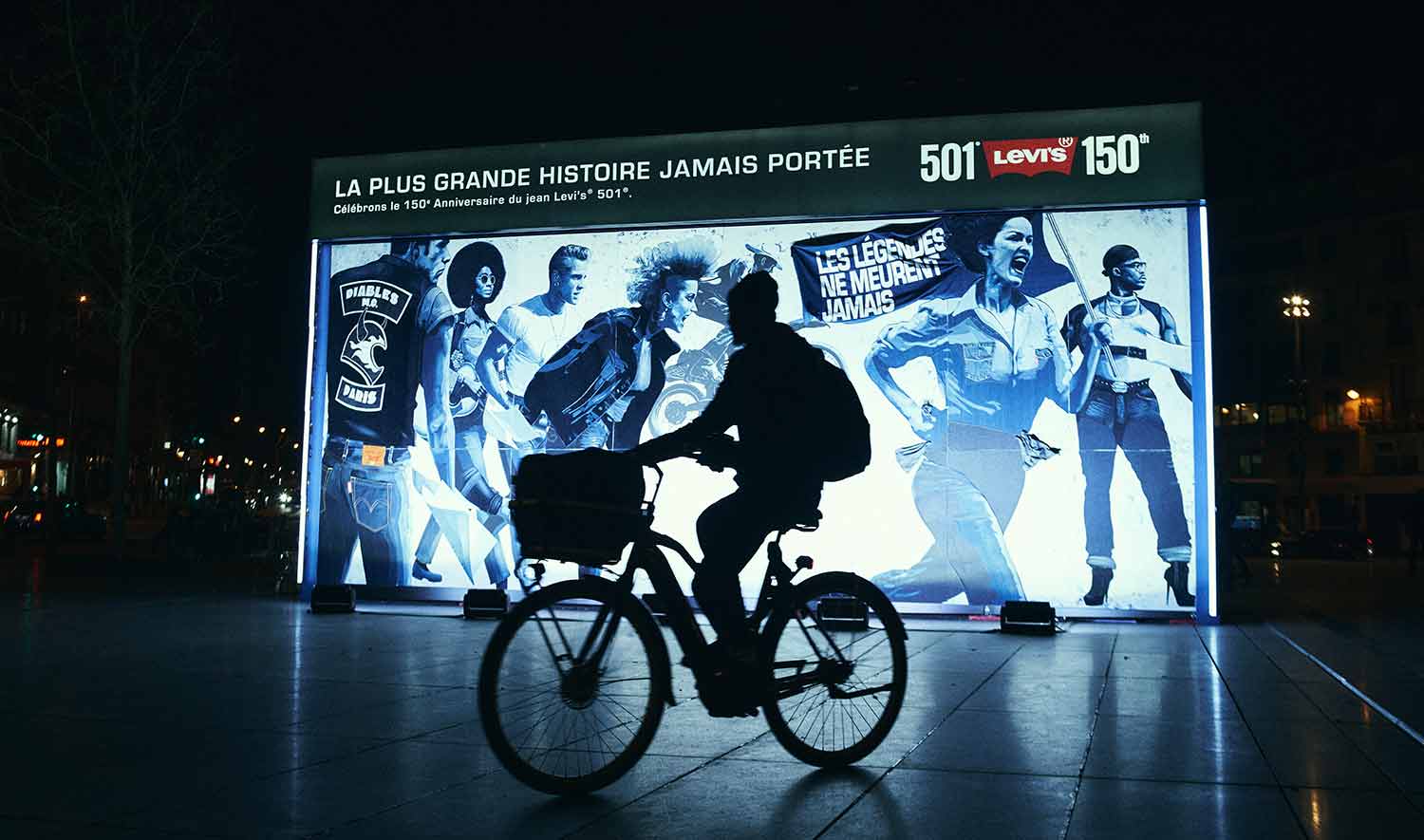 Mathilde Vaucheret, brand marketing director, South Europe, said, "I'm proud that our Levi's brand could associate its name with this great artist on such a milestone year and that we could share his stunning work of art on this busy and diverse square at the heart of Paris. This year's Greatest Story Ever Worn campaign is all about celebrating the 501® jean with our fans and thanking them for being a part of this inspiring story."
Next locations:
April 17th – 26th Università degli Studi di Milano, la Statale MILAN
May 4th – 7th Plaza Callao MADRID
You can catch the fresco at its next stop in Milan for Design Week at Università Statale from April 17 to 25, and in Madrid at Plaza Callao from May 4 to 7. #150YEARSof501 @ianberry.art