The Denim Maxi Skirt Trend – How To Wear It
The denim maxi skirt trend is here! Denim maxi skirts used to be popular back in the 2000's, but they are back on our screens and in our closets right now – and I'm here for it!
I never loved the denim maxi skirt trend back in the day, as I wasn't really a fan of wearing them with the camisoles and flip flops, but the styling of today is impeccable! I think it makes the denim maxi skirt look incredibly chic and fashion forward – even replacing jeans for the season!
There are many different ways to wear the denim maxi skirt trend and I have rounded up some of the best ways in this blog post for you all.
First of all though, I want to share some key information and tips on finding the right denim maxi skirt for your body. Certain types of denim skirts suit different body shapes and it's so important to get the fit right.
Finding The Right Denim Maxi Skirt For Your Body Shape
If you're petite – Opt for a denim midi skirt (like mine above) instead of a maxi skirt as the length will be much more suitable for your height and you wont have to hem anything. It also wont overwhelm your frame and look like your covered in denim.
If you're tall – Choose a denim maxi skirt which is on the longer side to really show off the trend to its fullest. However, with that being said, you're very lucky and will also suit a midi skirt if you want a different look to an outfit.
If you're curvy – If you're curvy, I would opt for a more figure hugging denim skirt with a slightly thinner weight material. This will ensure that your curves are being seen and not hidden. Any amount of thick denim with a looser fit will look unflattering if you have those beautiful round hips and butt.
Now that those key points are out of the way, we can get to the styling below! The denim maxi or midi skirt trend is my favourite at the moment and I cannot wait to pick up a few more different shades of denim.

With A Blazer, Turtleneck & Long Boots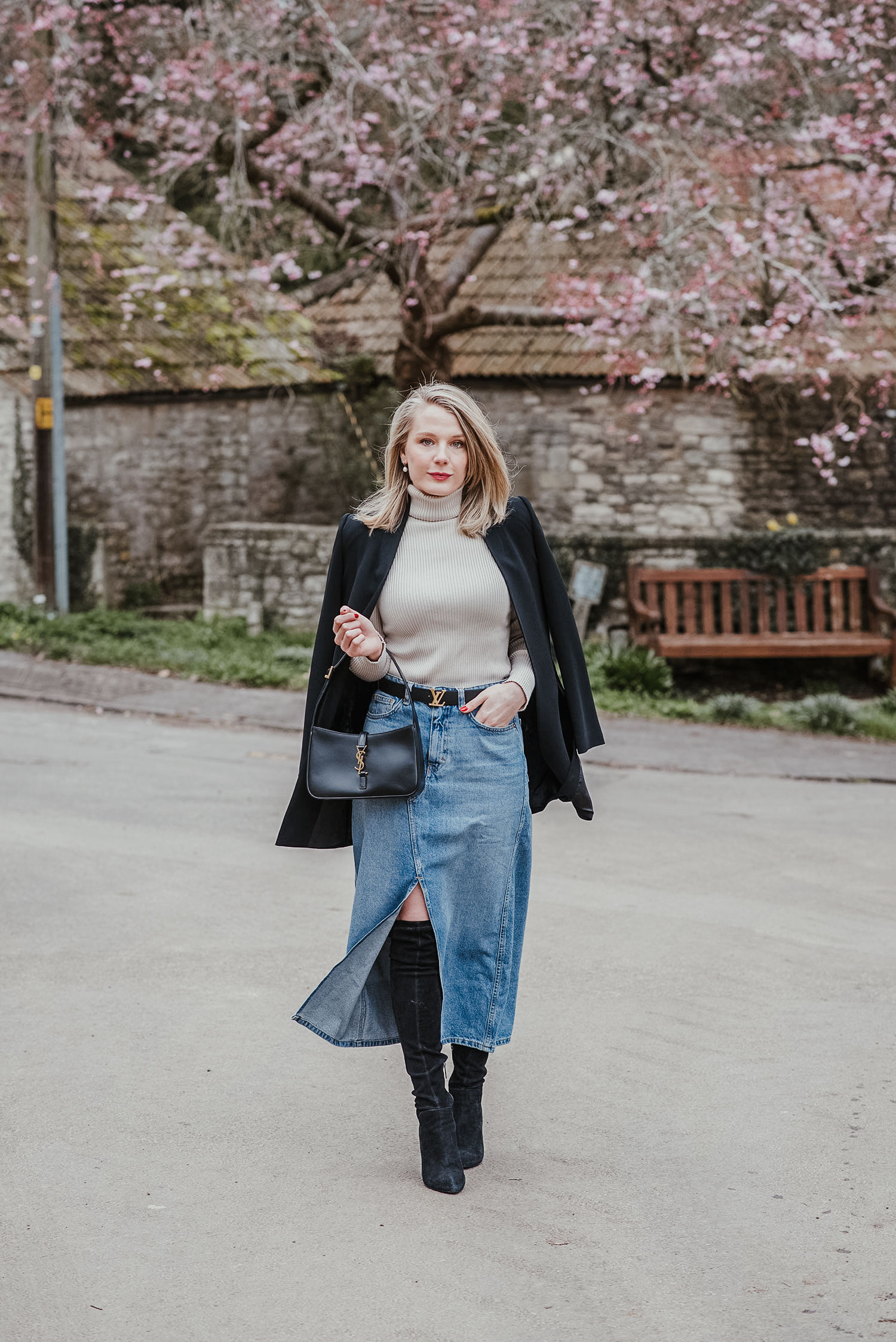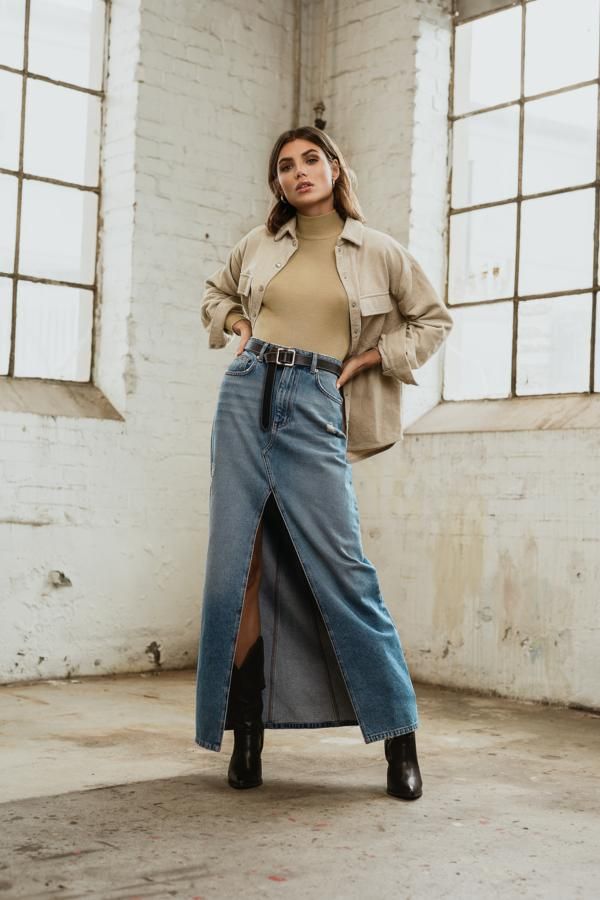 One of the most classic ways of wearing a denim maxi skirt at the moment in 2023 is with a turtleneck, blazer and boots. It's really chic, fashionable, and looks super elegant. Every time I've seen someone in a look like this – I adore it. Go for a mid calf to knee high boot to balance the proportions, and it's important to have a split in the skirt, up to the knee or a little higher. This really shows off the boots and doesn't stunt the legs, it helps elongate them. Keep the turtleneck slim fitting, and make sure the jacket is structured. You can wear this over your shoulders or as normal, and it will balance everything out.

With A Leather Jacket & Leather Boots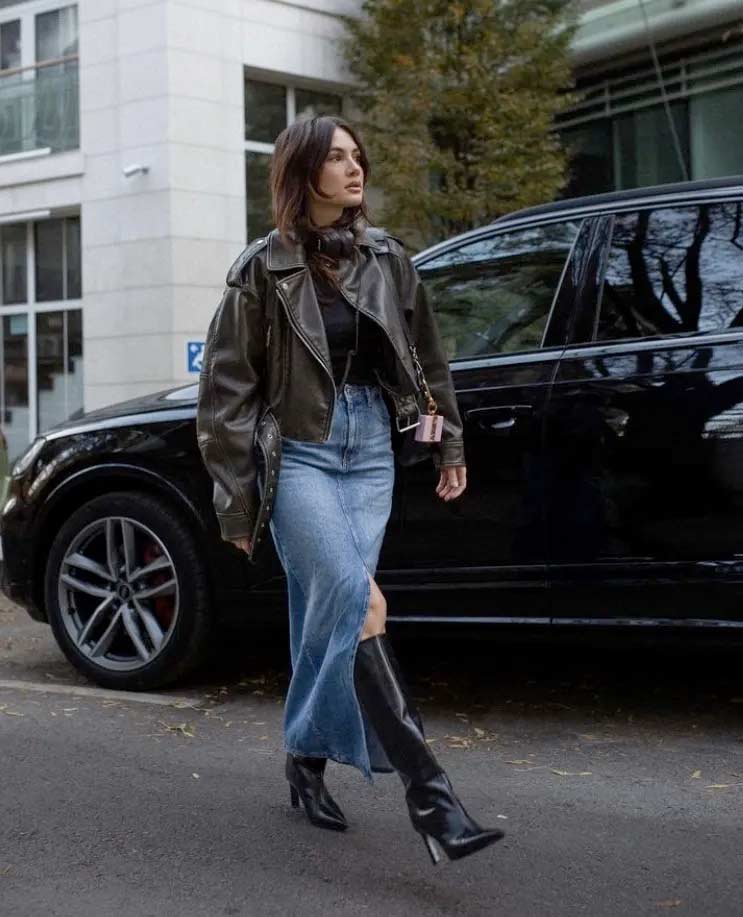 Another way to wear a denim maxi skirt is with a pair of tall leather boots and with a leather jacket. I absolutely love this way too! The leather jacket just brings so much edginess and coolness to the overall vibe of a denim maxi skirt. Paired with the leather boots, it's a tough girl, chic ensemble that is so fashionable. I'm envious of anyone pulling this off! Doesn't it look fabulous? You can go with an oversized leather jacket or a fitted one, just make sure the boots are the same colour and knee high.

With Sneakers & A Blazer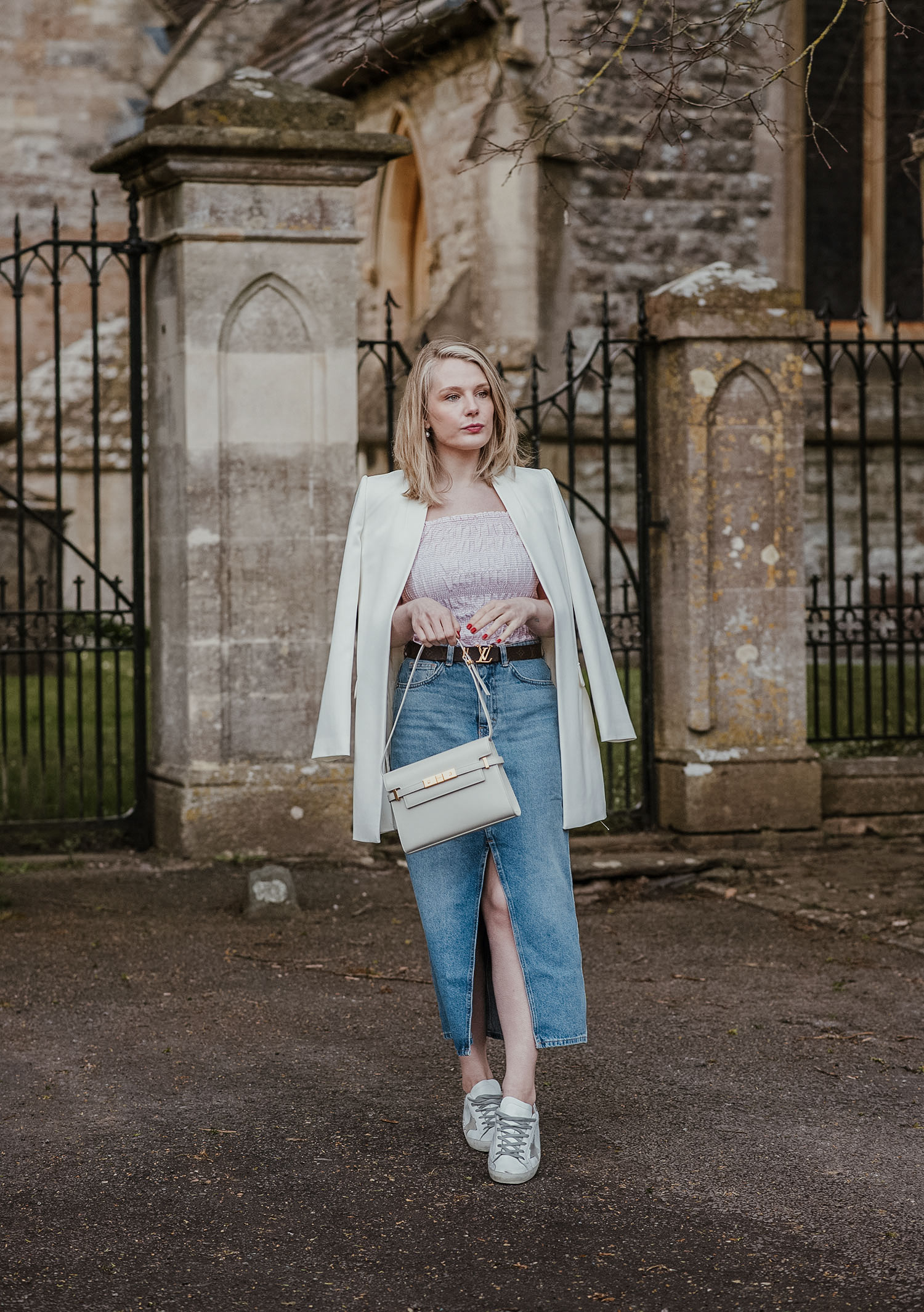 If you're going for something a little more daytime appropriate, wanting to keep it casual, but dressy at the same time, then the sneakers and blazer option is ideal. The sneakers dress the denim maxi skirt down enough to make it simple, but the blazer adds some structure and elegance to the outfit. If you throw it over your shoulders it will look chic and comfortable.

With A Cropped Top & Sneakers
Similar to the styling above, you can wear the denim maxi skirt trend in a feminine and totally casual way by getting rid of the blazer and opting for an off the shoulder, girly top, or a cropped tee. This would be super casual, but it keeps it looking feminine and cute – a look I also love. You can always add on some additional, minimal accessories to jazz it up a little bit too.
With A Leather Jacket & Shirt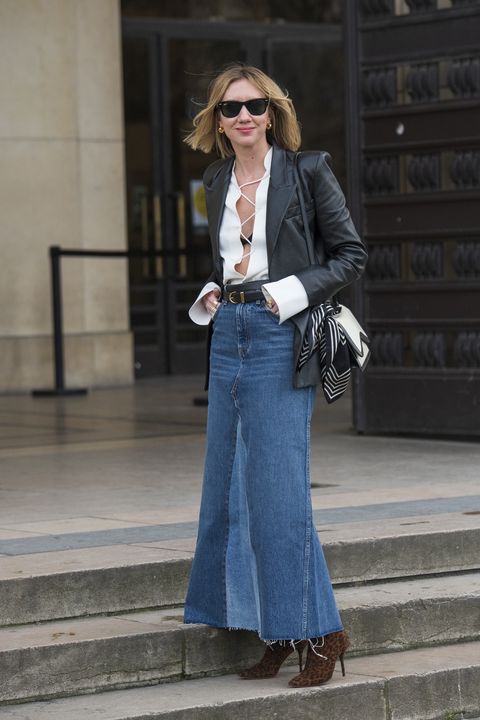 If you loved the leather jacket and boots option with a denim maxi skirt above, but felt it was just a little too edgy for you, then this is a great alternative! You can wear your denim maxi skirt with a chic, feminine shirt, and a fitted leather jacket. This lady has a leather blazer, which is super elegant, but something like the Allsaints Dalby would be perfect too. Layering this over a silky blouse is perfect at adding a little flare to a feminine look. You can either finish this off with ankle boots or strappy heels.
With Casual Lace Up Boots & A Cropped Top
If sneakers weren't your thing above, but you love the cropped tops, aim for a pair of casual heeled boots, just like these Prada's above! The lace up chunky platform really makes them cool, which is perfect with the raw hem of the denim maxi skirt, but it's dressed up with a cropped top and blazer. This whole outfit is combining tailored, fitted pieces with a little tough girl edge.
With A Blouse & Sandal Heels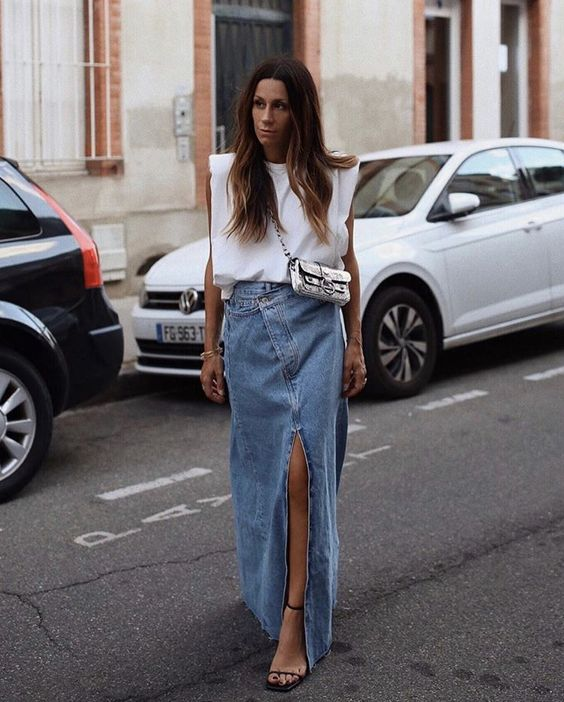 Finally, this is a super sweet and simple way to wear a denim maxi skirt. What could be better than a nice flowing, shirt that you tucked in, finished off with some open toed strappy sandals? Jewellery and a cross-body bag really help make this outfit look chic, polished, and effortless. It's all put together and looks like you just threw it on – the best vibes! I love this way to wear a denim maxi skirt!
So, out of all of these ways to wear the denim maxi skirt trend, which is your favourite? And please shop some of the coolest denim maxi and midi skirts around at the moment, hand selected by me here at The Jeans Blog!