Levi's Ribcage Straight Ankle Jeans Review
I'm bringing you something different for this denim review – five pairs of jeans in one! I spent a couple of months in the United States over the winter and when I was shopping in Nordstrom, I saw a pair of jeans that caught my eye.
They were the Levi's Ribcage Straight Ankle leg jeans in the Samba Done wash (above). They were hanging on the rail when I spotted them, and I must have tried on about 15 pairs of jeans at this point, so I was kind of tired, but I gave these a shot as I don't usually like wider leg. I will say though, I have been into the wider straight legs or vintage fits lately, more so than skinny jeans, and I never thought I would say that, ha ha!
Here's a little secret though, I ended up falling in love with the Levi's Ricbage Straight Ankle so much that I ordered 5 different washes off of the Levi's website (with 30% off – I will tell you more about that) and I am reviewing them all for you! As suspected, each wash varies a little compared to the others, so read on to find out more of what happened when I tried 5 pairs of Levi's Ribcage Straight Ankle Jeans!
Buy these jeans below!

These were the pair that I fell in love with in Nordstrom. I thought the wash was really vintage looking and so appealing, coupled with the fit, I was hooked on them! The Levi's Ribcage Straight Ankle is slim through the hip and the thigh, as you can see, with a super high rise and a straight leg.
Based on the measurements, these are the highest rise jeans that I own – 12 1/8″ exactly! The leg opening is 17″ and the inseam is 27″, with a knee at 18 1/4″.
The good thing about these is that they come with a 27 or 29 inseam length, so it's perfect for taller ladies too! I'm 5ft 4 and the 27 length hits me just below my ankles.
The denim composition of this pair is 84% cotton, 15% organically grown cotton, and 1% elastane, making them a lot stretchier than you might think! They feature the classic button fly, leather looking patch on the back, and the classic Levi's signature stitching and red tab on the back pockets.
This pair is one pair that I ended up keeping after I bought them as I thought they are the perfect looking vintage jeans, that are actually comfortable. I took my regular size of a 27 waist in these and they fit me perfectly all over! There wasn't any back waist gapping on this pair at all! Buy this particular pair here.
These get a 10/10 from me!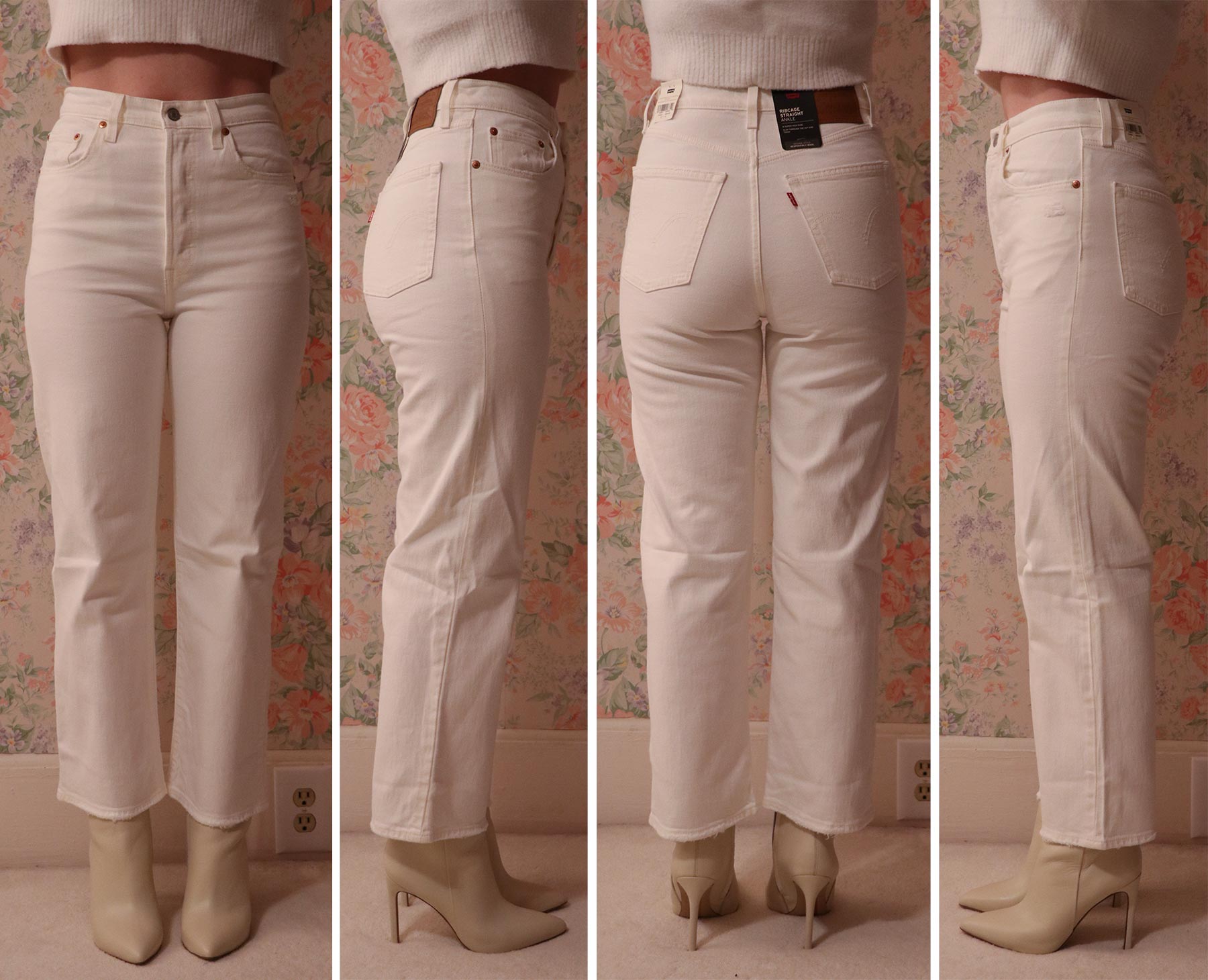 View this post on Instagram
This pair is the other pair that I ended up keeping – the Cloud Over wash. It's a gorgeous white that has more warm undertones so it airs on the side of a light cream more than a bright, blue undertoned white. It's stunning and I totally fell in love with it!
Again, I tried these in waist size 27 with a 27 inseam and they're perfect. They fit me all over, they're super comfortable, and I have no waist gapping or anything that tends to come with higher rise jeans. Much like the measurements on the Samba Done above, these are exactly the same.
The fabric composition is different though, this particular pair is made from 97% cotton, 2% polyester, and 1% elastane. They're really stretchy and super easy to wear – you can see an outfit of mine from Instagram featured just above. Buy these jeans here.
These get a 10/10 from me!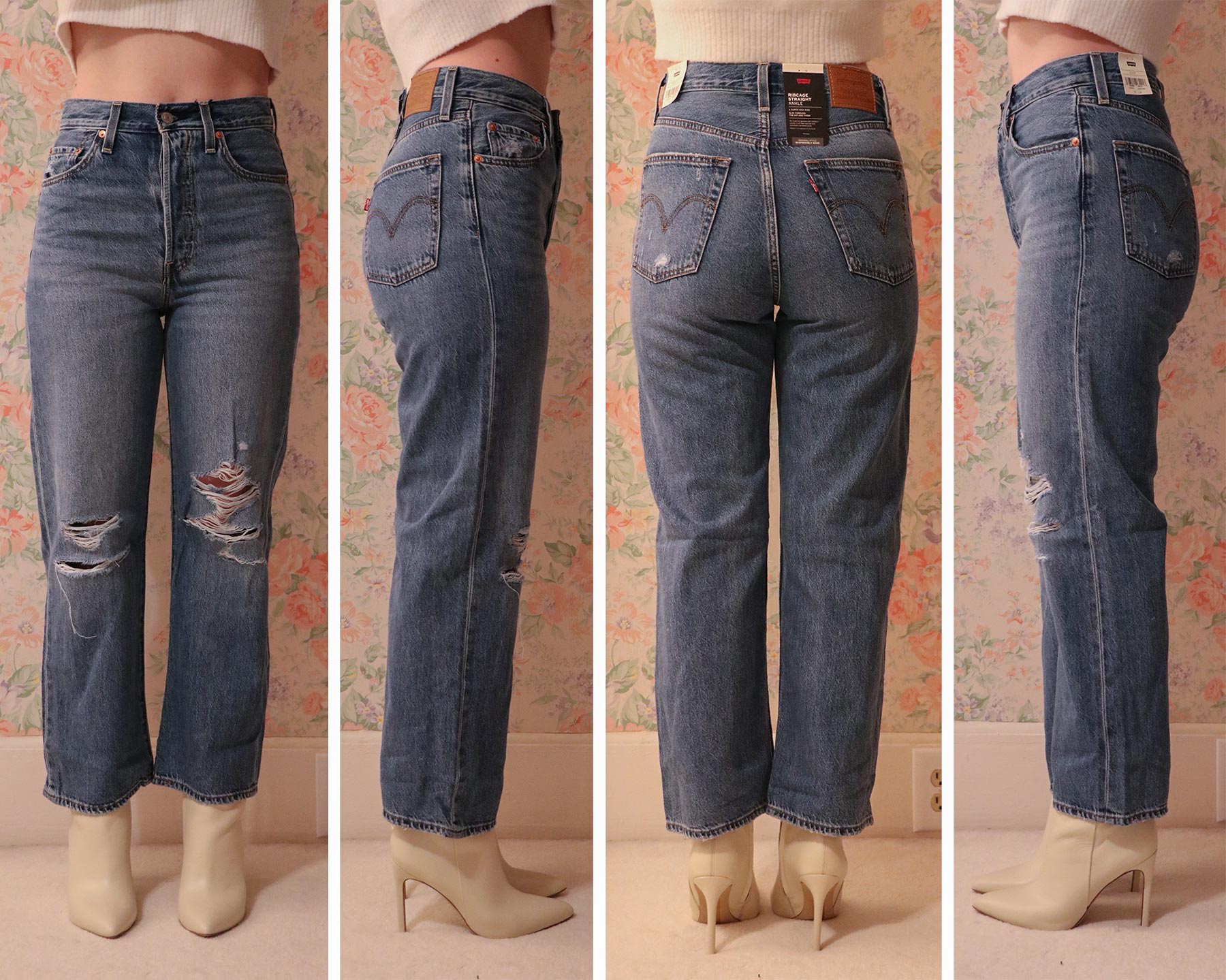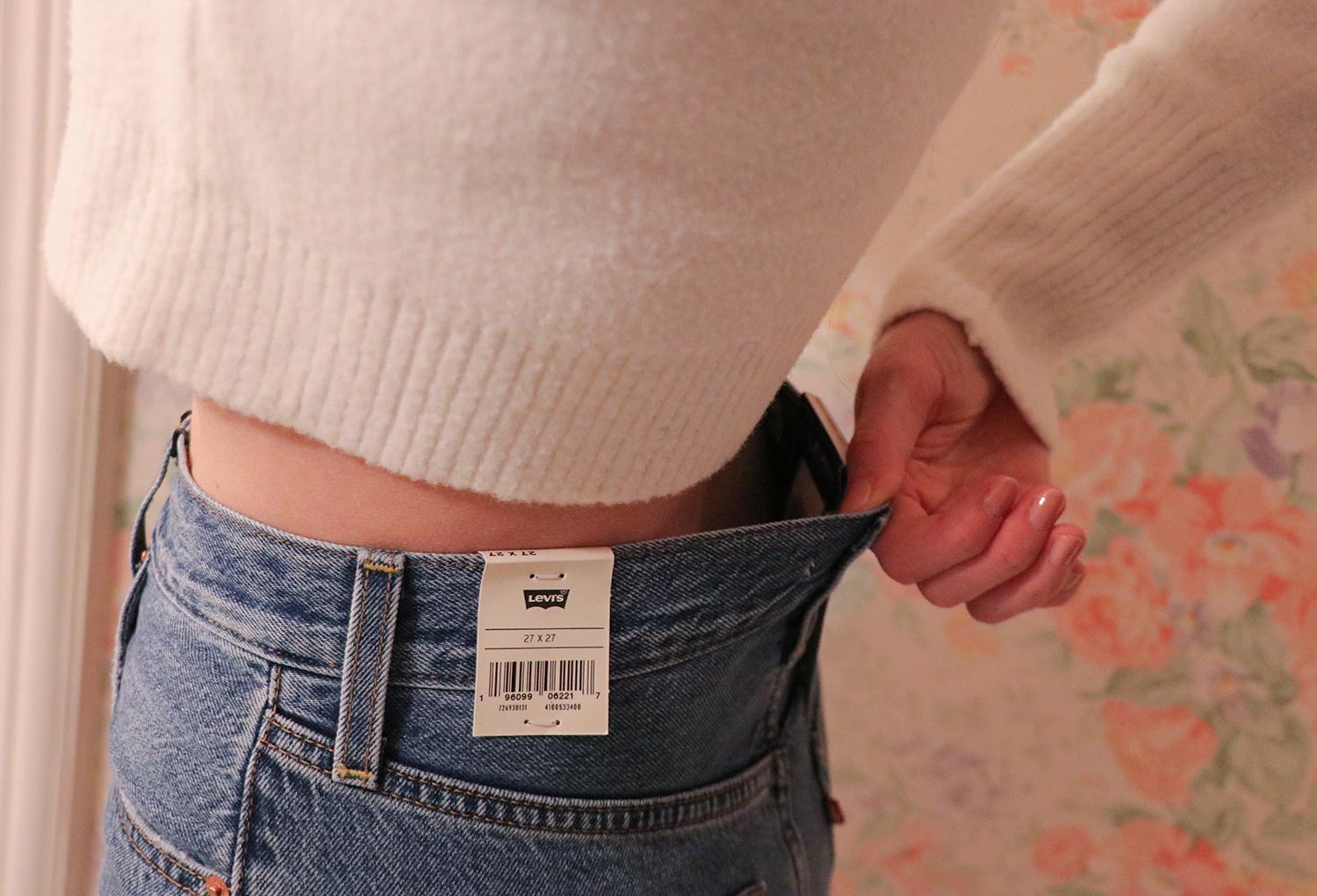 Again with the same measurements and the same size – 27×27, this wash was noticeably different in fit! As you can see, they have a lot of gaping at the back of the waistband. I do believe this is because of the different fabric composition and the fact that they contain Tencel Lyocell – the fabric is 79% cotton, and  21% Tencel Lyocell.
They were pretty stretchy and very soft, they just fitted a tiny bit bigger all over, and absolutely huge at the waist. It wasn't the Ribcage Straight Ankle fit that I was getting used to. The wash was really cool though, I loved the distressing on them, but they just didn't work for me unfortunately as my waist is quite small. I'm positive these would work for many others though. Buy these jeans here.
These get a 5/10 from me!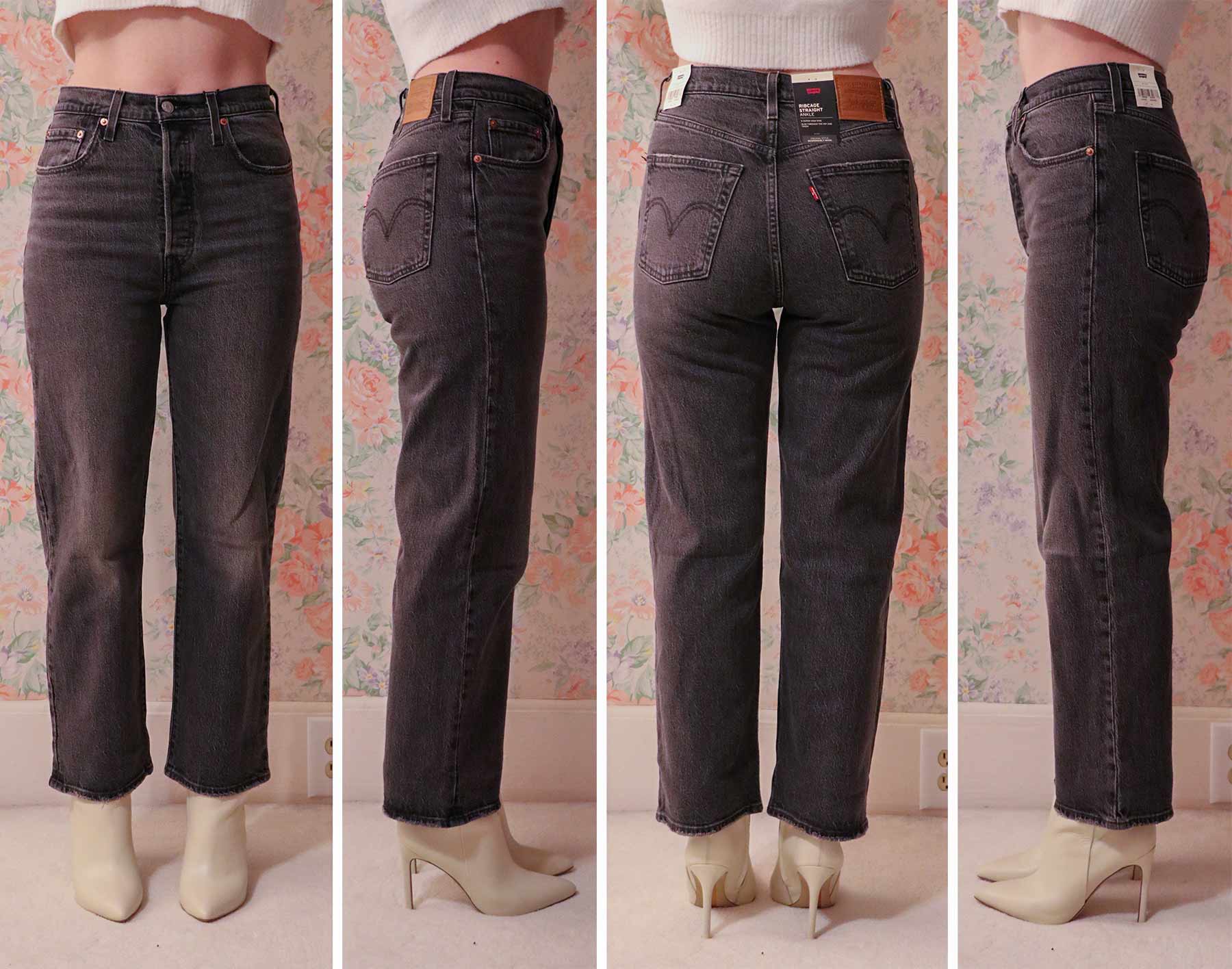 I absolutely loved this pair of Levi's Ribcage Straight Ankle jeans too! This Worn in Black wash is exactly that – a really faded, worn in looking pair of black jeans. They remind me of vintage denim actually.
Again with the same fit (27×27) and the same measurements, these did fit me almost perfectly. They did run a little bigger in the legs compared to the Samba Done and Cloud Over washes, but they were pretty much perfect everywhere else! The only reason I didn't end up keeping them is because I was set on the white and vintage blue, and these were just a bit dark for me in a wide leg fit like this. I'm quite small, so this much dark denim was a little overwhelming.
The denim composition of this pair was 99% cotton and 1% elastane. Since it didn't have Tencell Lyocell, I'm guessing this is why they had no gaping at the waistband, but they also contained no polyester, which might be why they ran a little bigger in the legs! Buy these jeans here.
These get a 9/10 from me!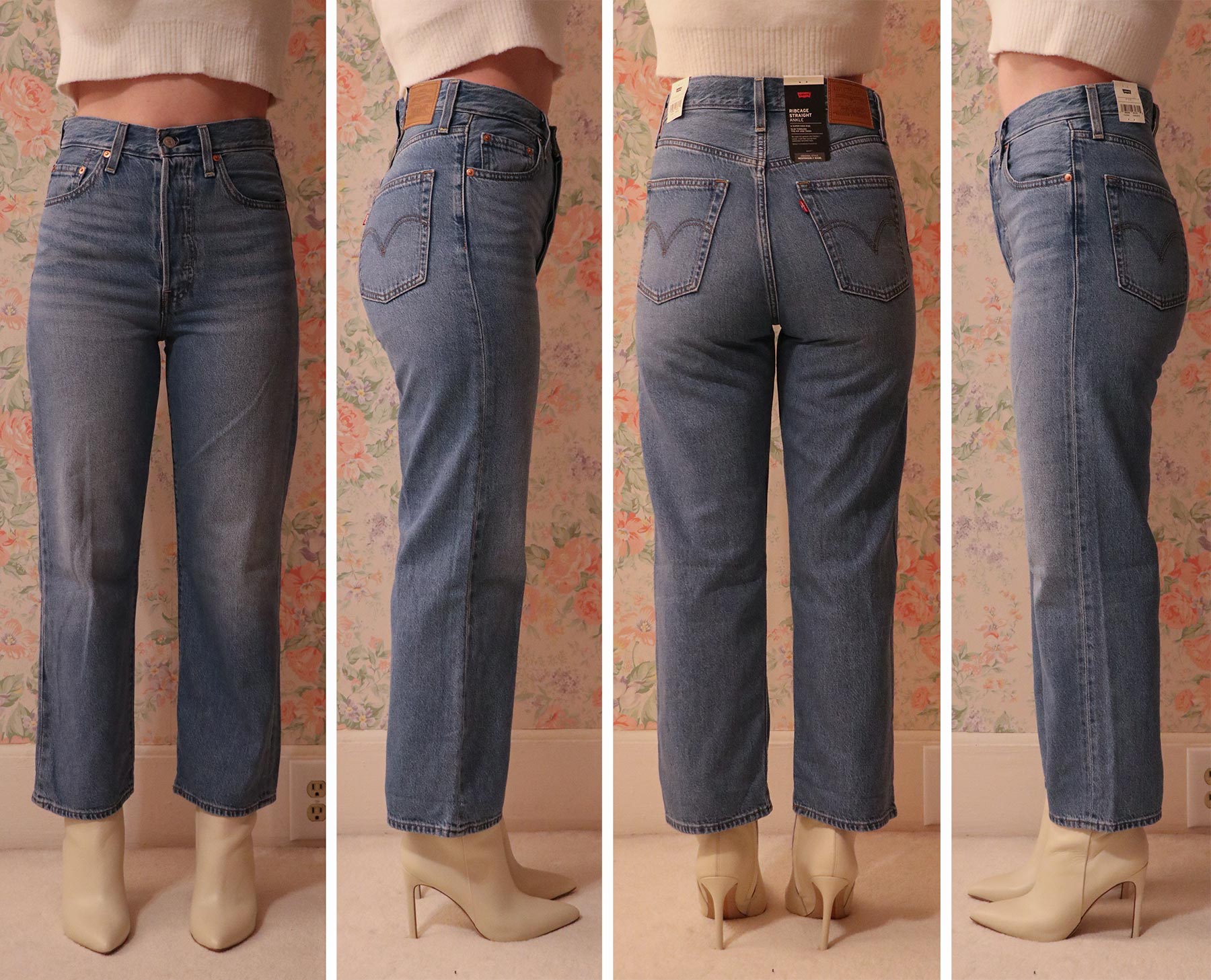 Finally, the last pair is the Indigo Light wash. I took a size 27×27 again, and they have the exact same measurements, however much like the distressed pair, they had a huge amount of gaping at the waist. I checked the fabric label and found out that the denim composition of this pair is 79% cotton, 21% Tencel Lyocell. Then I understood why they were so huge at the waist, but fitted everywhere else.
I'm not sure what it is about this fabric blend, but other reviewers on the Levi's website said the same thing – any pair with Tencel Lyocell in it didn't fit well. It's a shame because the wash on these is really nice and I loved how vintage looking it was, and they did fit a little slimmer in the legs, but with a waist that large, it wasn't meant to be. Buy these jeans here.
These get a 6/10 from me!
My Overall Conclusion
I really do love the Levi's Ribcage Straight Ankle Jeans! I think the vintage fit and feel that they have to them is gorgeous and they work with heeled ankle boots perfectly. They do run true to size and the choice of inseam lengths is perfect for me. Some washes even come with a 31 inseam if you're quite tall!
My one take away from trying 5 pairs though is do not opt for the versions with Tencel Lyocell in them, unless you have a more even waist to hip ratio. Opt for the cotton and polyester with elastane blend and they fit perfectly if you don't! As you can tell from my photos. They run at a really affordable price, ranging from $98 – $108, however I got 30$ off because if you order over $125, it's applied at the checkout, making it super affordable! What do you think of this review? Lorna.
If you use my links to purchase these jeans, I make a tiny commission which helps keep The Jeans Blog running.