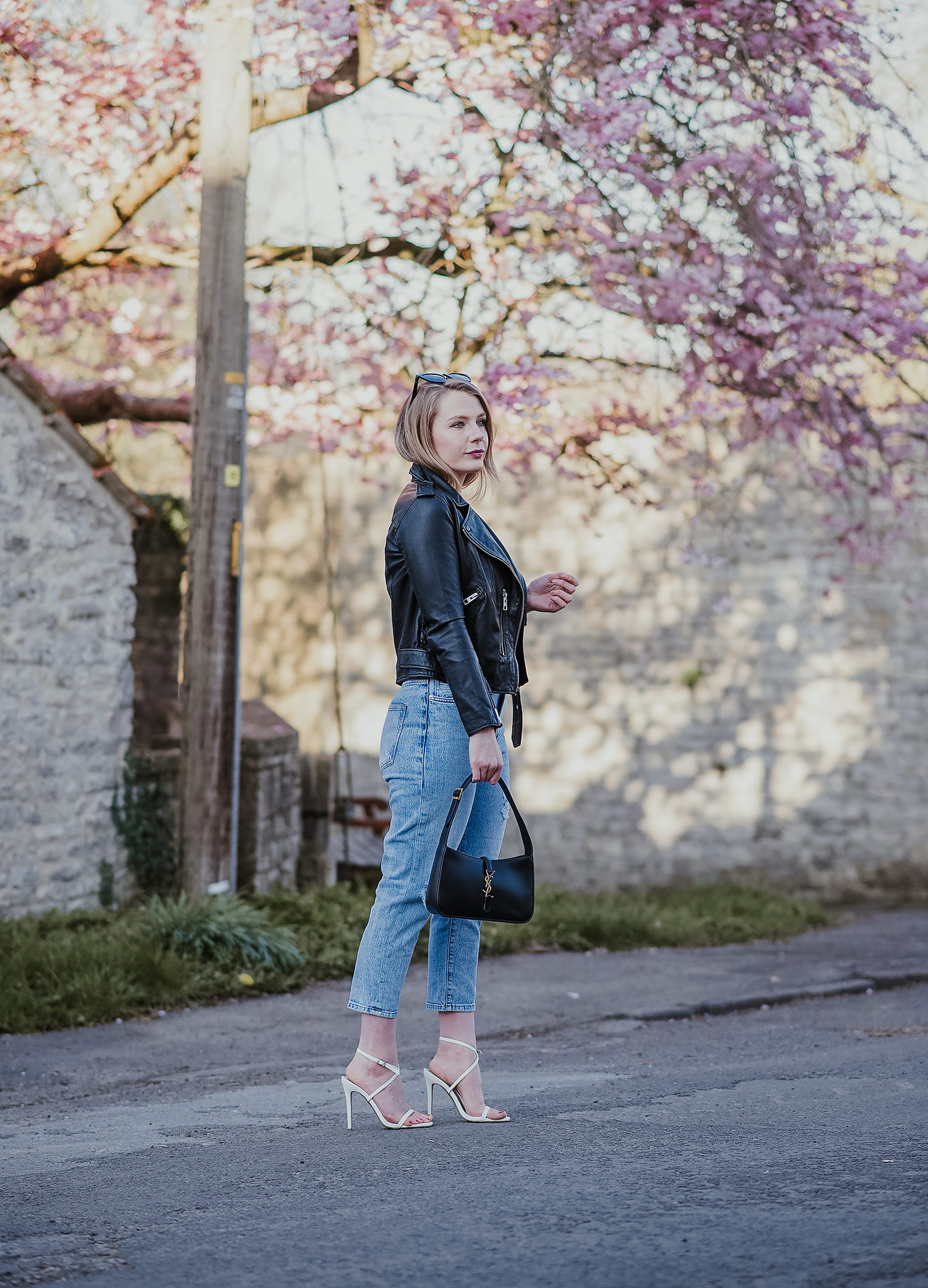 5 Staple Items To Pair With Blue Jeans For Spring
We all absolutely love jeans here at The Jeans Blog, that's no secret, and so do you, our lovely readers. Now that Spring is in full bloom though, what pieces should we be wearing with our jeans in order to create a simple, easy, capsule collection? I've put together a blog post for you to share those details!
What blue jeans you choose to wear this Spring is entirely your opinion though, as we can't limit ourselves to just one pair, can we? I know I can't! Jeans are something I need many options of. If you are interested in this particular pair that I'm wearing here, they're super affordable and actually comfortable. They're a pair of New Look Mom Jeans that I picked up from the new in section of Very not long ago! They only retail for £33.99 and they look pretty cool! I picked the 30 leg length, even though they probably run at around 24 or 25 inches, so they're perfect for my short legs since I'm only 5ft 4! But they come in many different lengths, so they will work for all of you.
Here are my staple pieces that you should have in your closet to create a Spring capsule collection.
Plain T-Shirts – A plain t-shirt, especially in white, is ideal for this time of year! Not only because it makes the perfect layering piece under jackets, but because it adds an element of casual which works well if you tuck it into a pair of jeans. I live in t-shirts the majority of the time in the warmer weather. Make sure you pick decent fabrics and one with a flattering fit, as you don't want huge arms on your t-shirt as that can bunch up underneath a jacket. Keep them slim and fitted.
A Leather Jacket – A leather jacket is the ultimate staple jacket for jeans in the Spring time. You can pretty much pick any colour you want to, as the warmer weather means the colour options open up, but black or brown is probably the most suitable. I always tend to gravitate towards this Allsaints Balfern leather jacket as it's so comfortable, stylish, and works with so many looks. If you don't wear leather, you can find some amazing vegan leather jacket options too. Just make sure the leather jacket fits you nicely and isn't too long in the body or arms, then you will look amazing! Who doesn't love getting a new jacket for the season? I do!
Sunglasses – Depending where you live in the world, sunglasses might be an all year round accessory that you wear anyway, but for those of us who live in countries like the United Kingdom, they're very much seasonal. Sunglasses are a staple piece of a capsule collection for Spring as they elevate and make any outfit look cool. Especially jeans! Sunglasses and jeans are a winning combination! You can pick a statement pair if you want to as that tends to elevate jeans and t-shirts even more, but it's up to you what frames you choose to suit your face.
Sandals – I have a pair of high heeled sandals on here, purely because I was wearing so many casual pieces like the mom jeans, a t-shirt, a leather jacket etc., I wanted to add an element of dressy to the outfit, plus these kind of sandals are ideal for Spring as they're open toed. You can obviously pick a pair with a lower or thicker heel, but open toed/strappy sandals are an essential for jeans in the Spring. If heels really aren't your thing though, a pair of low top white leather sneakers will be just as cool!
A Simple Purse – Since blue jeans are often a dress down item, rather than a dress up piece like black jeans can be, I like to keep my purse/bag simple too. You can obviously go for something cooler and on trend if you want to elevate the look and pick a belt bag, but when it comes to wearing leather jackets, t-shirts, simple sandals etc. with my blue jeans, I find it much more suitable to pick a classic bag too. The whole look is casual and easy going, so it just makes sense! Plus, it means your bag will go with literally everything in your wardrobe if you choose a simple one!
So these are 5 staple pieces I would pair with blue jeans in the Spring time in order to create a capsule collection and keep your closet minimal. It doesn't make sense to go wild and buy a tonne of statement pieces, so as long as you have these basic essentials, you're set for many Spring's to come! Very has pretty much all of these items available in their new in section, including everything I'm wearing (minus the bag) so check them out for outfit options! What are your Spring essentials for blue jeans?