5 Cool Designer Pieces To Complement Your Jeans For Men
We all love denim here, that's no secret, it's the one piece of clothing that we can never get enough of, and many of us have quite a collection. Everyone usually has one item that they adore, whether that's shoes, purses, watches… but for those of us that have our obsession rooted in the beautiful blue cotton fabric, we can sometimes be left with styling difficulties as jeans make up such a big portion of an outfit. I thought it might be helpful to put together some designer accessories and clothes that go really well with jeans in the Spring time. I've chosen designer pieces because most of us here tend to opt for the more expensive designer jeans, as we're into quality, so it makes sense to have quality in the rest of your pieces too!
The jeans I used in the collage above are by CLOSED, and for those of you not familiar with that brand, they make some incredible denim! Their washes are something to shout about, and the quality of the denim is second to none, but this doesn't mean that these clothing and accessories options here are only suited to those jeans. Everything here will go with any colour denim and pretty much any brand, but I would recommend sticking to a slim or skinny jean, at the very most a straight fit, but you can probably work around it. The items here in this list remind me a lot of a laid back, Los Angeles vibe! Anyway, lets get to it! Here are 5 cool designer pieces to complement your jeans!
A Hoodie
First up, I can't think of anything more fitting to go with a pair of jeans than a hoody! I chose this Palm Angels black hoody with a bear on it because it's pretty cool and fun, and it's unique. For those of you not familiar with Palm Angels, the brand began with a book, a work composed of black and white photographs that captured the vision of Francesco Ragazzi, who is the artistic director of Moncler, of the world of Californian skateboarding. It was prefaced by Pharrell Williams and published in 2014, and then led to the first collection of ready-to-wear and accessories, inspired by skateboarding, a year later. They have been bringing the fun world of skateboarding to fashion ever since, and I think it's awesome. There are plenty of hoodies you can choose from, from various brands as well, but I think the collection from Palm Angels on 24S.com really showcases the best options!
Sunglasses
Next up is a pair of sunglasses with round lenses! You can definitely opt for aviators or wayfarers if you prefer, but there's a retro cool element to round sunglasses. I think silver frames and darker lenses are perfect for guys, and this pair by Dior really captures that. Sunglasses just tend to make any outfit and anyone look cool, so adding them to a pair of jeans and a hoody is a winning combination in my opinion! Even if you don't want a hoody, they look amazing with denim jackets, or just a good old t-shirt! As long as you get a pair that suit your face shape, you're winning!
A Backpack
A designer backpack is something that will level up your outfit too. Much like women love to make a statement with their handbags/purses, a guy can do the exact same thing! Can you imagine pairing this Louis Vuitton backpack with some skinny jeans and a hoody? It's a winning combination! If you're a guy that loves to stand out with his outfits, something like this is perfect! And I can personally vouch for the quality of Louis Vuitton being amazing – I own two of their bags and one belt, and it's great! When it comes to designer accessories, I always look to them first. You don't have to pick this brand by any means, Saint Laurent and MCM do some amazing designs for backpacks, perfect for casual daytime wear, so keep that in mind!
A Logo T-Shirt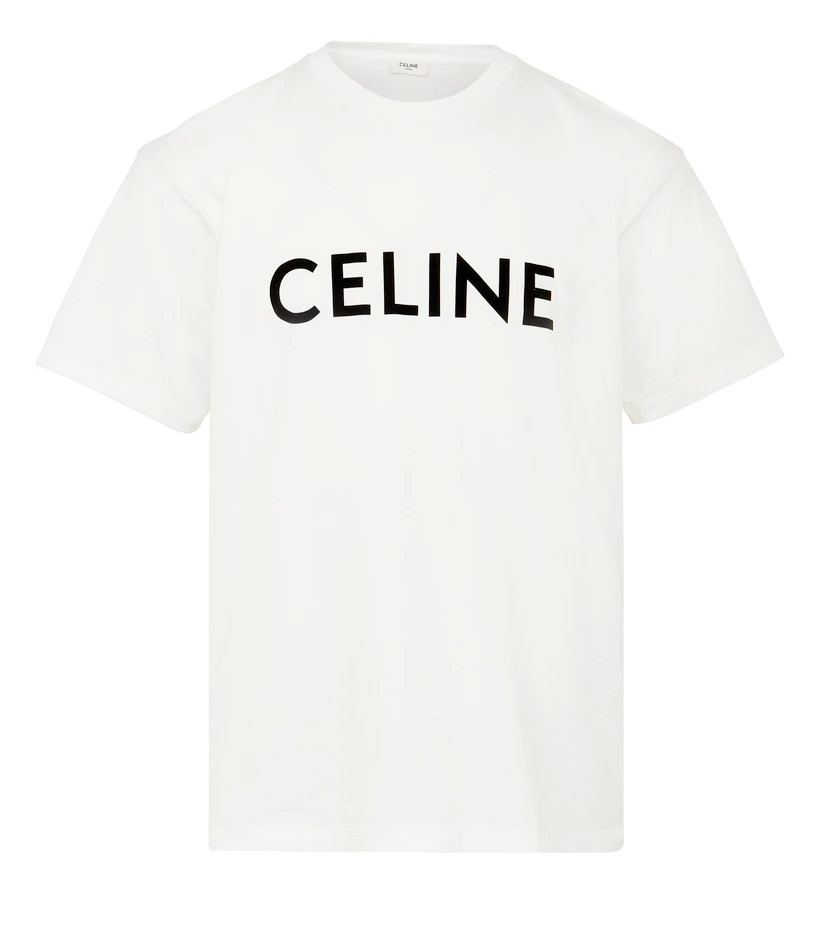 Most guys tend to love a good t-shirt, whether that's plain, graphic, or a logo, and when it comes to designer pieces, a logo t-shirt is the way forward. Celine is one of my favourite brands in terms of quality and design, I loved them over a decade ago, even before the beloved Hedi Slimane took over their menswear line a couple of years ago from Saint Laurent. That's why I chose this specific Celine t-shirt here as it's simple and easy to wear, but it makes a statement with the brand name on the chest. White is a versatile colour, and it makes for a great combination with jeans, especially if you have white footwear, and that leads me to the final piece in this list!
Low Top Sneakers
When it comes to footwear, and a more casual, street wear, designer vibe, I think a classic low top sneaker is the perfect option! White is usually the most common choice and the easiest to style as it's the most versatile, but you can certainly pick a coloured pair too if you so wish. The pair of low top sneakers here that I have featured are by Palm Angels again, and I love that they complement the hoody because they both feature the brand's iconic bear logo! These are so cool! I'd recommend keeping your jeans a little cropped or cuffed too, to show off the designer sneakers. Shoes tend to be one of the first things people notice if they're into fashion, so these will be a good talking point!
So these are my top 5 designer choices when it comes to styling cool pieces with your denim! As I mentioned, I think all of these items work best when you're wearing skinny jeans for men, but a slim pair of jeans will also work! You might also be wondering why I didn't include a watch here, as that's one of the first accessories men tend to go for, but that's why I didn't. A watch is a very obvious choice and probably in your closet already! And if you're a lover of designer fashion, you might already have something like a Rolex, an Omega, or a Patek Philippe, which of course you can wear with this outfit to elevate it even more! I'm interested to know what kind of designer pieces you tend to choose to pair with your jeans? Is anyone here a fan of Palm Angels? Let me know in the comments below!