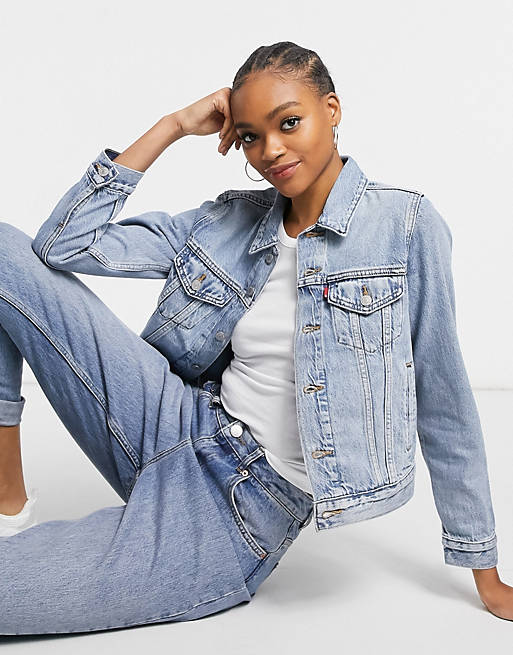 10 Must Have Denim Jackets For Spring 2022
As it's almost Spring, I wanted to do a new round up of 10 denim jackets that are must have's right now! I'm officially obsessed with wearing my Levi's Original Trucker Jacket in All Mine, which I reviewed for you here, it has the perfect fit and the most perfect wash to go with everything! Since there are a lot of denim jackets out there for women, I've narrowed it down to these 10, and I've included 5 normal and classic jackets, as well as 5 more innovative designs. Denim jackets are perfect to layer over cute floral dresses, or team up with denim shorts or jeans, you really can't go wrong with a versatile denim jacket! So check out these cool options below!
5 Classic Denim Jackets

Above, I've selected the classic blue's and the normal, snug fits. The way most of us like to wear our denim jackets. There's Levi's, AG, Madewell, Lovers + Friends, and Anine Bing! Ranging from darker washes to more bleached blue, there's definitely a jacket here for everyone! The Lovers + Friends, and the Madewell styles are my two favourites! I absolutely love them, so much so that I am thinking about purchasing them! You can buy each of these denim jackets by clicking the images in the slider above.
5 Innovative Denim Jackets

Now these 5 denim jackets are a little more fun! I've included some white and off white shades, as these are so refreshing and a beautiful update to a classic, as well as a piece with stars monogrammed on it, and another design with an off the shoulder element. The brand's included here are Dr. Denim, Pistola, Levi's, RtA, and AG, so they're all fantastic in terms of premium quality. I think I'm in need of a cream shade for a new denim jacket! What do you think? You can buy each of these denim jackets by clicking the images in the slider above. Please do let me know what denim jackets you are loving for the current season and upcoming heat!