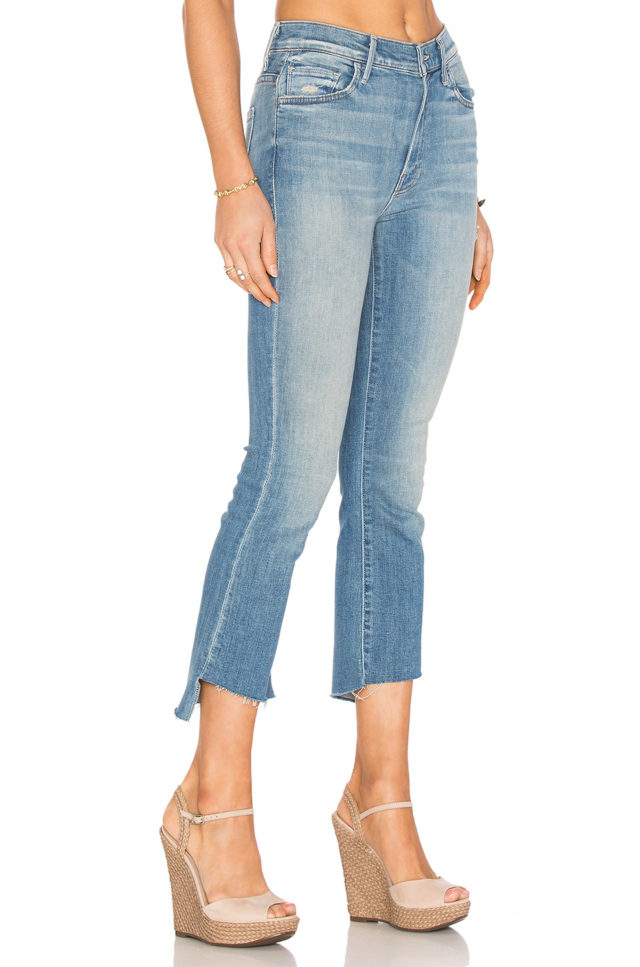 The MOTHER Insider Crop Step Fray Jeans are hitting it big right now! They have already been seen on celebs like Emma Roberts, Minka Kelly, Naomi Watts, and Miranda Kerr, but they are predicted to be even bigger for the Summer 2016 season! If you aren't a fan of the cropped flares and bootcut jeans trend, I suggest you might want to re-think this particular pair as they seem to suit everyone. Not only does the slimmer silhouette look flattering and sleek, they are chic too and don't shorten your legs as Emma Roberts has proven to us already.
The Shake Well wash that you can see above is made from a 93% cotton, 6% poly, 1% elastane blend and features a 14″ leg from the knee to the hem opening. I was shocked it was only 14″ as that's usually the measurement for a straight leg, but as they are cropped, it does fray out a little more. They also have a short 25″ inseam and a high 10″ rise, so they are even blending in that mom jeans trend that we are growing to adore, but in a more straight/baby bootcut version as apposed to the skinny.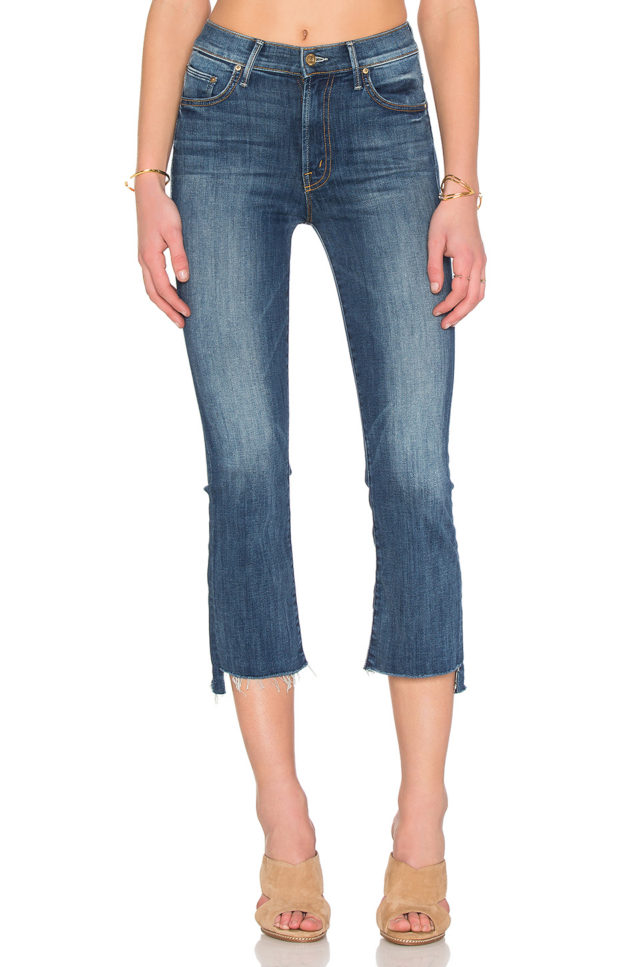 I was worried about this trend myself as my legs are quite short and anything but a skinny or long flares with heels make my legs look stunted if the inseam doesn't hit in the right place, but I am yet to try this style! Have any of you tried this particular pair from MOTHER? I think the stepped hem which is longer in the back is gorgeous, it adds such an interesting element to the jeans.
This popular Not Rough Enough wash is made from a mix of 98% cotton and 2% elastane, with all of the details being the same as the light wash above, except this pair has an even shorter inseam of 23″ instead of 25″. I think the shorter inseam works here though as it stops the dark wash from looking too formal. If I had to choose a pair between the two, I think I love the Shake Well just a little bit more! Which pair do you love?