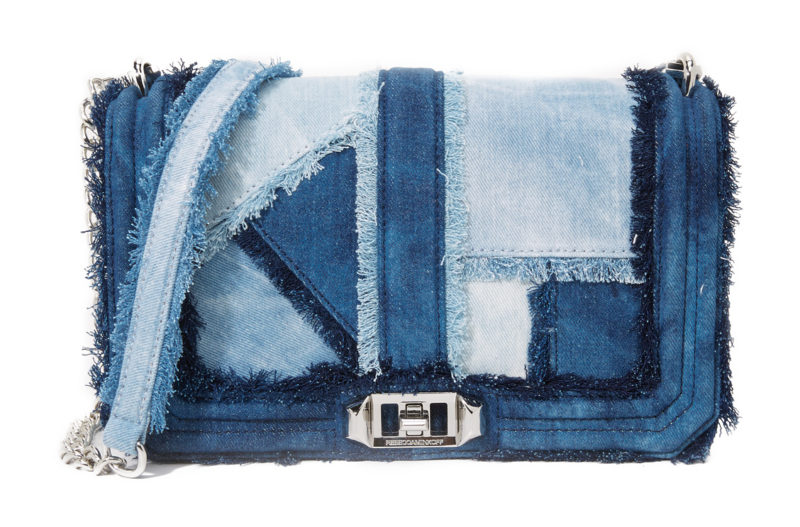 Denim has transitioned into many things other than jeans and it's become even more popular in doing so. One thing that always looks so chic and cool in denim is accessories and that's what Rebecca Minkoff has done here. You might remember our post on the Jimmy Choo denim shoes and bags for SS16, well look no further if you want something more affordable. This Rebecca Minkoff Love Cross Body Bag now comes in patchwork denim and it's everything you ever dreamed of!
Last year I purchased the Rebecca Minkoff Denim Love Cross Body Bag in plain blue denim with a navy leather trim and I wear that frequently, but I have been besotted by this new patched version! The combinations of the blue denim hues together create such a nice texture. Not to mention it's combining the raw and frayed hem trend that is so popular right now in a bag, how cool is that?
BUY THIS BAG ONLINE AT REBECCA MINKOFF FOR $295
This Rebecca Minkoff bag is around 6.25 inches in height, 9.75 inches in length and has a depth of around 3.25 inches. It weights around 24oz or 0.68kg depending which metric you use and the strap drop is 21.75 inches. It also features a slim back pocket which is quite secretive, a turn lock opening and a 2 pocket interior to store your credit cards. This is perfectly ideal for anyone looking for a Chanel Boy Bag inspired design and one made from our beloved denim fabric. Isn't it just gorgeous? This is one way to do denim on denim if you're not sure on how to wear the double denim trend. What do you think of it?