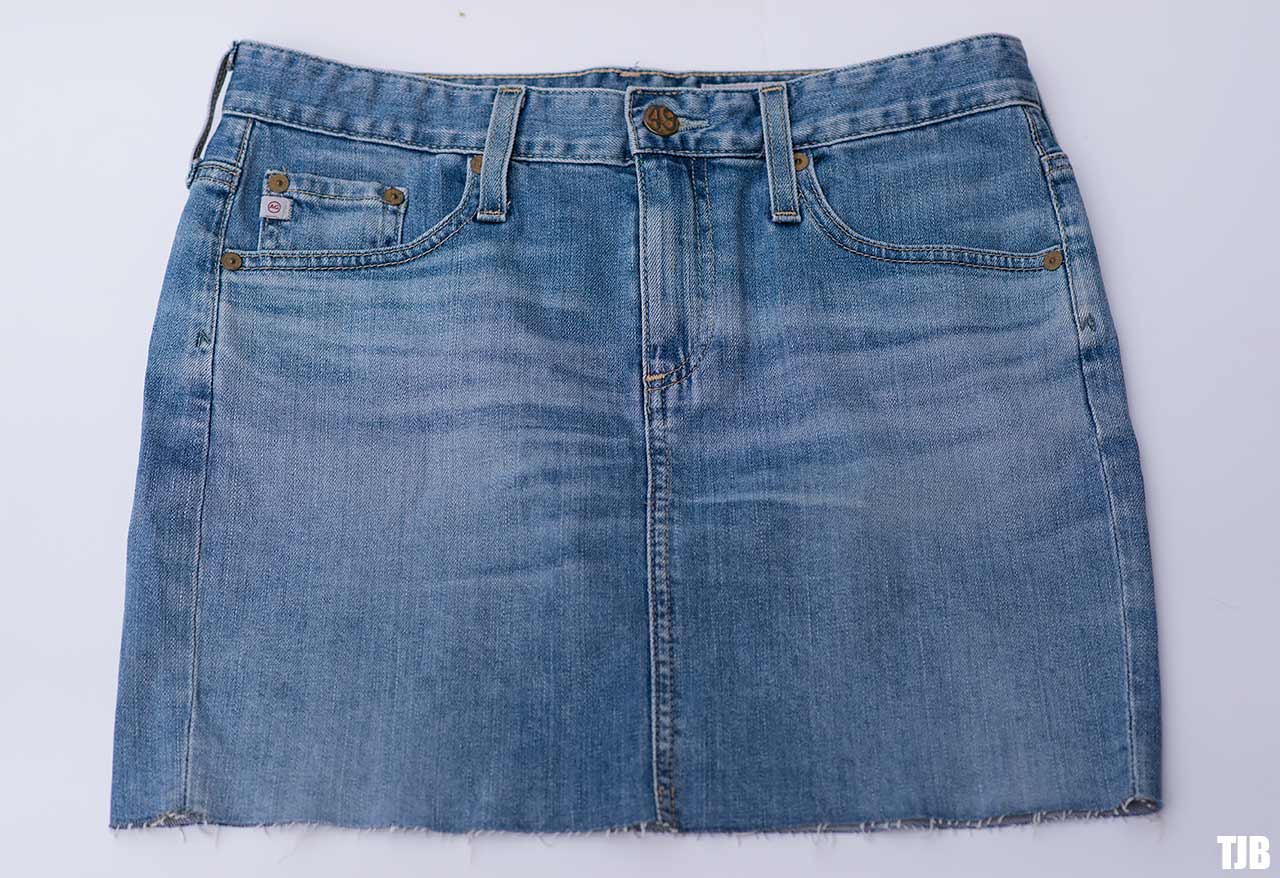 My denim review this time around is something slightly different, it's a denim skirt! The denim mini skirt trend has been creeping up on us fast and so many people are loving it. So many designers have brought out their take on it in a much more updated and classy way than we have seen before, which is why I'm loving it. They used to be quite tacky and more suited to younger girls, but with the latest designs, you don't have to worry about that. I've got two denim mini skirts myself, a vintage Levi's one and this one, the AG Sandy Denim Mini Skirt in 13 Years Abyss Blue which I'm reviewing for you. Check it out below!
Sizing – For the sizing on this AG Sandy Denim Mini Skirt, I went up from my usual size of a 26 to a 27 as I don't like my skirts to be too tight. I'm glad that I did this because I found it actually runs quite small compared to their The Legging Ankle jeans, so it was a wise choice. A 26 like normal would have been too tight as it's not as stretchy. I find it's usually better to size up with skirts rather than down as a slightly looser one looks better than one that's too tight as that's never a flattering look.
Fit – Denim Mini Skirts used to be quite boxy in shape and stick out on the sides with more of a subtle A-Line shape to them, however with this one from AG, it's completely different. I would say it blends the pencil skirt and denim mini skirt into one. It's not super clingy like a classic pencil usually is, but it's definitely got the flattering shape of one. It hugs you at the hips and down the thighs without being overly restrictive. It's extremely flattering with this kind of fit as it's feminine, chic and looks classy rather than tacky. The length of it is around 15 inches long from waist band to hem line, but it would depend on how long your legs are and where you want to wear the skirt. For me, I wear it just below my belly button and it hits around mid thigh in length, as you can see in the photos below.
When it comes to the back pockets, they are positioned quite high up compared to where the butt sits and where the pockets usually sit on their jeans, however I'm not sure if this is because I'm wearing it too high up or because it's designed this way. I think it is designed this way as I can't really pull the skirt much lower due to it being fitted to my waist. It's not unflattering as such, but I do like my back pockets to actually sit on the butt rather than high up above it as it can create a strange illusion. Luckily though, as this is a denim skirt, it's not too much of a big deal as it's not moulded to your butt like jeans are, so it's ok.
Denim – This skirt is made from a 98% cotton and 2% polyurethane blend of denim. It does have some stretch to it as you need that to walk up stairs and sit comfortably, but it's not overly stretchy like the legging denim that I am used to. It's quite a sturdy material too, it's not thin and floppy, it has a nice feel to it, but it's not overly thick or restrictive. I have to say in terms of denim to use on a denim skirt, I think this is ideal! It's definitely breathable and a good weight with a slight stretch, so I can see it retaining its shape very well.
Wash – I did look around online for the true representation of this 13 Years Abyss Blue wash and I wasn't 100% sure what to go by as some places it was darker, some it was lighter. I found Shopbop to be a truer representation of the skirt and that's where I bought it from. My photos are also quite accurate if you have the screen brightness up and are viewing on a MacBook Pro 13 inch with a retina screen. I haven't seen on other screens how these photos show up, but hopefully that helps. It's a mid to light blue with creasing around the lap area and fading in all the right places. It definitely looks worn in and authentic, which I find is often something lacking in the denim skirt department. However, as it's AG, I expect nothing less than a perfect, vintage inspired wash that looks good. It's really nice, versatile and easy.
Details – AG decided to keep their back pockets plain on this Sandy Mini Skirt, they didn't include their usual AG signature stitching, which I think is actually a good thing as it helps keep the skirt minimal and away from the tacky regions that they can step into. Back in the 90's and early 00's denim mini skirts were everywhere and the more blingy they were, the better, so stepping away from that is important as you want to look chic in a denim mini now, not dated and cheap. They do have their little AG tab on the coin pocket and the simple back patch, but that's it. I'm also a huge fan of this one having a raw cut hem as well, if it was sewn with a seam, I think it can look a little too contrived and stuffy, so the raw hem gives it a more fashionable appeal and one that looks like it's intentional.
Overall Opinion – Overall, I absolutely love this skirt and have plans to wear it with numerous different outfits. I love how it has a slimmer fit, minimal detailing, comfort and a gorgeous wash, all combined into one. It's a skirt that you can wear with sweaters and boots as well as simple tank tops and sandals, no matter the season. I definitely recommend it to you if you're looking for a classy and chic denim mini skirt to step into the trend with! What are your thoughts on it? I'd love to know!
Buy this denim skirt online at Shopbop and online at Revolve Clothing.
Buy this denim skirt online at Shopbop and online at Revolve Clothing.