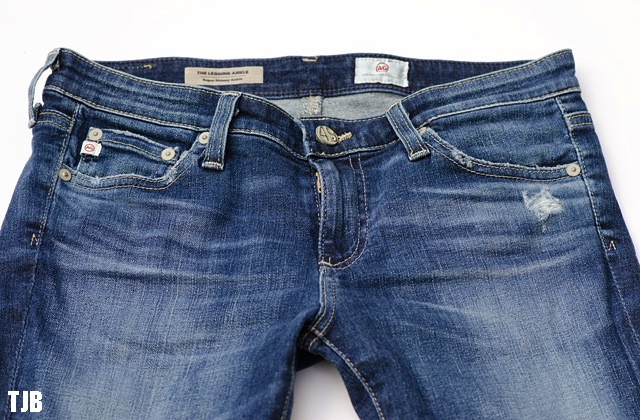 I'm really excited to be reviewing these amazing AG Jeans The Legging Ankle jeans in 11 Years Swap Meet as my second review here on The Jeans Blog. I got these a few months ago and fell completely in love with them. I had seen them numerous times online and thought they looked pretty, but I wasn't sure if the wash was too similar to my other pair in 16 Years Swap Meet, but as it turns out, these are darker and have more of a powdery wash to them. They have also made it onto my top three jeans list and considering I own over 400 pairs of jeans, you can tell that must mean they are perfect!
Now in terms of fit, I have been living in these jeans whenever I am going out and about. They have become one of my go-to's for comfort and ease. The rise is around 7 inches, so it's of a great height which I often find flattering. The inseam is cropped and is about 27 inches, so for the taller ladies it will hit above the ankle, but for me, it hits just on the ankle so they are more like a perfect fitting skinny jean! I couldn't be more happier with the rise and inseam length on these jeans, I feel like they were actually made for me and work for both taller and shorter women! The leg opening is 11 inches too so you can tell they are super skinny! I love how they just cling to your legs from the crotch right to the hemline, but without being uncomfortable.
The denim is a lighter weight stretch fabric, mixing cotton and polyurethane, so it's really stretchy, but structured at the same time. A lot like a jegging would be, but in more of a jean version. This is why The Legging fit from AG is one of my favourites! Combining everything I love in a jegging, but with the appearance and quality of a jean, what can be better than that? I can wear these all day everyday and not be uncomfortable at all!
Another thing that I adore about AG Jeans is the back pockets. I find them to be incredibly flattering on the butt as they are angled slightly to give the appearance of a lift and are small enough to not overwhelm you either. They do nothing but enhance your butt and make it look better and as the butt is always the first place I look when trying on jeans (if they look bad from behind, I wont buy them), I can't fault these! I also can't say that I've ever seen anyone look bad from behind in a pair of AG Jeans! Or from the front for that matter. All of the other little details are just so classic too, instead of that usual orange thread, these have a cream coloured stitching all over and then navy stitching for the AG signature back pocket embroidery. I think these shades of cotton just make them look that bit more sleek and mature.
These are of course made in the United States, as is the majority of premium denim, and I actually did an interview with AG Jeans on their manufacturing facility called Koos, talking to them about how jeans are made and the process from start to finish, so from that, I know exactly what happened to these jeans and where they were designed/cut/sewn and then washed! Now, speaking of washes, this brings me to the most amazing wash that I have seen, 11 Years Swap Meet! I truly fell head over heels in love with this wash and I could stare at it all day, just admiring its beauty (I know you fellow denim obsessives will understand). It has one of the prettiest undertones to it, it's a darker to mid blue, which is quite rich and deep in colour, but it has a powdery appearance, so it's much softer on the eye. It's not an intense and strong blue that feels forced, it's a really authentic looking washed out darker mid blue with fading in all the right places, like on the lap area with the whiskers and down the front of the thighs, on the butt etc.
The tops of pockets and the hems are also slightly worn, just adding to that worn in feel and then of course you have the distressing. One small patch under the left front pocket and one also on the knee further down, then on the right leg, you have two distressed patches, close together around the right thigh and then one slash at the knee. Now this is something that's incredibly important to me as distressing has to look real and authentic, it also has to hit me in the right places and since a lot of jeans end up being too long for my leg length, I was surprised when the knee rips hit exactly where they are supposed to, so evem when I bend down, the rip spreads over the knee. Absolutely everything with the fit of these is perfect down to the last detail and coupled with the perfect wash, these couldn't be more amazing!
I tend to vary between sizes 26 and 27 in premium denim, but have pretty much always been a true to size 26 in AG Leggings, which is what I took in these and they fit incredible. They aren't too tight or too loose anywhere at all, they fit like a glove, all while being stretchy. I am literally obsessed with these and have already told two of my best friends how amazing they are, one has already bought them and another has them on their wish list!
I'm not paid or endorsed by any denim brands during my reviews, I never am, so I only give 100% honest answers and thoughts based on how I feel about the jeans in review, so you can know that I absolutely do love these and couldn't be without them! I know you would too if you bought them! I can't give them high enough ratings or praise! It takes a lot to impress me since I've been in the denim industry for 8+ years, but every now and then something comes along, like these, and just sweeps me off my feet!
You can buy these jeans online at Shopbop for $224 or £139, whichever currency you use and I'm pretty confident you wont regret it! Shopbop also has free international shipping and you can pay customs at the checkout. I've also included lots of up close and detailed photos of these jeans as well as modelled photos of them on me, so you can see everything there is about them. As always, if you have any questions about them, just leave a comment below and I will get back to you!
AG Jeans The Legging Ankle in 11 Years Swap Meet – Modelled
These are the jeans modelled and worn by myself in size 26. I've currently worn these about 4 times since I officially owned them (two weeks) and they haven't stretched out, got baggy or anything. They have held up perfectly! You can see them below.