Have you ever wondered how premium jeans are made and what the process is? I was lucky enough to get the opportunity to chat to one of my favourite denim brands, AG Jeans, about their own Koos Manufacturing company in California. AG Jeans own the factory and they also produce Big Star Jeans there, making it a very diverse manufacturer of denim. I got to find out how the process works, how they get their jeans designs from paper into a finished product, how each department differs during the making and more! Check out the interview below and shop the current AG collection online at Shopbop and East Dane.
TJB – So, what makes Koos Manufacturing one of the leading denim manufacturing facilities?
AG Jeans – Firstly, we are the only vertically integrated denim production facility in the United States. That means that every step of crafting a pair of AGs takes place under our roof, from design to fruition. This ensures acute attention to detail, unparalleled consistency, the highest quality denim available. Our production facility has been in operation for over 30 years, so its safe to say we have it down to a science! We also use the highest quality fabrics and work with Japanese and Italian mills to create textiles exclusive to the brand. Additionally, at least 78 pairs of hands touch an AG jean through the manufacturing process- every stitch and rivet is done at the hand of a master crafts person.
TJB – You produce and make jeans at every price point, how do they vary in production?
AG Jeans – Every jean goes through a similar production process, but it varies slightly if the jean is aged. To recreate the authentic wear of vintage denim, the jean goes through more of an extensive aging process where we mimic the natural whiskering and fading through our state-of-the-art laser machines, or apply these details by hand (depending on the style).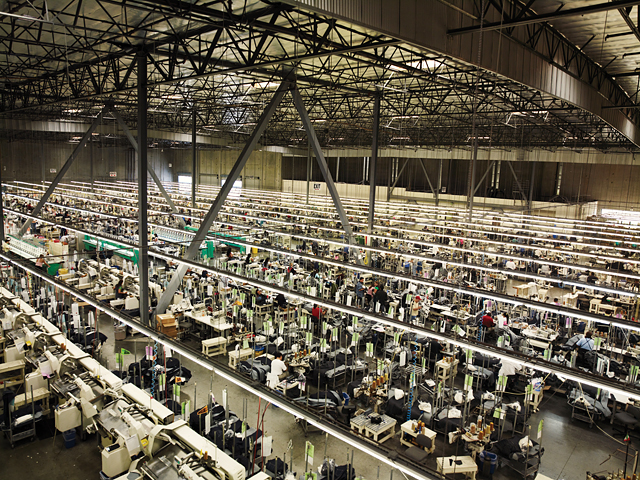 TJB – One of my favourite brands, AG Jeans, is made by you, could you tell me more about their process? How do you get that amazing fit perfect on every pair?
AG Jeans – First of all, thank you! It has everything to do with the incredible consistency we have achieved with our production techniques. Our denim is machine-cut in small batches to ensure accuracy and consistency. Though the equipment allows for double the capacity, we abide by a strict 30-ply maximum. A big reason our fits are as consistent as they are.
TJB – AG also have incredible washes, how do you manage to create such authentic looking jeans?
AG Jeans – Our wash team works exclusively with the mills to create unique AG fabrics. We have long-standing relationships (up to 15 years) with some of the worlds top mills and we have been and continue to be a driving force in fabric innovation in the denim industry.
TJB – I would love to know the process of how a pair of jeans is made in your factory, from start to finish.
AG Jeans – Once the fabric reaches our warehouse, we test every individual roll to verify that it meets the incredibly high standards we have set for the brand. The fabrics is cut to the correct size specifications, bundled in carts, sent to sewing where the back pockets, waistbands and other elements are added, and then to laundry and to straight to finishing for final buttons, zippers, and any decorative element the style may require.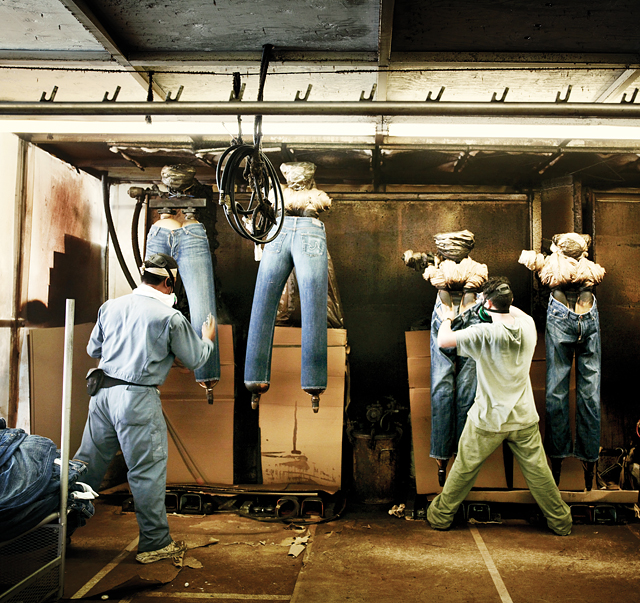 TJB – Do you have different expert areas for each individual area like sewing, pattern making, washing, finishing etc?
AG Jeans – Yes, we have a sewing, finishing, cutting, sanding, laundry, and numerous other departments. In some other factories, employees are cycled through different departments, but at AG, we like to have each person as the master of their craft– we have many employees who have been working here for 35+ years!
TJB – Is each pair of AG Jeans hand made throughout the entire process?
AG Jeans – Every jean passes through a machine at some point during the process- we produce approximately 50,000 jeans a week so this has to be done to keep up with demand! The extent of handcrafted details varies based on the style. While sometimes we hand sand our denim to create that desirable vintage look, we have been employing more laser finishing as well. We are the first company to use laser technology for finishing. This process replicates the appearance of sanding and whiskering without the labor-intensive handwork and requires only one wash cycle, thereby reducing the usage of chemicals, water, and energy. The end result is a garment with a beautifully worn vintage finish for which AG is known.
TJB – You also have a photo studio, do you shoot the look books and final products there?
AG Jeans – We have a photo studio where we have many of our E-commerce shoots and flat shoots. Our campaigns and look books are typically shot off-site at a location selected by our Creative Director.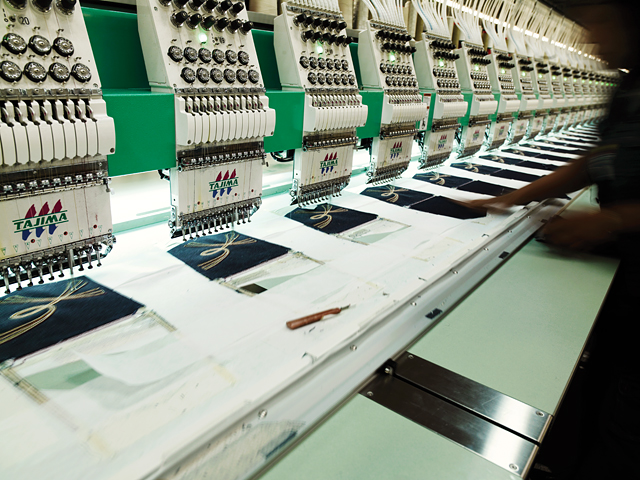 TJB – After designing the jeans, how easy is it get the design from paper exactly the same as the finished product?
AG Jeans – Our design teams work very closely with our pattern term to ensure that the designs are translated from the page, to the product as closely as possible. There are many fittings and reviews before a pair of jeans comes to market!
TJB – Where does AG get the inspiration and talent to create such amazing washes?
AG Jeans – Our fabric development team and our design team sit down every season and set the tone and feeling for the upcoming collection. They typically take an inspiration trip before the start of every major season and have traveled to Japan, Paris, Stockholm, London, and Berlin.
TJB – What has been the most popular seller for women and men?
AG Jeans – The Stilt (women's) and Protégé (men's) have been mainstays in the collection. However, we have seen that the Nikki ( a relaxed straight leg for women's), Legging Ankle and the Graduate ( a more tapered, slim fit for men) have been extremely popular as well. It varies season to season, and we try to cater to new trends and colors, while also providing the classic silhouettes.
TJB – To me, AG Jeans are one of the best, with such fantastic fits, material and washes, but what else makes you such a unique brand?
AG Jeans – Environmentally friendly practices are an important point that makes our brand unique. Ozone Technology is just one of the many ways AG demonstrates their commitment to being a responsible and sustainable brand. There are a number of other initiatives and processes the brand is invested in to ensure we maintain our Eco-consciousness:
Environmentally Friendly Fabrics
• Many of our fabrics feature Tencel and Modal, which are natural and biodegradable materials.
• Modal requires 100 times less water than cotton during production.
Biodegradable Chemicals
• We use formaldehyde-free chemicals that require lower wash temperatures and fewer wash cycles, lowering energy usage up to 87 percent.
Energy-Saving Equipment
• Heat-recycling dryers reduce energy consumption by up to 46 percent.
TJB – And lastly, can you give us a sneak preview of what might be in store for the coming season?
AG Jeans – We are extremely excited about our new Contour360 jeans- they have all direction stretch for amazing movement and flexibility, and full retention for a gorgeous, sculpted silhouette on every wear. We are also introducing Digital Luxe Denim, where we have digitally printed photographs of vintage jeans on super soft sateen fabric. Photoreal printing captures the look of denim while minimizing chemical, water, and energy consumption- you have to see it to believe it!