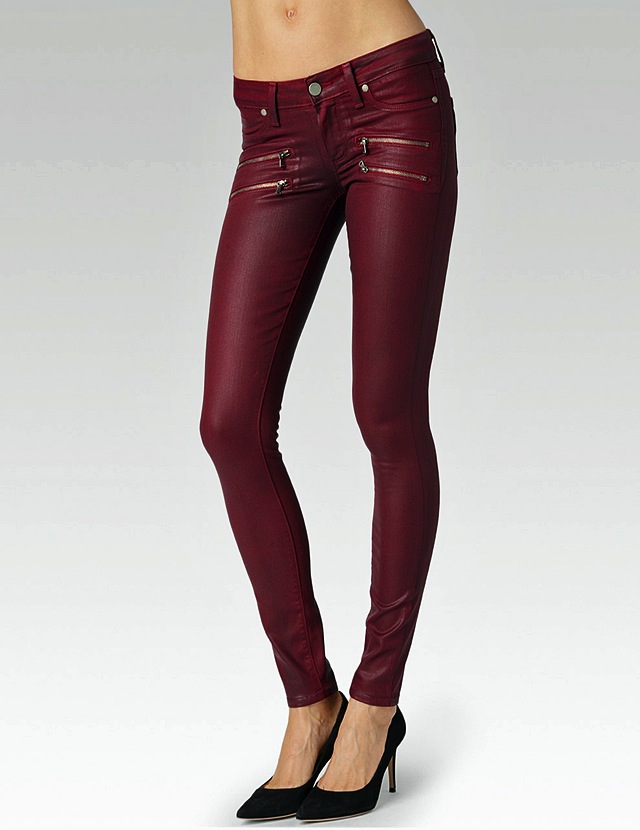 Paige Denim Edgemont Jeans in Shiraz Silk Coating
The next jean that I am featuring in the spotlight series is the amazing Paige Denim Edgemont Skinny Jeans in Shiraz Silk Coating. I saw these gorgeous jeans on the Paige website this morning and completely fell in love with them! They combine everything that I look for in a jean when it comes to Autumn: burgundy, coating, zippers and a skinny fit! Since this is a denim blog and everyone adores jeans, I couldn't not share these with you!
I have a couple of pairs of the famous Edgemont jeans and they are fantastic! The hip zippers are angled for a flattering fit and they are super stretchy as well, making them comfortable while enhancing your figure. They feature an 8″ rise with a leg opening of 10″ and an inseam of 30″. This particular pair is made of a  42% Lyocell, 33% Cotton, 15% Rayon, 9% Polyester and 1% Spandex blend, with a 9 oz denim weight. Knowing Paige jeans as well as I do, these will also be really silky! Aren't they just stunning?