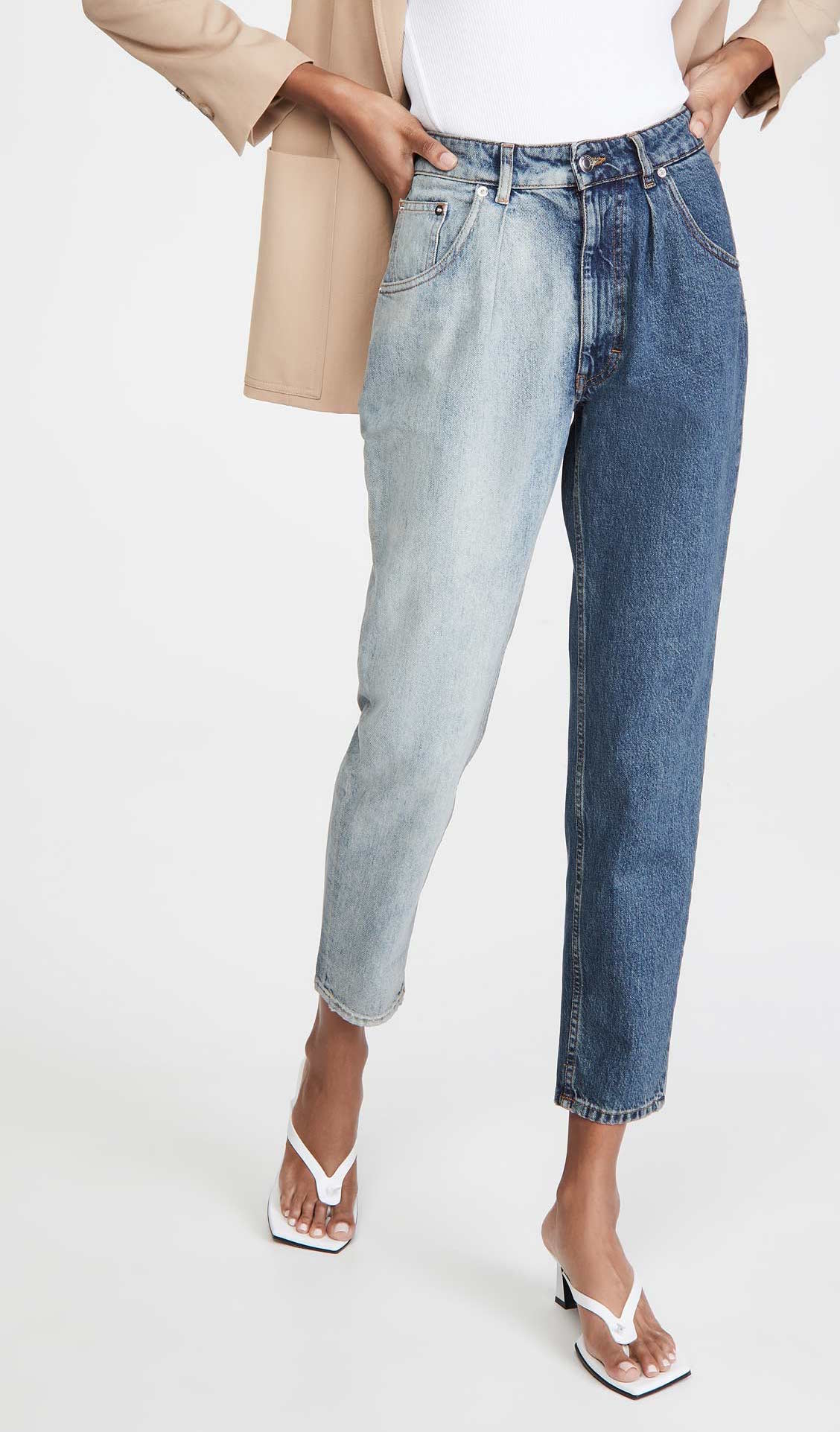 There are often some weird, but wonderful jeans that are showing up in our stores and online browsing, especially now that fashion is pushing the boundaries even more. We've seen some crazy pairs that most people just wouldn't wear, and we've seen some that are a little more subtle. These jeans here fall in the subtle category, but they're unique enough to be different to classic jeans, giving your outfits that much needed boost in taking them to the next level, adding character. There's 5 pairs of funky jeans in this blog post to choose from, and I would love to know which you love the most!
First up are the two tone pair from IRO. Two toned jeans were popular a few years ago and we were seeing them on celebrities everywhere, however we weren't spotting two different leg shades. These are an acid wash with a mom jeans fit, giving them a vintage 80's appeal, but one side is a classic blue that looks like it would if you bought them 20-30 years ago, and the other side is bleached out. Even though I probably wouldn't wear these myself (I'm uncertain on that!), I think they're so cool and I would love to see how everyone styles them, so please do let me know if you purchase these IRO jeans!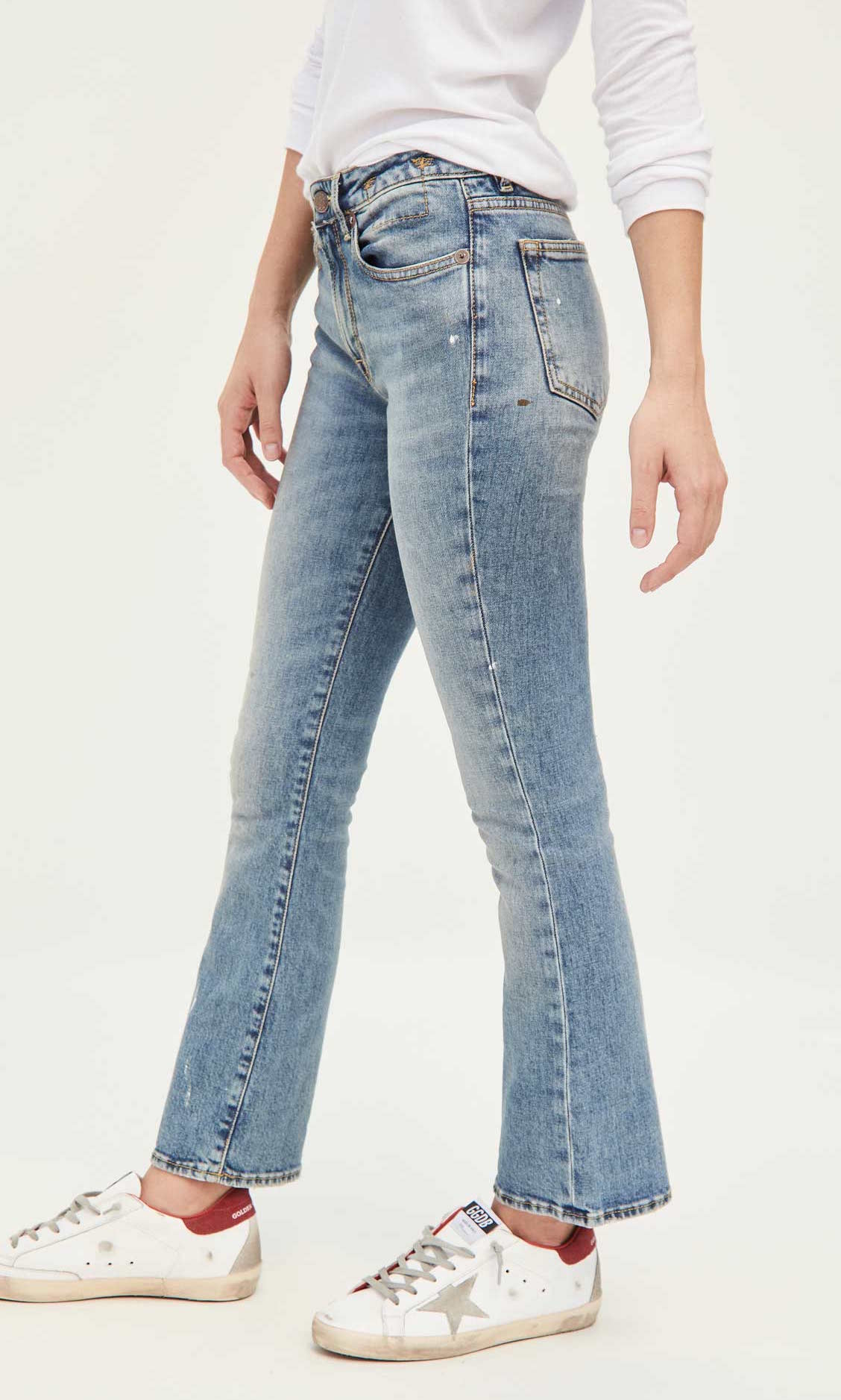 Now I wouldn't really class these are strange or weird, but they are bold and I think they would just give an edge to any outfit. R13 are known for going wild with their designs, and anyone into denim knows that, but this pair is subtle, yet beautiful. The cropped kick flare on a skinny fit jean is ideal for wearing with low top sneakers, or dressing up with statement ankle boots. Not to mention the wash is really nice! These are jeans I would love to own!
Something a little more classic, but still airing on the side of unique. These Veronica Beard skinny kick flare jeans are cool and offer a seam down the front of the jeans. I think this just makes a plain jean all the more interesting! Can you imagine how fashionable these would look dressed up with some black stiletto pumps and a black tuxedo style blazer, worn over a crisp white shirt? It gives me such a Victoria Beckham vibe!
Now for a pair of jeans that is a little more out there! These Stella McCartney denim trousers remind me of a pair of work pants, as they have the cargo style to them, with a belted, paper bag style waist. It's a fun and interesting mix on a pair of jeans. What's your opinion on these? Do you like them?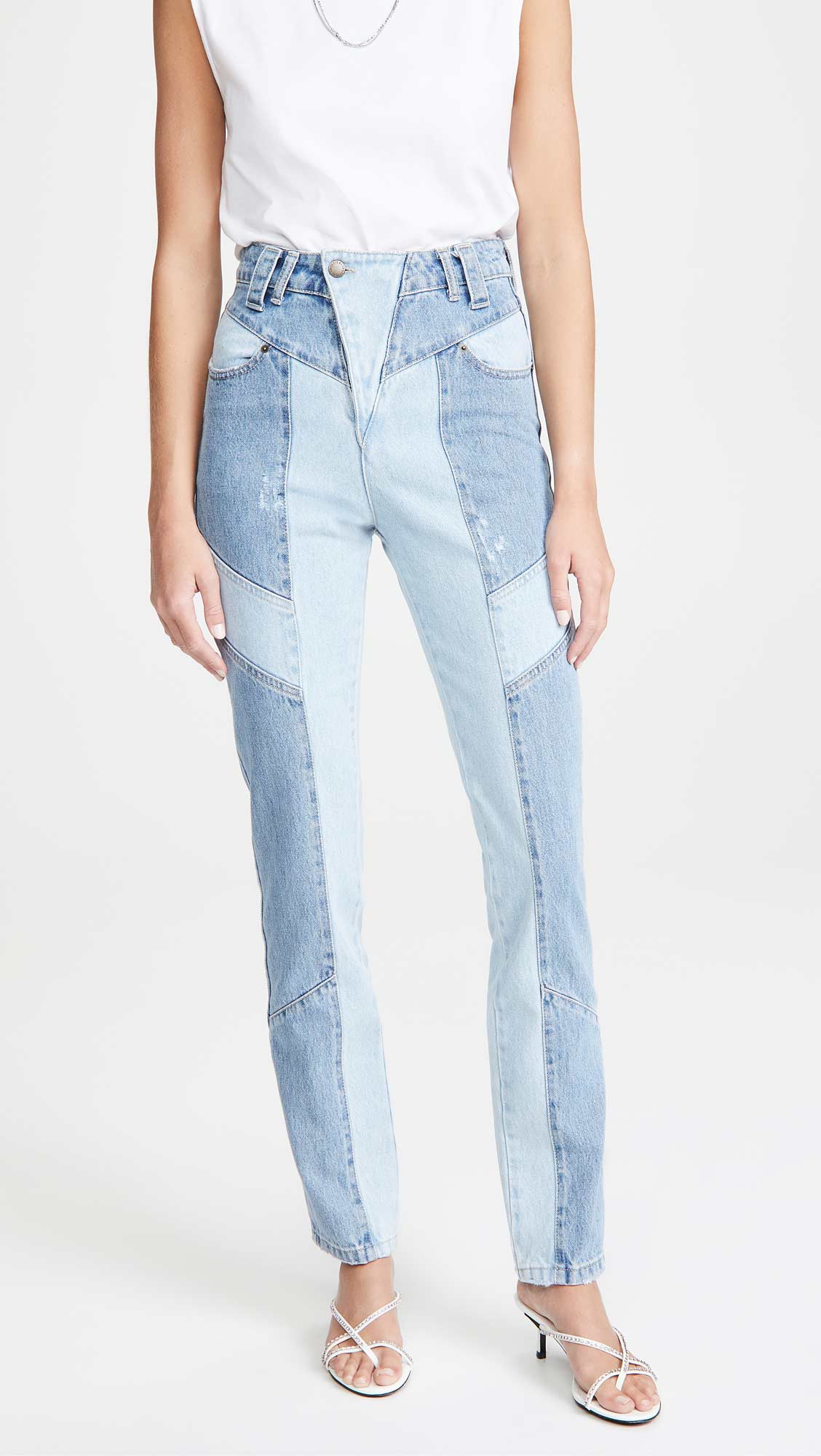 I hadn't heard of Retrofete before a couple of weeks ago, and I just shared a post on their jeans (click here). They made for a really interesting article, but they also design jeans that are more versatile too, like this pair here! Mixing two tone denim and patchwork together, this pair is really stylish. I think the darts and shapes of the seams is really important in lengthening the legs. I can just imagine someone like Rosie Huntington-Whiteley or Kendall Jenner in these!
– What do you think of these 5 bold and funky jeans here?