There's a new denim brand on the scene: Lady K Loves! Specialising in a vintage & rock n' roll vibe and subculture, the jeans are unique and something we haven't really seen before! The cuts are based on the communities body shapes and measurements, which is why they created four different styles. There's something to suit everyone, and not just a standard fit model. Another great plus point of the brand is that they are sustainable and ethical, so that's always a good thing in today's world.
The four different styles they offer are:
Hug Me Baby – These are made for girls with a big difference in waist to hip ratio, meaning they will fit snug all over and not gape at the waist.
Classic Jeans – These are the first pair of jeans they designed, a classic fit with Lady K Love signature detailing, so you can't go wrong with these.
Polly Jeans – If you're petite, these are the jeans for you. They come with a 27″ inseam and are designed to fit the shorter ladies out there.
Le Wild Jeans – If you are interested in a wider leg and not into skinny fits, these are the jeans for you. They are cut slimmer on the hips, but feature a wider leg opening.
Lady K Loves also has a more affordable price point, so it's worth trying them out, especially if you struggle getting jeans to fit your wider hips and smaller waists! Or if you just love that rock n' roll vintage vibe that they have going on! The Jeans Blog personally caught up with Kessie, the owner and designer of the denim brand, to find out a little bit more about the company and jeans she designs, so check that out below! I'm also interested in learning what you all think of this brand! Let me know!
Click here to check out the Lady K Loves website!

What inspired you to create jeans designed for the communities body shapes? Was there a huge gap in the market?
"When we first created our Classic jeans (The first style we came out with) I personally was desperate for a pair of high waist jeans with a slim to tight leg, with a standard western waistband. None of the repro brands did anything like this, the look at the time was either a tight leg with a dual waistband look (think low rise, with a bit added on to take it up to your natural waistline) or sitting on your natural waist but with wide legs, which just didn't do it for me! The hip to waist ratio was worked out by asking our Facebook community for their measurements to find the 'average' & create something which would work for loads of people. At the time, the high street wasn't producing high waist jeans, so there really were very few options. It felt natural & like it made sense to get a gauge of what people needed, rather than just what worked for me or what I wanted. This then created the process of how we'd work creating new styles."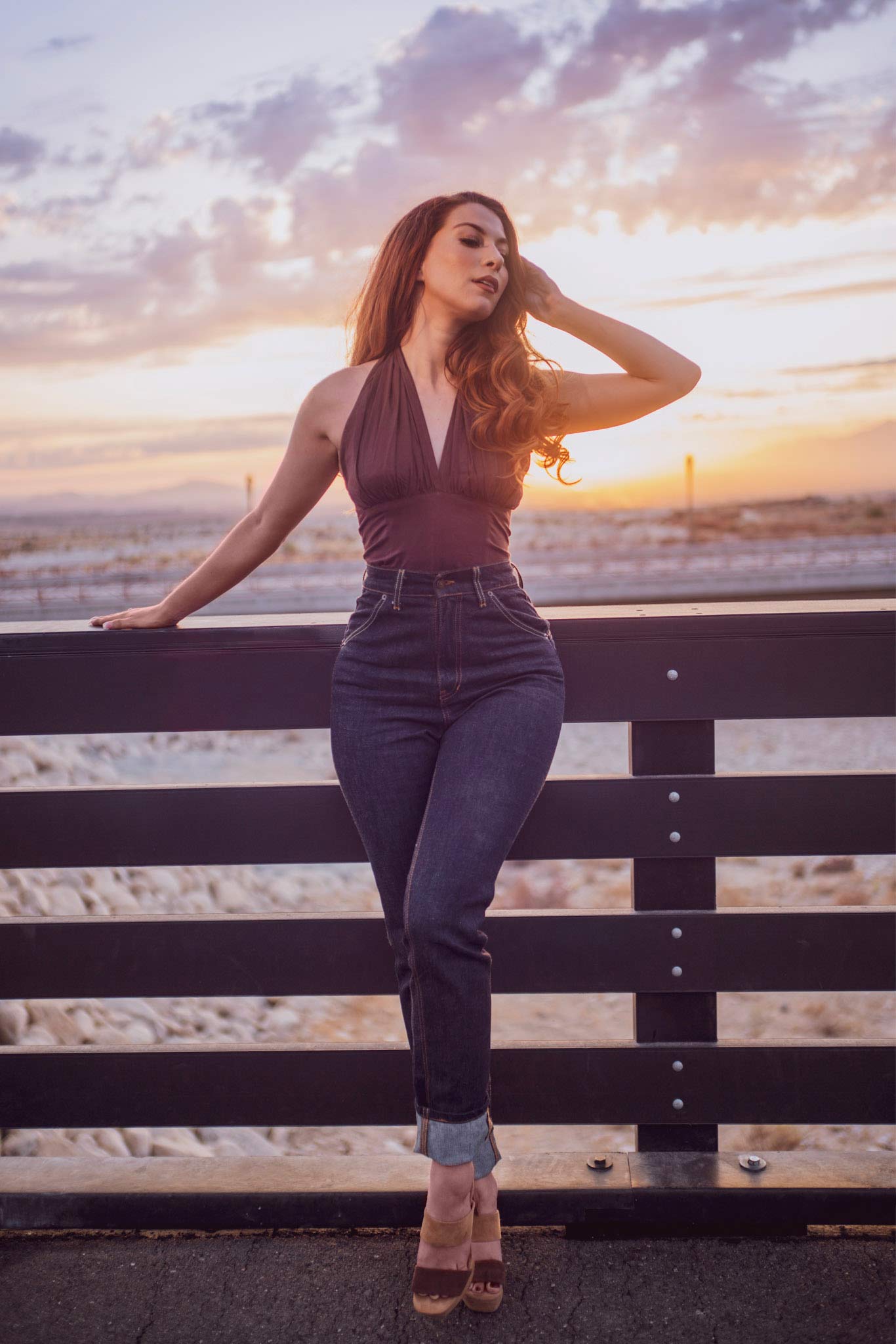 What jean would you say is your best seller?
"Our best sellers are our Classic & our Hug Me Baby. Our Classic is the best seller since it's the best fit for most people. With our Hug Me Baby style, they are cut for women who's waist is a dress size smaller than their hips. Because people with this body shape struggle to find high waist jeans which fit the hips & don't gape at the waist, the HMB styles has a really strong reputation. Women with this figure spread the good word & love what we offer with these."
Is this what sets Lady K Loves apart from other brands? Or do you have more distinguishing features?
"well firstly it has to be a focus on creating jeans based on feedback & our communities measurements. Every return or exchange we ask for feedback so we can improve the product or the product range.
We have signature details, like our heart & lightning bolt rivets, back pocket heart swirl embroidery, sweetheart yoke on the back which gives your bum a visual lift without the gym are some of the main features.
Most importantly, we work hard to move to sustainable processes and have changed many things in our production to work with sustainable factories. This does mean we've moved production to India, however since the UK doesn't have the climate for growing cotton, at some point either cloth or end product needs to be transported to the UK. Transporting the final product cuts down on transportation pollution from excess materials. The factory we work with produces organic cotton & in the future, we'll be able to create a circular process with old jeans being used to make new fibres & cloth. We just didn't have access to these processes in the UK, and considering these aspects is really important to the brand."
Thank you so much for introducing your brand to us!