New 2019 Denim Brand – TRAVE Jeans
I was browsing Shopbop a couple of weeks ago and came across a brand new denim brand called TRAVE. I was mostly drawn to one pair of jeans in particular, the Harper Crop Slim Straight Jeans in Time After Time (seen above) and fell in love. I haven't yet tried out the brand, but I can see that they're probably going to be extremely popular due to how fast they're already selling out! Usually new brands are slower to take off as nobody knows who they are, but TRAVE seems to be piquing everyone's interest and I can see why. There was announcements about them last year, but it seems like they're finally taking off now for 2019.
It's been a little while since I did a feature on a new denim brand, so instead of catching up with TRAVE and reaching out to them for this article, I wanted to write it based on what I found out myself, and my opinion of them, then hopefully an interview will come in the following months once their website launches. I'd also love to do a review for you all, so we will see!
TRAVE was launched by mechanical engineer, I.J. Kim after he decided to quit his successful career and change it entirely, swapping science for fashion. That's a brave move, but one that I think has definitely paid off! A quote from him that I read in Vogue stated "I was working as an engineer and went to Johns Hopkins to get my MBA, but after the program, I really just wanted to do something I loved. Growing up, I was hard-core into science, and most of my family members in Korea were doctors, so they had really high expectations of me. I was doing college-level biology, calculus, physics, and chemistry in seventh grade – I didn't have time to pursue anything except studying."
This wasn't enough for him though as his real passion and obsession was in denim – something we can all relate to. This began when he was 13 years old and moved from Korea to the United States, which led to him buying his very first pair of Levi's jeans. I'm sure we all remember our first pair, I know I do, as they're often what spark off our love for the blue fabric entirely! Kim was quoted saying "I got one pair of Levi's that became my uniform, and I immediately fell in love with denim. It's amazing how it ages with you and how you can see a person's lifestyle in it… I started collecting vintage denim, and that was really the starting point of all of this."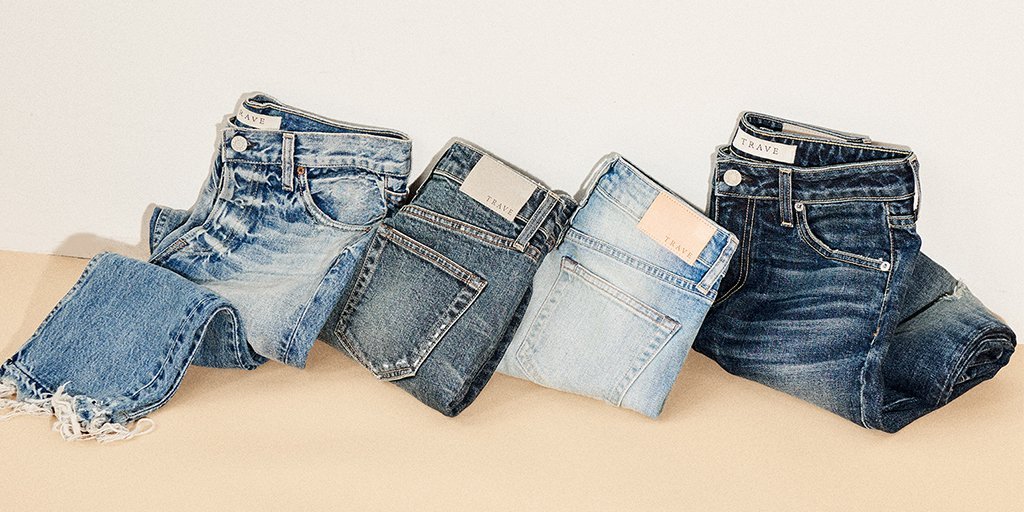 So in 2018, he launched his own denim line, titled TRAVE (it means 'a crossbeam or formal support structure'), which consisted of a small collection of extremely high quality, vintage style jeans that truly look authentic due to the fact that they incorporate his engineering background. Not only does the name come from architecture, but the concept of his jeans do too. "With engineering, I learned to appreciate the fundamental elements of everything. If the foundation isn't strong, whatever you build on top isn't going to last. That's my whole attitude towards this brand. Denim should be the foundation of your wardrobe, supporting the other pieces you wear with it. So I focus on the really fundamental basics – construction, fit, and fabric, and making it all more sophisticated and elevated."
I am in full agreement with him here as I pretty much always base my wardrobe and outfits around what jeans I'm going to wear. Some people style around their shoes, but I always do it with jeans 99% of the time. I think that's why the brand is going to take off and do so well because as I've mentioned before, everyone is favouring the basics now and love the vintage inspired jeans that are getting popular again, so TRAVE couldn't have come at a better time. As you can see from the collection, they're pretty minimal, sleek, non branded, and have some really nice cuts that embody perfectly distressed and washed hues. They look like they could be lived in, and tell a story.
I was a bit apprehensive as they are 100% cotton and have no stretch at all, but I'm told the denim is soft and wearable, even though it was originally designed for men's jeans, Kim chose it for women's stating "I focus on details that others usually don't look at". As an example of that, the Audrey jean is made without a side seam, which was deemed as impossible by his sewing factory, but he studied the patterns for a few weeks and figured out how to make it work, stating "I think other brands would just take a shortcut and put in a side seam and move on. These details I care about are really subtle, but they're meant for people who really understand denim and appreciate the craftsmanship. They want a really good jean they can wear over and over without constantly needing something new."
When talking about his Spring 2019 collection, there's a lot of earth tones which he chose directly from nature, being inspired mostly by Japanese gardens, which are designed to blend perfectly into the landscape around them. Kim said "I believe nature is the foundation of color, and for hundreds of years, Asian gardens were built around Mother Nature. They even paid attention to the color of the fish in the ponds, the color of the sand, the rocks, [how the colors would look] against the sky, the moonlight on the pond… It's about appreciating those fundamental colors you find in nature." I can truly see that as these jeans do make such a great base, I'm intrigued to see what's next! Based on how passionate he is about his jeans and his designs (which I'm really picking up on his enthusiasm for his line) I can see this being the next RE/DONE for 2019!
Kim stated that their motto is that they want to create a full wardrobe of denim, saying "I know it doesn't make sense business-wise to say you want your customer to just buy a few pairs of jeans, but we're trying to make them perfect so they don't just get thrown away. My point of view is to make few, but wear well. It's about quality." I fully believe that based on what I've seen. His jeans are made in the United States and have a price tag of $220 upwards, so they're not much more expensive than most premium denim brands on the market today. There's a select few styles readily available at the moment, mostly in indigo, white, washed blue and black, so they're definite classics! There's no skinny jeans though, so it might be time to try out a new slim or slightly cropped bootcut fit instead! I think this was a smart choice given that they're all 100% cotton though, skinny jeans without stretch are not comfortable to wear. Anyway, what do you think of TRAVE?
Purchase 2019 TRAVE Jeans below at Shopbop

*This post contains affiliate links to help keep this blog running.