Hailey Baldwin Bieber (since she's married to Justin Bieber now), was pictured leaving CUTLER Hair Salon in Manhattan's Soho area in New York City. I have to say that I really love her hair short like this and I think it's a nice change to the usual extensions and long hair we see on the younger celebs and models in the industry.
For her outfit, Hailey chose to wear a pair of RE/DONE Levi's Skinny Jeans which she styled with a simple white t-shirt, a brown Western inspired belt, a ACNE Brown Suede & Shearling Velocité Jacket and some white Chloe Sonnie high top sneakers.
It's nice to be seeing the RE/DONE Levi's Jeans out again as they were all we were seeing for the past couple of years, granted it was mostly in the Summer months, but they took over the denim industry for quite a while when Alessandra Ambrosio was wearing them non stop, but once she got a divorce from her husband (the founder of RE/DONE Levi's) they seemed to go a bit quiet.
Did you know that RE/DONE have also brought out their own line of denim which is made by them, not reconstructed vintage denim, but an actual new line of jeans? I have to say that I definitely prefer the vintage styles due to the character of the washes, but their new jeans look quite nice. It looks like most of them have stretch in them too, so I'm going to be looking out for these on the celebs.
Getting back to Hailey's outfit though, are you a fan of the ACNE shearling coat? I absolutely love it and have always been a fan of these type of jackets, especially the ACNE ones, it's just a shame they have such a high price tag because they look amazing, and the way she's paired it causally with the jeans is just perfect!
Sneakers have also become so popular now and everyone opts for them instead of heels these days. Since the dad sneaker trend was so popular and Balenciaga Triple S was a thing for ages, and the Fila Disruptor, I'm wondering if these new Chloe Sonnie sneakers are the next 'it' trend? I will be keeping my eye open!
Regardless of that though, I think this entire combination is a winner and the additions of the dainty jewellery, sunglasses and earrings really completes it. It's always all about those additional details that makes or breaks an outfit and this is a winner! Anyway are you a fan? I'd love to know your opinion on this look on Hailey Baldwin here! I would love to wear something like this but my legs just aren't long enough, ha ha.
Shop Levi's Jeans & RE/DONE at Shopbop.com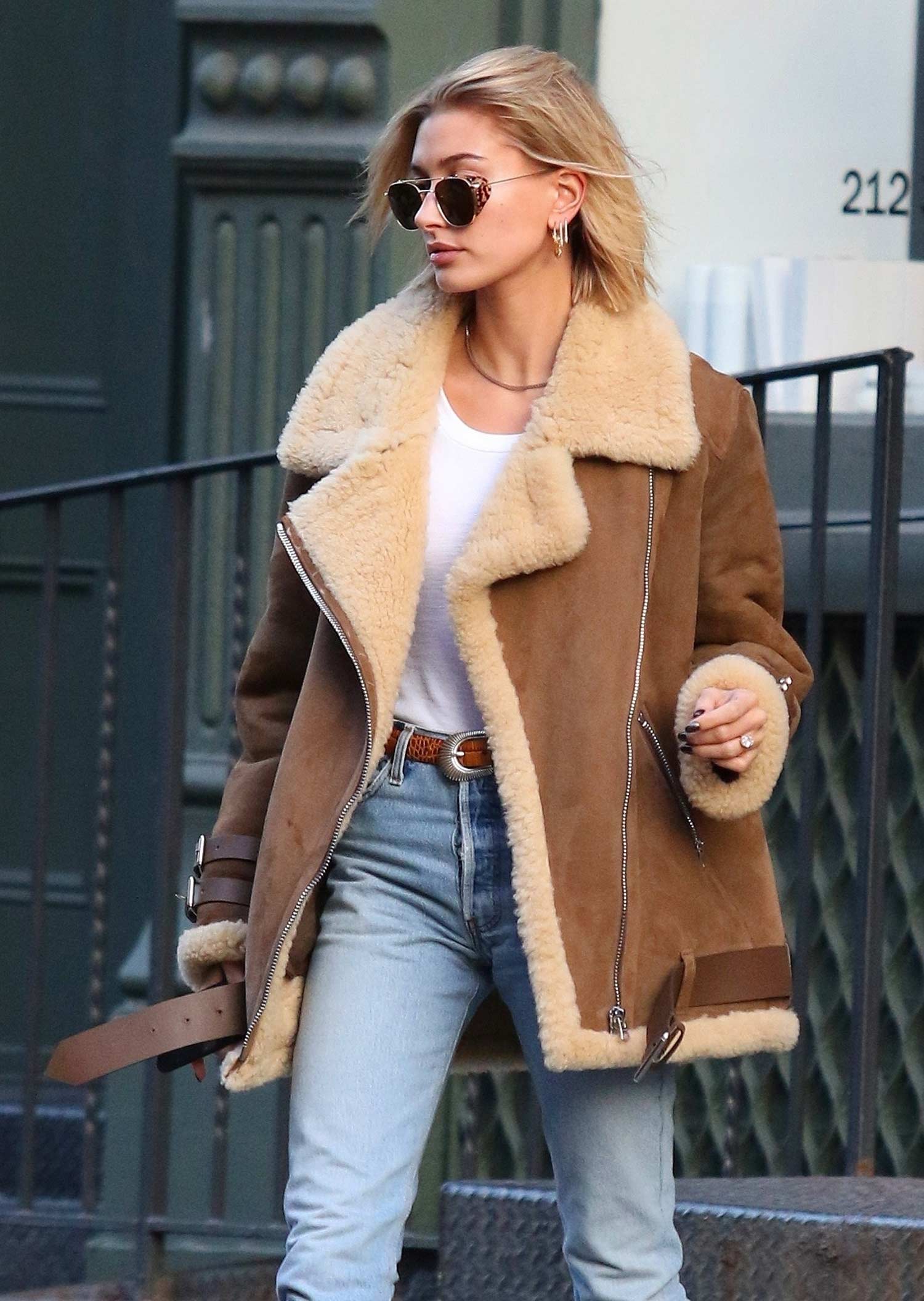 Image Credit: BrosNYC / BACKGRID
*This post contains affiliate links to help keep this blog running.