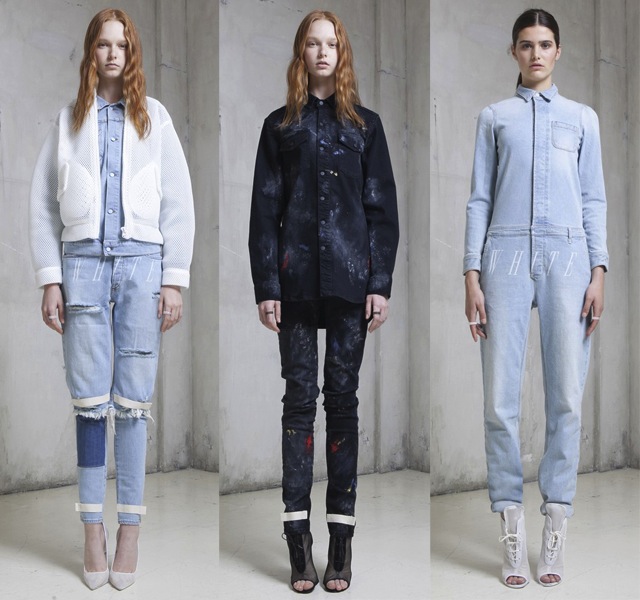 Off White
So, Fashion Month has come and gone and the final leg, Paris Fashion Week, is now over. It's a crazy month, filled with energy, enthusiasm, passion, love, admiration, exhaustion an almost every emotion under the sun, but it's one that leaves you with a sense of accomplishment and fulfillment. I'm happy to report that I have actually enjoyed the Spring Summer 2015 seasons collections as denim has been absolutely everywhere in full force, and for a denim blog, that's fantastic!
I thought New York and London had a lot of denim in their collections (opposed to Milan), but that was until it was time for me to round up the denim from the Paris fashion shows. Let me tell you that it ended up taking almost three times as long! That's why this post is slightly delayed, but never the less and better late than never, here are all of the denim pieces from the Spring Summer 2015 Paris Fashion Week shows! The trends are lots of lighter washes and chambray mixed with raw indigo, embroidery and military inspired with lots of oversized fits and a 70's inspiration. So, take a look below and let me know which designer you loved the most! Mine was Infe!
Off White (pictured above) had a really interesting collection actually, it reminded me a lot of vintage styling and I loved the lighter washed denim pieces. Especially the ripped jeans on the left, but I thought the painting on the middle denim outfit was cool and so was the jumpsuit!
Kenzo
Kenzo to me sort of gave a big nod back to the 70's with the really baggy, almost tent like, jeans and oversized tunics to go with them. I loved the washes on these pieces, but I definitely wouldn't wear them myself as I like my denim more fitted!
Leonard
Leonard had some gorgeous embroidered denim in their runway show. I thought the tapestry detailing and the intricate nature of the stitching was really fancy and something worth shouting about. The overalls above and the denim dress have to be my favourite!
Stella McCartney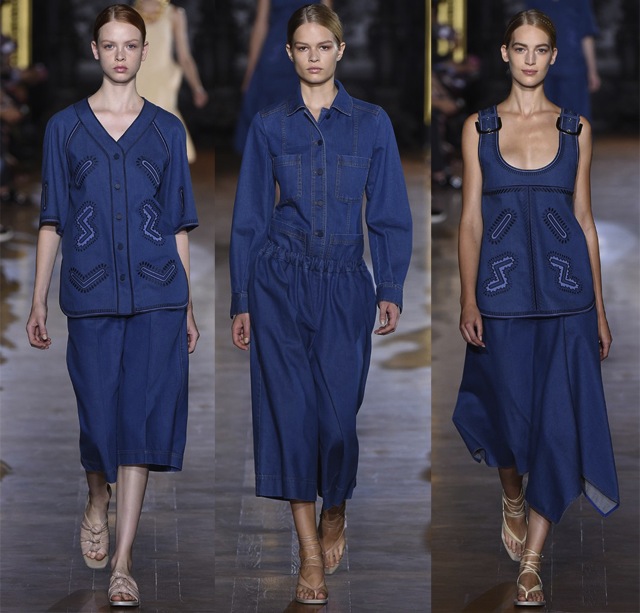 Stella McCartney is always a designer to feature denim in her collection and I think she did a great job with these pieces. I would have preferred to see jeans as I'm a fan of her skinnies, but I think the embroidery and uniform shade of blue on these three looks is perfect!
Irfe
Now Irfe isn't a designer that I am overly familiar with actually, but I have to say this collection was my favourite from the whole of Paris Fashion Week. I thought the denim pieces were really simple and down to earth, much more wearable than others and the ombre detailing was gorgeous! I loved the slouchy tapered jean fits and the patchwork! So pretty!
Paul & Joe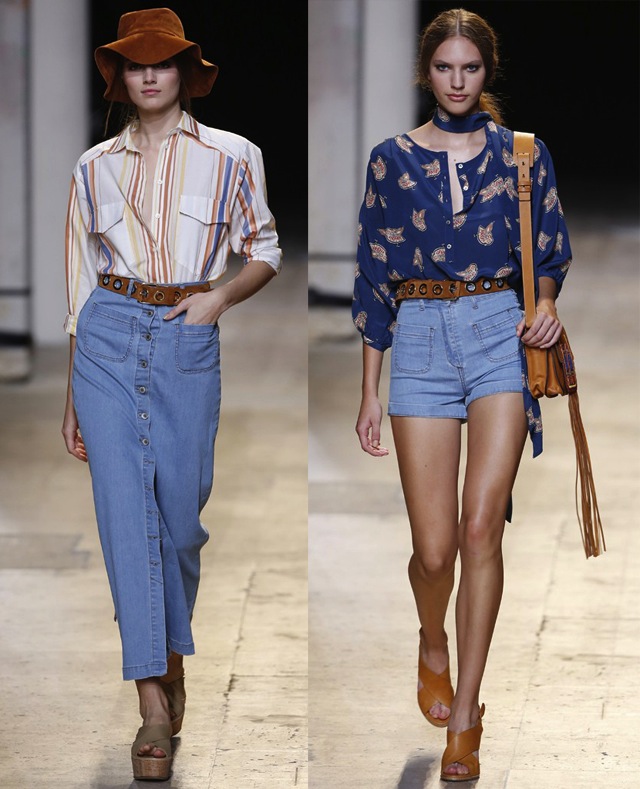 Paul & Joe only featured two denim pieces, the maxi skirt on the left and the vintage inspired shorts on the right. I feel like they also gave a nod back to the 70's with the cuts and styling here, but it has a more modern take on the trend with updated fits.
Maison Martin Margiela
There was only one pair of jeans featured in the Maison Martin Margiela collection and they were actually quite an ill fitting pair of bootcut jeans. I can't say I am fan of these as they feel too vintage to me. I much prefer bootcut jeans to have a slim fit to them and a sexy look, but these just don't, so I didn't like these as much unfortunately.
Jean Paul Gaultier
Always one to go wacky and wild is Jean Paul Gaultier and he definitely didn't disappoint with this collection, if that's what you love. The denim was filled with embroidery, patchwork, sequins and tapestry lace detailing, creating really iconic and bold pieces. Again, this isn't something that I would wear myself, but I could see these on the likes of Rihanna!
Chloe
Chloe actually kept things very minimal and sleek, using military inspired pieces with utility pockets on the denim skirts, shirts and jumpsuits, but the colour palette was very denim inspired. It was sanitary with white, indigo and a mid blue, making everything look chic and well presented actually. I really liked it and I thought the collection was well thought out. I even liked the pairing of the denim with jersey sweat material.
Alessandra Rich
I don't know if you would call these jeans, or more of a pant/trouser, but I wanted to include these from Alessandra Rich as I love the pop of blue they add to this post. I found there to be a lot of colour lacking here and these were perfect to brighten that up! I find they have a structure like jeans, but the embroidery is cool!
Sonia Rykiel
Sonia Rykiel was another designer that featured oversized fits and embroidery, using the cropped flared fit in jeans, an overall and a jumpsuit. The styling again was very 70's inspired here and I can't say that I would wear these pieces, but they definitely seemed to suit the collection. Unfortunately though I don't think these are cuts that I will ever like.
Vetements
And finally, we have Vetements. They featured only two pairs of jeans in their runway collection and they were chopped raw hem bootcut jeans with a slouchy fit. These were not really fits that I liked and would wear, yet again, however I think the chopping of the hems and leaving them slightly frayed and uneven really gave them a unique look. Almost like an updated version of what they were going for and I feel like it takes it to a level that's a little chicer than before.
– So, out of all of these, who was your favourite?