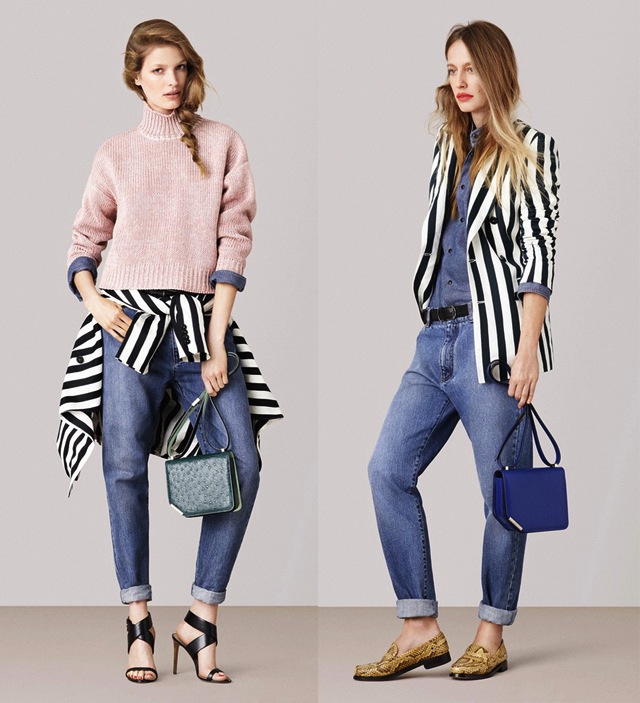 Bally
Fashion Month is still in full swing for Spring Summer 2015 and next up in my denim from the shows series is Milan Fashion Week. I have to say that I think it was the city with the most denim! So many designers from the usual DSquared2 and Roberto Cavalli to high flyers like Fendi and Gucci showcased lots of denim looks on the runway! It was fantastic and the theme for most of them was slouchy boy fit, almost vintage looking jeans, lots of distressing and even some embellishments and patchwork! Of course though, just like New York and London, denim jackets were also quite heavily present! Check out the collections below!
First up (above and just below) we have the new Spring Summer 2015 collection from Bally. They featured their designs during a presentation and four of the key pieces were jeans. They reminded me of the vintage Levi's 501 fits, all with a washed out look and one featured patchwork. I've seen a lot of fits like this throughout many shows and I think it's going to be a big hit for the upcoming Summer season next year!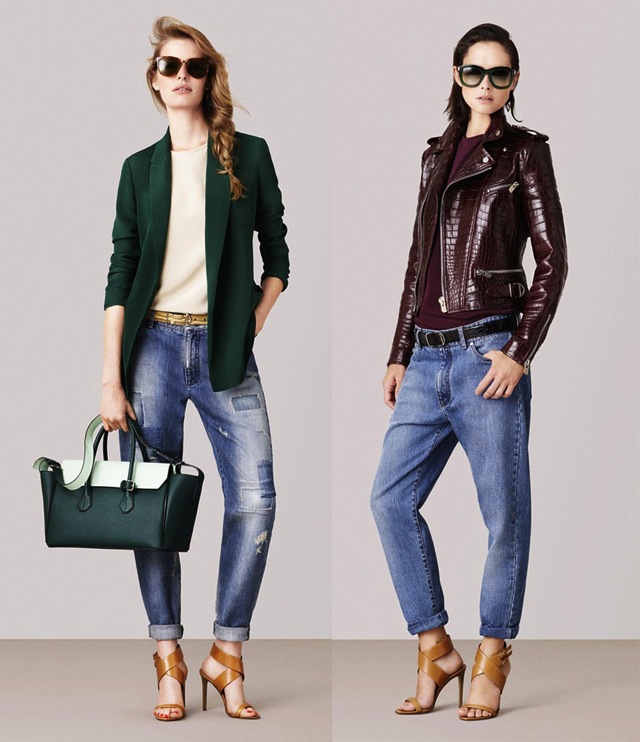 Gucci
Next up we have Gucci and I was actually surprised to see so much denim! Just as surprised as I was to find all of those denim jackets in the Burberry Spring Summer 2015 show! Their denim was military inspired with giant gold buttons and featured in a jacket, trench coat and of course, numerous cropped flared jeans. Another fit that has been increasingly popular!
DSquared2
DSquared2 showcases denim all of the time and is known for having numerous boyfriend fit jeans throughout every single season, so it didn't come as any surprise to me to see these boyfriend jeans, shorts and denim jacket featured on the runway. These pieces are very consistent of what DSquared2 usually design, with the washes, distressing and details. I can definitely see Gwen Stefani rocking these! She's a huge fan of the brand.
Roberto Cavalli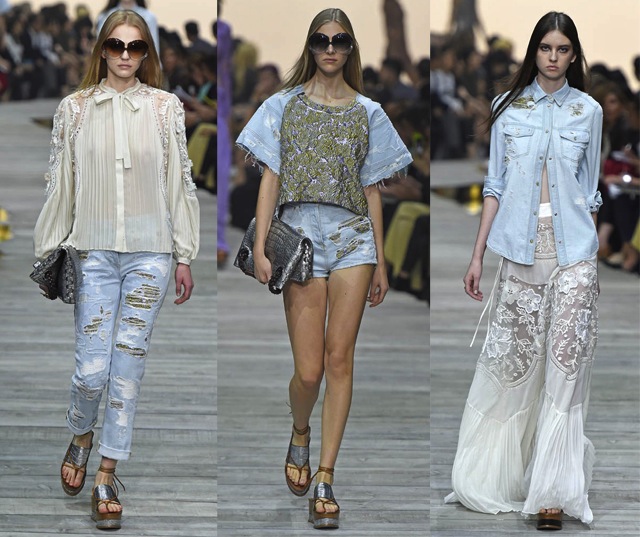 Roberto Cavalli is another designer that features denim quite often too, but in a more unique and extravagant way. He featured jeans with lots of heavy distressing, patched with gold lace behind the fabric. Denim shorts also matched this and then there was a light wash denim shirt embellished with gold lace, as well as a denim t-shirt with a lace front. Very unique and detailed!
Fendi
Fendi only featured two different denim outfits on the catwalk, but they were extremely heavy in the fabric. They had American style police pants in denim with ankle zippers, a pair of drawstring denim pants and a denim shirt with a double layered denim jacket placed over the top. The shades of denim were quite bland and that of a vintage inspiration again, but I can definitely see these being popular with Rihanna!
Fay
Fay was the only brand to showcase some denim overalls for the season during Milan Fashion Week. They were slouchy and baggy in fit and came in a light blue and a raw blue, but worn with the bibs down and statement sweaters instead. I did think we would see more overalls, like we did in the other cities, but I am very happy that Milan showcased so much denim in general.
Au Jour le Jour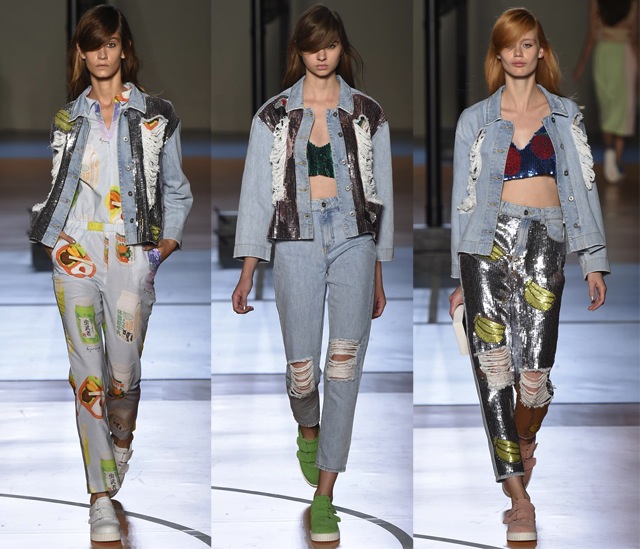 Au Jour le Jour isn't a designer that I'm actually too familiar with in general, but they had some fantastic jeans in their collection! Again they featured the really light vintage inspired chambray washes, but they used a lot of prints and embellishments with heavy distressing, but my favourite part was the use of metallic layered over the denim. The silver panelling on the denim jackets and on the front of those jeans is really cool!
– So, out of all of these designers collections during Milan Fashion Week featured on this denim blog, which are your favourites? I would love to know! I think mine is Bally! It's just so chic!