Joseph
London Fashion Week has also come and gone and left behind a trail of inspiration and depth. Unlike New York Fashion Week, there isn't as much denim featured in the London shows (despite the Burberry awesomeness!), so this post isn't as big as the New York post that I put together. London Fashion Week is often considered the baby of the four, but I find it really inspirational as it often has an underground vibe to it since the fashion here is often darker and inspired by vintage.
I've rounded up the Spring Summer 2015 denim trends from as many shows as I could, but unfortunately there were only four that featured denim in their collections, this includes Joseph, a very denim filled E. Tautz collection, Burberry, some recycled denim for Faustine Steinmetz and some leather pieces from Daks. If there is one thing that I have noticed though is that the trends for New York were centred around dark denim pieces, patchwork and flares, but the London denim is more focused on baggy and oversized fits, 90's inspired looks with jackets sewn around the waist, dark wash denim jackets and an overall grungy vibe! It's so different! Check out the collections below!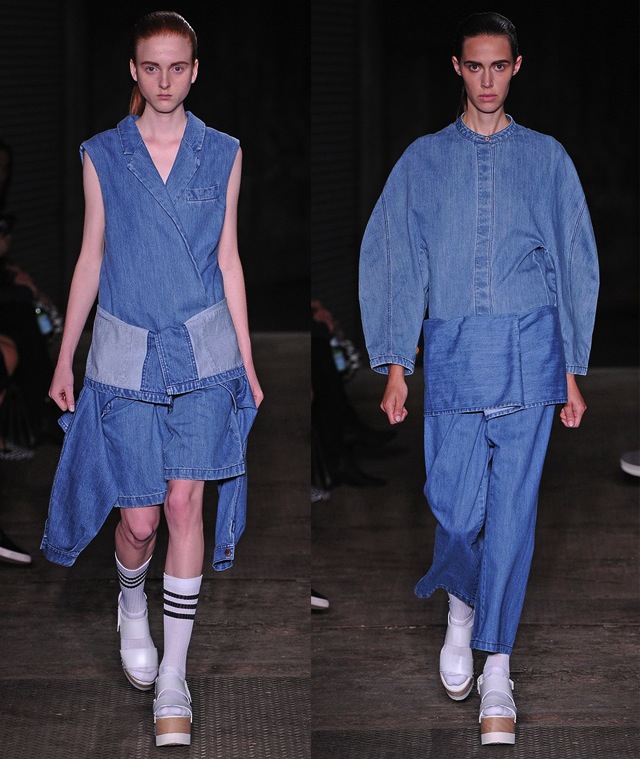 The very first image featured and this one above are from the Joseph Spring Summer 2015 collection. I found these denim pieces really cool and I loved how they incorporated the look of the 90's with the baggy fits and attaching a denim jacket style skirt to the tops. This reminds me of the current denim jackets tied around your waist trend that's creeping back in again. I probably wouldn't wear these pieces myself as they are a little out there for me, but I could absolutely see some of these designs on the likes of Rihanna and Rita Ora!
E. Tautz
Now E. Tautz had a presentation absolutely filled with denim! About 90% of the collection was made up of classic denim and I love how they gave a nod back to the beginning of the previous century with the work wear inspired jeans. These remind me of the old Levi's worker jeans that first came on the scene about a hundred years ago. They were made modern with the styling of the lace up trainers, blazers, shirts and of course that pinafore style denim dress. I like how they also used a white linen to include thick pinstripes on the jeans. Again, it's not something I would wear, but I could definitely see it on those with a more quirky dress sense.
Burberry Prorsum
I already spoke about the Burberry Prorsum Spring Summer 2015 show in a separate post, but I couldn't not include some of my favourite looks from the collection in this round up. After all, they showcased the most denim and made a huge statement! I think this show was the highlight of London Fashion Week in general. The denim jackets were fantastic! Usually Burberry has more of a sophisticated vibe, but the use of denim really gave the collection a sense of ease and casualness, especially combined with the trainers.
Daks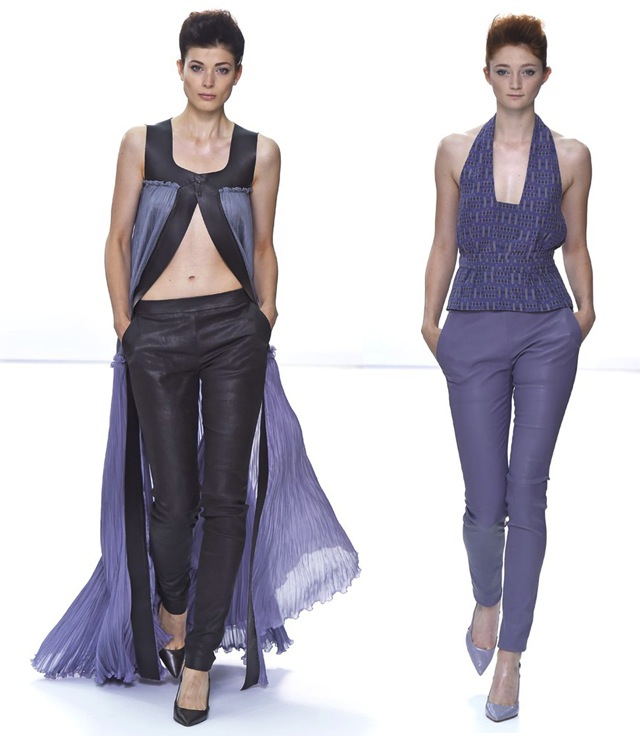 There wasn't any specific denim in the Daks runway show and I know this is a denim blog, but I do include leather pants here on The Jeans Blog as well. These two pieces were gorgeous in the matte black and light navy, they have that slouchy skinny jean fit which I love and I thought it was appropriate to include them in this post since there wasn't as much denim as I was hoping for during London Fashion Week this season!
Faustine Steinmetz
Finally, to round off this post, I featured the mini presentation from Faustine Steinmetz. This is the first time she has showed at London Fashion Week and she made her debut featuring pieces made from recycled denim; jeans and jackets. What her specialty is is really cool. She uses artisanal techniques to create everyday clothing. For the Spring Summer 2015 collection, her denim pieces were created using the Japanese shibori technique. The denim was hand-painted before being knotted and then steamed into 3-D shapes on the surface. How cool and inventive is that? Some of the other designs were handwoven from heat-fused denim yarns or embellished with recycled denim fringe. I wouldn't wear them again, but I think Lady Gaga would look fantastic in these!
– So, which were your favourite looks from London Fashion Week this season?