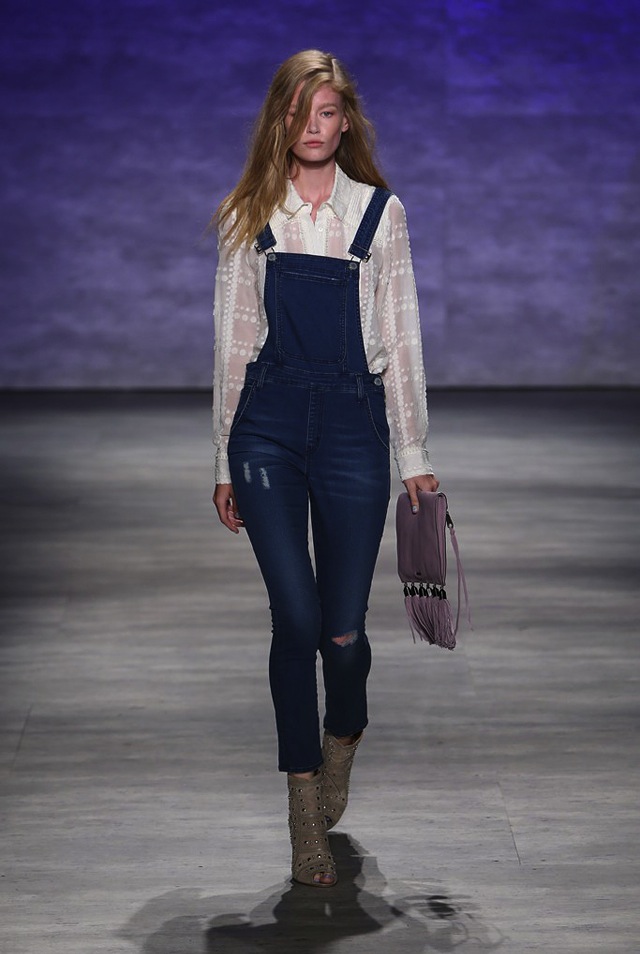 Rebecca Minkoff
New York Fashion Week is now officially over, kicking off the month of fashion from around the globe. It's hectic, it's manic, it's crazy and it's amazing, all at the same time. I look forward to seeing the anticipated shows from some of my favourite brands, but I also love getting to see what's trending and how the big designers incorporate denim into their collections.
For the Spring Summer 2015 season, quite a lot of designers included denim, but they weren't from the brands that you might have expected. Jeans were absent in Calvin Klein, Ralph Lauren, Diesel Black Gold and Marc Jacobs shows, which actually surprised me as they usually include them in some way, but it was heavily present in designers like MM6 Maison Martin Margiela, Simon Miller and a few more!
Since this is a denim blog, I decided to round up all of the denim from each designers collections and put them into one big post. So I'm starting with New York Fashion Week, next up will be London, then Milan and then Paris, so stay tuned for those! But for the time being, check out some of the denim trends that will be popular for Spring Summer 2015 below! Not forgetting the look above though, Rebecca Minkoff shared one piece during her show, and it was a darker pair of denim overalls! I'm sure we will see these out on celebs next year!
Tommy Hilfiger
We mentioned previously that patchwork denim was going to be a trend for Fall 2014, but Tommy Hilfiger has ensured us that patchwork will also be carrying on into Spring 2015, but in a lighter colour palette. He showcased some heavy patchwork jeans as well as a denim jacket, shorts and a waistcoat. I can't say that I would wear these pieces, but I can definitely see a lot of other people rocking them!
Simon Miller
Simon Miller is always known for his denim, often having some of the best pieces around, loved and worn by a lot of male celebrities. His Spring Summer 2015 collection didn't disappoint either. He featured lots of classic pieces in blues and blacks with washes that were really detailed. Usually I would see these designs as a Fall collection, but he definitely thought outside the box releasing dark shades for the warmer months. I love the paint splatters too!
Frame Denim
I already posted about the new Frame Denim Spring Summer 2015 collection, but I had to include some of the pieces in this round up too as it was only fair. As you know, white was a huge trend for them, focusing on keeping things fresh and clean. You can shop the current Frame Denim collection online at Shopbop.
MM6 Maison Martin Margiela
The MM6 Maison Martin Margiela show was one of my favourite shows from the entire New York Fashion Week series! The amount of denim included was amazing and the pieces were inspired by vintage styles. I loved the boyfriend fits and the oversize denim shirt above was gorgeous! I've already seen this shirt out on Kylie Jenner and I can see it being popular among many celebs! Also patchwork was trending again, so I think this trend is here to stay!
En Noir
I'm usually used to seeing women's looks during this season, but En Noir showcased their denim on the guys. They featured moto jeans, distressed denim, black, olive and burgundy. I think the collection was fantastic and I actually loved the styling of the leather jackets with the jeans too. These looks are really wearable and I can definitely see them out on the streets as they are so classic.
Rag & Bone
There's no denying that Rag & Bone have some of the best denim around, with incredible washes and great fits, but their Spring 2015 collection focused mainly on their ready to wear line, but that did incorporate some chambray denim in darker tones. They featured oversize blazers, waistcoats and jackets all made out of a sheen chambray. Gorgeous!
Rodarte
Rodarte shared a lot of skinny jeans during their runway show, featuring light blue, white and black, all paired with lace up boots and lots of layering. It was one of the more classic shows and I loved the layered knitwear too. But to focus on their denim, they have some great skinny jeans.
Anna Sui
Anna Sui was another designer who sent denim down the runway, included a couple of patchwork pieces, featuring space designs on them. I found this collection to actually have a very 70's vibe to it, with the flared pants and styling, but again, dark denim was showcased instead of light washes!
J. Crew
Finally, we have J. Crew for both the women and men. They showed a lot of darker washes again, with slouchier cuffed styles for the guys and boyfriend jeans and cropped flares for the ladies, with a chambray denim shirt. I find J. Crew to have a great mature style to the brand, but I noticed a lot of festival and camping inspiration here too.
– So, which collection did you like the most? Comment and let me know!