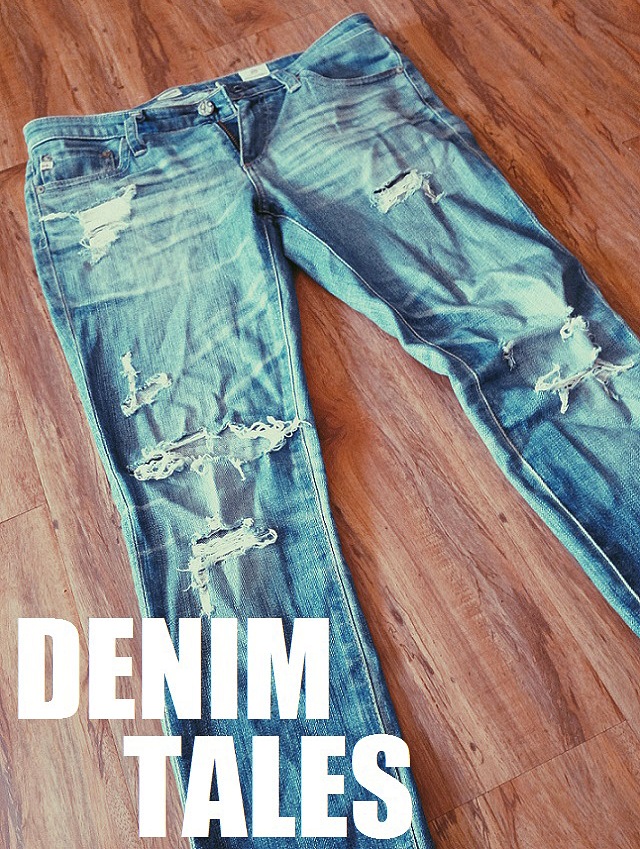 My story begins with a pair of The Leggings by AG Jeans in 20 YRS Dwight. AG has always had a hard grip on my heart when it comes to their jeans with their naturally worn look and amazing feel against the skin. Their light washes have always been enticing and an interest of mine to try. The moment I saw this wash, I had to give them a try as the warm weather was starting to kick in and nothing says that more perfectly than a pair of light washed jeans.
I put these jeans on the moment I had them in my possession, but the more I wore them, the more I started to feel a personal void with them. I wasn't sure what the feeling was in the beginning, but I put the jeans away for some time (over a year) in my closet.
After taking a break from these AG Jeans for a while, I started to get an itch for a distressed pair of jeans. After looking up many styles continuously online over that time and not finding a pair that made my jaw drop, I decided to do a DIY and a light washed pair of jeans is always the first thing that comes to mind.
I continued to look for styles online that I could possibly rip up, but could not find any. So, I decided to rummage through my own closet and saw these sitting there and it was like the stars had aligned. After looking up some videos on how to shred denim properly, I got all of the tools needed (scissors and tweezers) and went at it with these jeans.
I wanted a natural feel to the ripping so I chose areas that the jeans would naturally wear and tear on their own. After putting them on and marking, I started to cut. As I was cutting and tweezing out threads, I couldn't stop and kept going until I felt they looked authentic.
As the hours went by (almost 12 hours), I started to feel the void of the original pair starting to disappear and the jeans felt revitalized. The moment I was done, I knew that they had become what I was looking for for awhile. There was that life, that story, that I was looking for. Since this experiment I have been distressing more of my jeans that had the same feel into styles that I constantly wear…and all inspired by this pair here (original wash below). You can buy similar AG Jeans online by clicking here and you can buy this pair here.