Levi's has been popular since it was founded in 1873, being the very first brand to create blue jeans as we know them. I wrote a post when I first started The Jeans Blog about the history of Levi's and how the brand shaped the denim world today, including creating their iconic Levi's 501 Jeans. When it comes to classic denim, you literally can not get more classic than an authentic pair of Levi's 501's and this is why they have remained popular since their birth. So many people today: celebs, bloggers and general public, from young to old, still love their 501 Jeans and live in their vintage pairs from years ago, but if vintage isn't your thing, then I have just what you need!
Levi's have reinvented their classic 501 and still make it today, it's still one of their best sellers and it comes in so many washes now! From dark, raw, black and grey to mid blue, distressed, acid washed, bleached and even coloured! There are so many 501 Jeans to choose from and it's a great way to pay homage to the past and get a classic pair of jeans while still keeping up with the denim trends! Levi's are really pushing their styles at the moment and I'm seeing more and more of them around, they are literally taking over the denim world as we know it, again, and topping the usual J Brand, Paige, Diesel etc sightings! It's amazing how much influence they have! I have rounded up some of the brand new Levi's 501 styles for both men and women, so you can stay on trend while creating a new look! Check them out below! They also have 30% off all 501's today and free shipping! Don't miss out!
As you can see above in this photo from the Levi's website, men and women from all sorts of walks of life love their 501 jeans and wear them differently. They come in so many different washes, but one thing that remains the same is their classic fit!
There are tonnes of 501 Jeans for the guys on the Levi's site, but I rounded up 4 of my favourites which you can shop by clicking here. I think the acid wash pair has to be my favourite, along with the darker blue just to the right of them. These washes look incredibly authentic and vintage, even though they are new.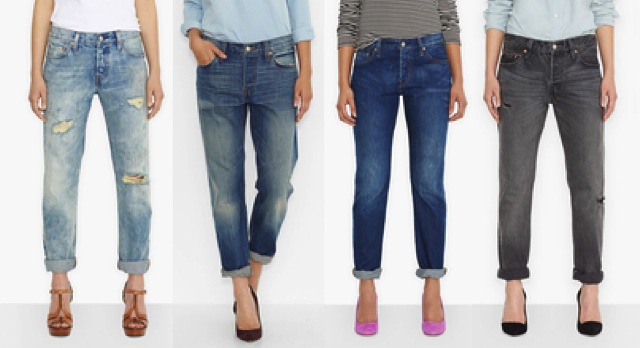 The women's 501 collection is a lot smaller than the men's, only featuring 4 different washes, however you can always shop the men's if you like! My favourite pair from this collection is the first acid washed pair on the left, I've seen these on popular fashion blogger, Chiara Ferragni (below) and they look amazing! You can shop the women's collection by clicking here.
So, what do you think of Levi's 501 Jeans? Do you love them?