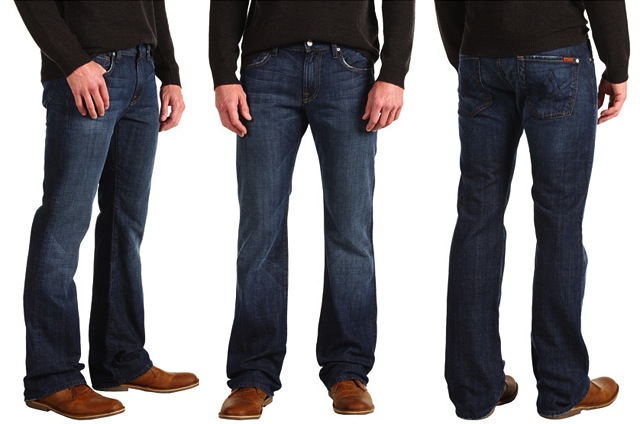 It all started in college when I found myself hanging around a different crowd that really made sure they took care of themselves. I could tell by the way they walked, talked and dressed that there was something different about them than the kids I hung out with in high school. Of course, my high school friends thought Abercrombie and Fitch was the top notch of fashion!
I then started to see the same pair of jeans that I saw on my new friends, in movies and TV shows and I wondered what brand they were! The way they fitted and the perfect washes of the jeans made me want a pair! There was a squiggle on both of the back pockets and I had to have them. So, after a little research, I found them and for my birthday as a sophomore in college, I purchased my first pair of 7 for all mankind jeans.
When I put them on, I was amazed how comfortable they were which was just a bonus because they looked amazing too! Premium denim was a new found love of mine and now many years later, I have only purchased 7 for all mankind jeans. This was the beginning of a passion I've now had for many years, which has brought so much joy to my life. The friends I've made through the years are countless and while I've thought about diving into other brands, for a few reasons I can't skip town on my favorite brand of denim! I love their various styles and how those styles have evolved through time!
I remember years ago when the flare jeans were so popular with women and boy did 7 For All Mankind do those flares well! Then recently, they've perfected the skinny jean and made it "super." I personally haven't dove into the skinny jeans arena (this disappoints myself and "The Jeans Blog" chief editor and CEO) but through all of the changes, 7 For All Mankind has created an amazing bootcut jean for men.
My name is of course "Ajay" and I was born on 7/4 so what crazy person with all of that going on, wouldn't own the most perfect pair of "A" pocket dark 7 For All Mankind jeans? Not just any "A" pocket jeans, but the subtle "A" pocket jeans! The "A" isn't too flashy, but the jeans fit me perfectly and I wear them a lot when speaking at conferences and other banquets and public appearances that I just love being involved in.
See, I was a shy kid growing up in the small town, and yes, I was the first kid in my school, no…county, to know what 7 For All Mankind jeans were. I lacked confidence, I lacked an ability to stand out in a crowd and own my life. It was my sophomore year of college when I realized that I could be something special and I was determined to be special! I started wearing my 7 For All Mankind jeans to class when I had a test, we all know, "if you dress well, you test well!", so on test days, I wore my 7's and it gave me the confidence to do well!
Lets fast forward from college to the present day. Like I said before, I wear them a lot to speaking engagements and I am asked why I don't dress up in slacks or nice pants. I simply respond that the jeans I am wearing help me know that I look good and if I dress well, I speak well! Recently I attended a university to speak to students about their career path and how to get where they want to be. I wore my "A" pocket jeans, with nice shoes, a crisp button down and tie. I honestly felt on top of the world talking to those students and I owe it all to my love for 7 For All Mankind jeans. They are simply amazing quality premium denim that will stand the tests of time and while trends come and go, and brands have their highs and lows, you'll always be able to count on 7 to produce and re-produce the top of the line jean for any and every occasion.
There are two specific jeans that I want to highlight that have created my confidence over the years; one being my very first pair, the original 7 For All Mankind bootcut jeans in Medium New York. The Classic New York Wash jeans are size 32 and do not fit me as well now as they did when I purchased them almost 12 years ago and since then I have trimmed down a bit and also, with all of the trends in denim, i Like them fitted. I purchased these jeans from the 7 website, being fearful years ago that I would make a bad purchase and I lived so far from any store that carried the brand. I did not want a fake, I wanted the real thing, so I purchased directly from the website.
I wear my denim differently than before so the second and my most favorite pair of jeans are: The Brett Bootcut "A" Pocket in New York Dark in a size 30 and they fit me like a glove. They were purchased about a year and a half ago. I wear them to all of my speaking engagements because with their dark wash, I am able to pair them with a stellar pair of dress shoes and or boots and a sport coat for a fresh look. These jeans were purchased from Saks 5th Avenue in Raleigh, NC. I wanted to make sure that they fitted perfectly before pulling the trigger. I own other pairs of 7 For All Mankind jeans, but just like with life, you have to start somewhere and as time goes on, you grow up, and your favorites change. These two pairs of jeans are my two favorites!
So, I encourage you, go out there, find a pair of jeans that move you, that inspire you and make you change into the person you want to be. Confidence helps change happen, and wearing the best denim in the business will give you all the confidence you need to succeed! I can say with out a doubt, I would have never met my dear friend Lorna without the inspiration of 7 For All Mankind jeans, and for that, these jeans are priceless.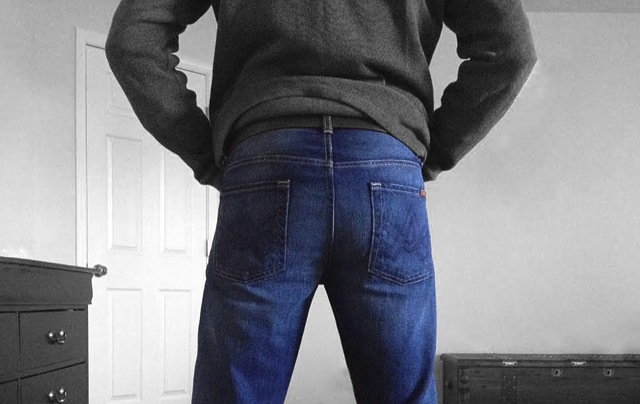 – Thank you to Ajay Davis for this wonderful denim story! It's nice to read something on 7 For All Mankind and about a pair of bootcut jeans too! You can buy these exact jeans online by clicking here and as always, if you want to submit your own denim tales story, please do get in touch! We would love to read it!