Having been in the denim industry for over 8 years now, I realise quite often that not everyone wants to jump on the creative and fun trends that pop up on jeans every now and then like I do. Everyone's style is completely different and there are a lot of you out there that love classic pieces which are timeless and can be worn time and time again. I adore classics too, probably a lot more than I do the fun trends as they become a staple in your closet and last you a long time, unlike printed jeans.
As Autumn/Fall is now here, I thought it would be a nice idea to share some of the best monochrome jeans around at the moment here on The Jeans Blog! Yes, I'm looking at you grey, black and white! You can never go wrong with a pair of grey jeans, black jeans or white jeans, they will just see you through every season, but for Fall, they couldn't work better! I find that they help to keep a neutral base for your layering and colour choices. For example, I love wearing grey jeans, a black jacket and a white top, finished with a pop of colour in my scarf. Or why not wear your black jeans with mustard and burgundy? That's a winning combination every time! White also works to freshen things up a little bit and blends in with brown perfectly!
So, check out these 15 jean options in black, grey and white, all of white are perfect for Fall! You can also shop the monochrome jeans section online at Shopbop as they have a much broader selection than what I chose. Why not check out a couple of my own monochrome looks above and below too! The jeans I am wearing in both photos are the 7 For All Mankind skinnies featured just beneath this text. What are your thoughts? I would love to know which shade you prefer!
Frame Denim | DL1961 | 7 For All Mankind | R13 | Cheap Monday
Current/Elliott | Citizens of Humanity | MiH Jeans | Citizens of Humanity | Frame Denim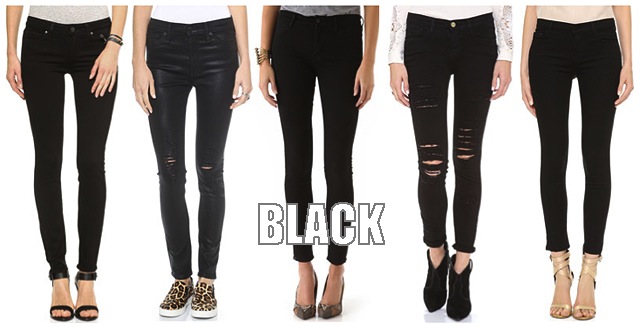 Paige Denim | Hudson | Koral Los Angeles | Frame Denim | J Brand