Finally we are ending our denim trends series with Paris Fashion Week! I shared with you back in September the denim trends from Paris Fashion Week for Spring and Summer, but now we have moved onto the Fall Winter 2015 trends and I couldn't be more excited to round this out on a high note! We didn't see a huge amount of denim in the New York, London and Milan shows, it was actually quite scarce, however Paris was a completely different story! 7 different designers showcased a lot of denim in their collections!
I have noticed the denim trends for Paris were also quite different to the other cities. Raw denim was mostly used and there wasn't any patchwork in sight, which made a change! There were a few inventive pieces with bleaching and shearling, but I am happy to report that the general denim vibe was classic all around. Think worn in and vintage looking washes to counteract the raw denim, a gorgeous denim coat dress, structured and classic slim fits and more! Take a look at the denim trends below!
Vanessa Seward
Vanessa Seward kept her denim as classic as it gets. She used the raw indigo shade throughout all of her pieces, designing higher rise tailored style jeans and a gorgeous denim coat dress. I think the dress has to be my favourite from her show as it's just so gorgeous! The fit of it and the design is absolute perfection! I would definitely wear it!
Chloe
Chloe kept things light and airy with stone washed denim in the form of a denim jacket and cargo flares and also a utility style romper/jumpsuit. Since lighter washes are usually associated with Spring, Chloe added shearling to the pieces to give them a Fall vibe. It's interesting seeing this type of take on cargo/utility wear in denim!
Off White
Off White decided to be creative with their denim during their presentation at Paris Fashion Week. Not only did they have a cool pair of trouser jeans in a light wash with front seams, they created a bleach on indigo effect, which reminds me of a cow print, in a pair of overalls and some jeans, with front hem splits. My initial reaction on seeing the bleaching was 'wow', but the more I look at it, the more it grows on me. I can see Rihanna in these!
Each x Other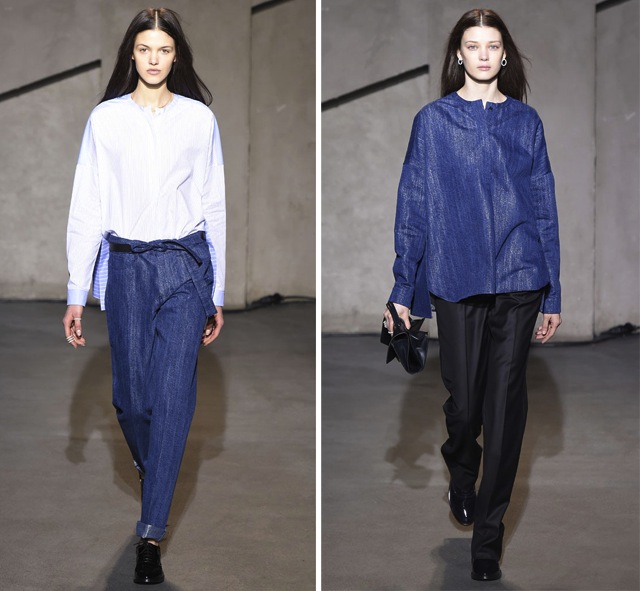 Each x Other went down the slouchy and looser fitting route with paper bag style jeans and an oversized denim shirt, each with a gorgeous denim sheen to it which looks luxurious when the spotlights hit it. These give off a more retro vibe to me as they remind me of the 50's or 60's, but I think some fashionable women could pull them off!
A.P.C
Now A.P.C are known for their denim so it's the first place I look when looking for jeans during Paris Fashion Week. They mostly make raw jeans for women and men, in a unisex fit, so they know their stuff when it comes to breaking them in and creating your own fades, so it was evident that their FW15 collection would be mostly filled with raw jeans! I was attracted to the stone wash pair above though, those look authentically vintage.
Vetements
Vetements showcased three denim jeans in their presentation, using the same fits and washes for each. They designed a very worn in, light, vintage looking wash in a higher rise, straight fit, taking things back to the classic days. The denim itself looks like it's of a thicker quality and it reminds me a lot of the old Levi's or RE/DONE jeans that you can find! I can see a lot of people like Chiara Ferragni or Alessandra Ambrosio rocking these!
Guy Lorache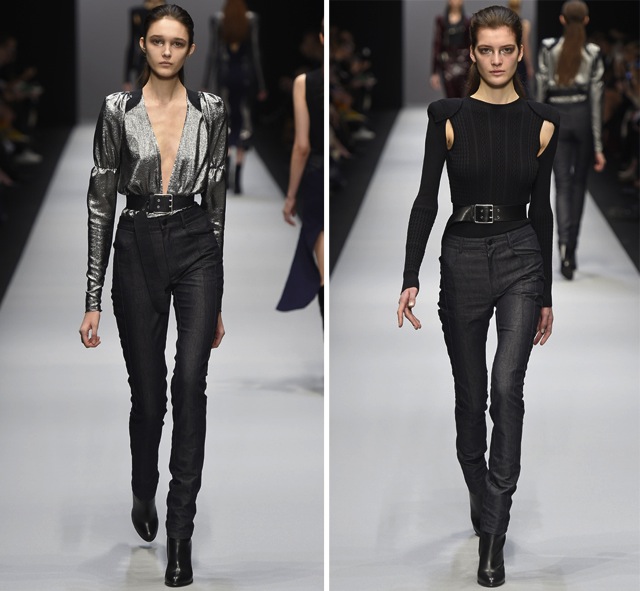 Finally, finishing it off with the Guy Lorache show. There were only two pairs of jeans in the runway show and those were a thinner, raw looking indigo denim in a slim trouser fit. These can definitely be worn as part of a suit or office wear as they have been adjusted to look like a pair of trousers, so for the denim lovers out there, that's something to think about if you want to wear denim to work! It's a little smart for my taste, but they look nice.
So that rounds up the denim from Fashion Month. If you missed the first three blog posts, you can catch up on New York, London and Milan so you don't miss out! What trends do you love?