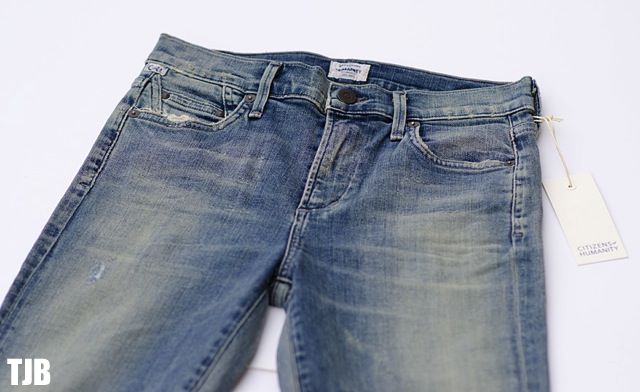 Citizens of Humanity Rocket High Rise Jeans in Stage Coach Review
My next review is on the Citizens of Humanity Rocket High Rise Jeans in Stage Coach. I purchased these on Shopbop a few weeks ago as I thought the detailing was gorgeous, not to mention that I'm addicted to the Rocket cut, so it was only fitting! I took them in my usual size 26 and they do run a little smaller/tighter, but they stretch to your body. The fabric is 98% cotton and 2% polyurethane, so they aren't as stretchy as the Axel wash, these are more sturdier and of a thicker denim compared to the Axel, so just keep that in mind if you are between sizes!
For those of you who don't know the Rocket fit very well, it's one of the best higher rise skinnies on the market right now! I think I own about 5 pairs of Rocket jeans, 4 regular length and 1 crop. It features a 9.75″ rise, an inseam of 30″ and a leg opening of 9.75″ so you can see it gives the perfect silhouette. They are the perfect height for tucking shirts into them or for wearing longer tops and eliminating muffin top, so I can't be without the Rocket now. I never lie during my reviews either as I pride myself on giving honest thoughts and opinions, so I do truly mean it.
Now getting to the Stage Coach wash, this is what attracted me to the jeans in the first place. It's a gorgeous sandy, washed out lighter blue, with a ripped knee and some faint distressed patches. It does have a very sandy/beige tone to it, so it pairs well with neutrals and similar shades, but it just toughens it up a little more. It has subtle honeycombs on the backs of the knees and light whiskering at the lap, so it does look authentic. The best part about these jeans though is the backs of the hems. They literally have chunks taken out of them, replicating the look of most of my bootcut jeans in the 90's and early 2000's! I used to get this from them dragging on the floor too much, wearing away and ripping off, so I think this is a great take on that, it has a very nostalgic feeling.
I've worn these jeans a few times now and I love them. Despite the denim being on the sturdier side for a stretch jean (not compared to rigid or raw), they are still comfortable. They are actually quite soft and the denim feels nice, plus they are quite easy to sit in, so they are a really nice pair of jeans all around. They can be a bit hard to match certain colours with, like grey and others, but as long as you get the neutrals right, you are all set! I will be posting worn pictures as soon as I can, but for now, enjoy the close up shots. Buy these jeans online at Shopbop by clicking here.