New York Fashion Week has kicked off fashion month and got everyone excited for what's to follow. I covered the Spring Summer 2015 denim trends from New York Fashion Week in September last year and that went down really well, but now it's time to cover the Fall Winter 2015 jeans trends! I can say that one thing I have noticed about the New York denim is that it was quite sporadic and random.
Most designers didn't include any of the fabric, however quite a few just opted for one look with denim, while the regulars chose to use it quite frequently. What I did come to notice though when it comes to the trends and what I saw as a consistent throughout every show that featured jeans was the patchwork denim trend, straight leg jeans, cropped jeans and paper bag style jeans, along with a couple of denim coats. It was actually quite similar to SS15, but with a darker colour palette. Check out the denim from New York Fashion Week below and let us know what you think of it! Buy patchwork denim by clicking here.
Simon Miller
All of the photos above are from the Simon Miller FW15 collection, which showcased the most denim out of everyone, as per usual. He made great use of the patchwork trend, using different coloured fabrics for the patches instead of denim, to reinvent and liven it up. He also did a take on cropped flares which turn out to look like boyfriend jeans with a twist. While being fun with the ladies jeans, he kept the men's denim very classic, sleek and minimal though, like he usually does.
Ulla Johnson
Ulla Johnson only featured one pair of jeans throughout her collection and that was a slouchy fitting boyfriend jean in patchwork denim. I like the use of light and dark denim used here to really give the jeans a nice 3D effect. I would probably prefer them to fit skinnier when tucked into boots, but they look good!
J.Crew
J.Crew always have some great denim in their collection! I noticed that for the FW15 season, they chose to go for the cropped straight leg look, with heavy washing and detail for the ladies, but kept it skinny and classic for the guys. Not only did they make great use of the whiskering and fading though for women, they did opt into the patchwork trend too!
Band of Outsiders
Band of Outsiders didn't feature jeans in their presentation, but they did feature this gorgeous denim parka coat. How cool is it? I could definitely see someone like Rihanna rocking this when she's seen out and about during candids! It's a great, inventive take on the coat.
Tommy Hilfiger
Tommy Hilfiger was another designer who chose to use denim in his outerwear (much like Burberry last year). Tommy opted for raw denim, creating tailored and structured coats and jackets to match the pleated denim skirt and cropped and longer flared trousers. If you are planning on making denim really smart and elegant, using raw denim is definitely the way to go! It's perfectly clean and as close to black as you can get. I love the use of it in the bags too.
Karen Walker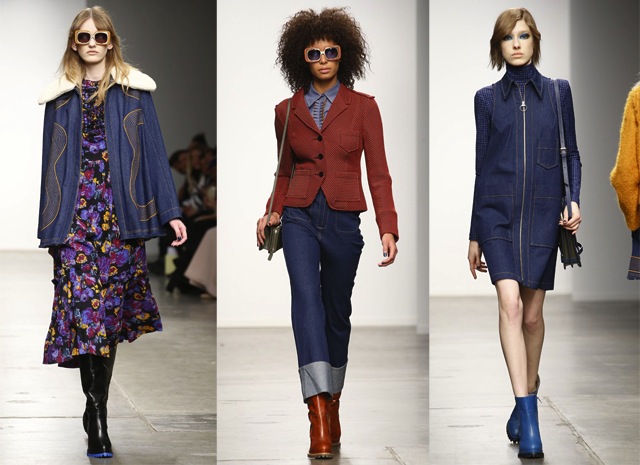 Much like Tommy Hilfiger, Karen Walker chose to work with raw looking denim too in her outerwear and trousers. I think the embroidery on the swing coat is a unique touch, but the longer coat on the right has to be my favourite. It gives off a 70's vibe which I love! She also chose the straight/flared leg jeans look too.
Kate Spade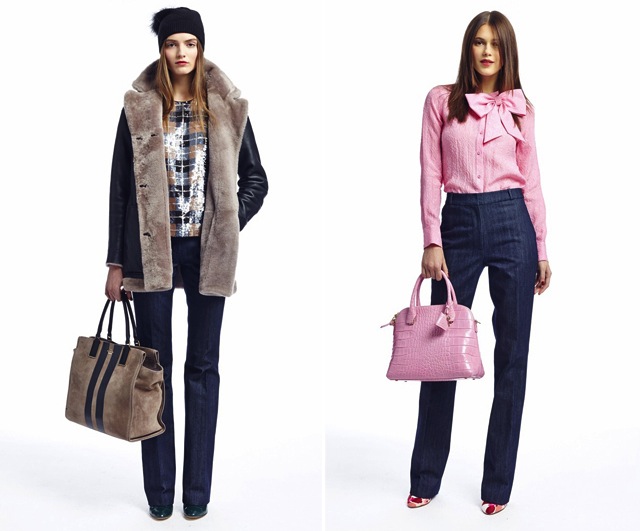 Kate Spade kept things incredibly classic and minimal by showcasing denim trousers, in raw again. We rarely see denim trousers on the market, so it's a nice change to see something smarter like this, with pleats down the front and no pockets. I'm not sure that I would wear them myself, but they look fantastic styled here. They give a certain element of casual to such an otherwise smart look.
Red Valentino
Red Valentino chose to go with cropped flares in raw denim. These are very similar to paper bag style jeans with the baggy fit throughout and the really high rise like that. I think the cuff at the bottom really gives the jeans a more causal feel though, but I'm not sure I would wear these. I can't imagine them looking too good when worn through the day.
Greg Lauren
Greg Lauren was one of my favourites actually! I loved the use of patchwork like this mixed with distressing on a slouchy skinny fit, it's really trendy as of right now as well as through to the FW15 season. I also loved the layering and styling here too. What do you think?
Blue Les Copains
There was only one pair of jeans in the Blue Les Copains FW15 collection and that was a pair of blue skinny jeans, which completely broke the mould. Nobody else opted to go for a skinny, classic look for the ladies, so it's really refreshing to see these jeans. They are as ordinary as you can get, but for me, that is what stands out the most during fashion week! It's rare to see.
Alexander Wang
Alexander Wang had two very similar looks, just altering the jeans a tiny bit and the sweater, but he went for an acid washed slouchy skinny jean with some faint splattering over it. These could be worn really well in everyday life, so I actually like them a lot!
Marc by Marc Jacobs
Marc by Marc Jacobs actually took the patchwork trend a little further, using printed floral fabric to sit between zippers on a pair of skinny jeans. I think these are the most interesting and detailed pair of jeans we have seen during New York Fashion Week! I even like the washing around the hemline and the higher rise fit as usually bold designs only work on lower rise jeans!
Sandy Liang
Sandy Liang is a designer I'm not too familiar with, but for the presentation, there was a lot of denim! It came in the form of coats, flared cropped trousers and even a dress! Sandy didn't stick to only raw denim either, opting to go for a lighter shade of chambray blue too. I actually really quite like the denim dress, but I don't think I would wear the other pieces. What do you think?
FRAME Denim
Finally, I couldn't not include FRAME Denim as they had the most amount of denim there is, but I did feature them separately in the FRAME Denim Fall Winter 2015 collection post, so you can see the full look there. They did use a lot of white denim, in skinny jeans, flares and skirts, as well as choosing dark blue denim and mid blue to create some pretty boyfriend jeans and skinnies. I loved the entire collection and I can't wait for it to come out!
So, that's the full Fall Winter 2015 denim line up from New York Fashion Week! What do you think?