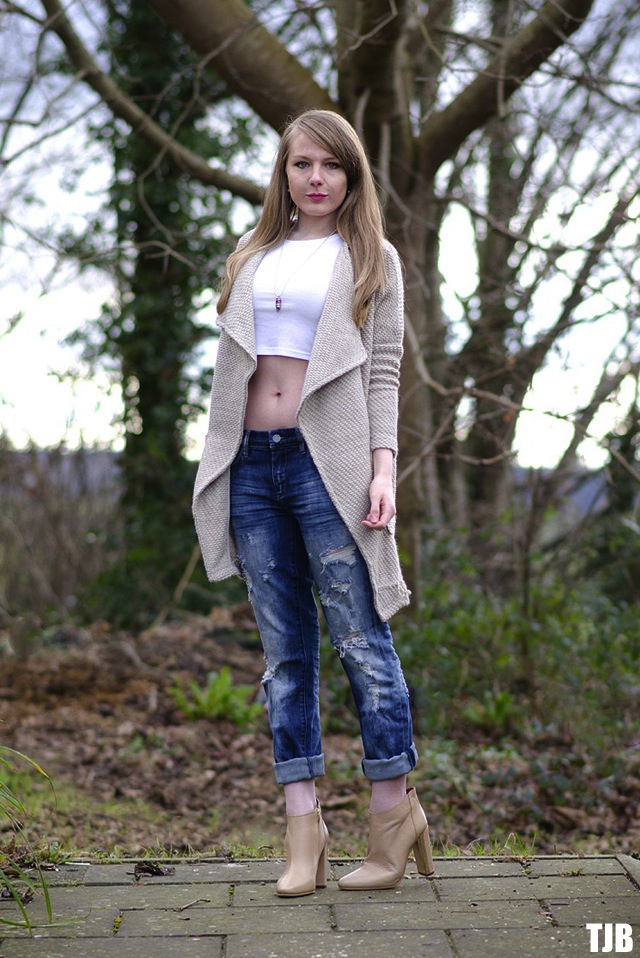 BLANK Denim Distressed Boyfriend Jeans in Fit of Rage
As the 4th part of my collaboration series with Zappos, I'm bringing you my final styling challenge. I chose the BLANK Denim Distressed Boyfriend Jeans in Fit of Rage to style as I wanted to stray away from a skinny, seeing as the last two jeans I chose were of the legging variety. I'm really into boyfriend jeans at the moment as I love playing with layering and proportions. I think there's something really nice about a slouchy pair of jeans mixed with a cropped top and some layers, giving the outfit dimension to it. I used to like boyfriend jeans with t-shirts, but I found it a bit too masculine, so I much prefer to dress them up now.
For those of you interested in the fit, I took my usual size of 27 as BLANK tend to run a little on the smaller side. They fit me really well as you can see, not too loose or too tight and the fabric is comfortable, combining a blend of 98% cotton and 2% lycra spandex. The boyfriend cut features a 9.5 inch rise, an inseam of 31 inches and a leg opening of around 14 inches, but I did cuff these up, so keep in mind they actually come as a full length jean, I just think the cuff was more appropriate with the ankle boots I chose to wear.
I think the wash of these jeans is incredibly fun! It's like a mish mash of bleached blue denim with heavy shredding all over, even on the back, along with whiskering and honeycombs at the back of the knees too. It's very intricately done and I think for the price of under $100, you really can't go wrong with anything from BLANK in my opinion. I'm a huge fan of their vegan leather especially! I can definitely see myself styling these with flats and jackets as well, I think they might be pretty versatile given the fact they are heavily done.
For those of you interested in what I styled them with, you can see the full outfit by clicking here and get all of the details. However, for those wanting to briefly know, the top, cardigan and the boots are from Topshop, so it's not a very expensive outfit at all. I wanted to make sure I kept within the price range of the jeans for my other pieces, to keep it affordable. The reason I went with neutrals as well over a colour choice is because the jeans are quite a statement on their own, so I didn't want to overpower them and make it too much. What do you think of them? Leave a comment and let The Jeans Blog know! Buy these jeans at Zappos for only $98!