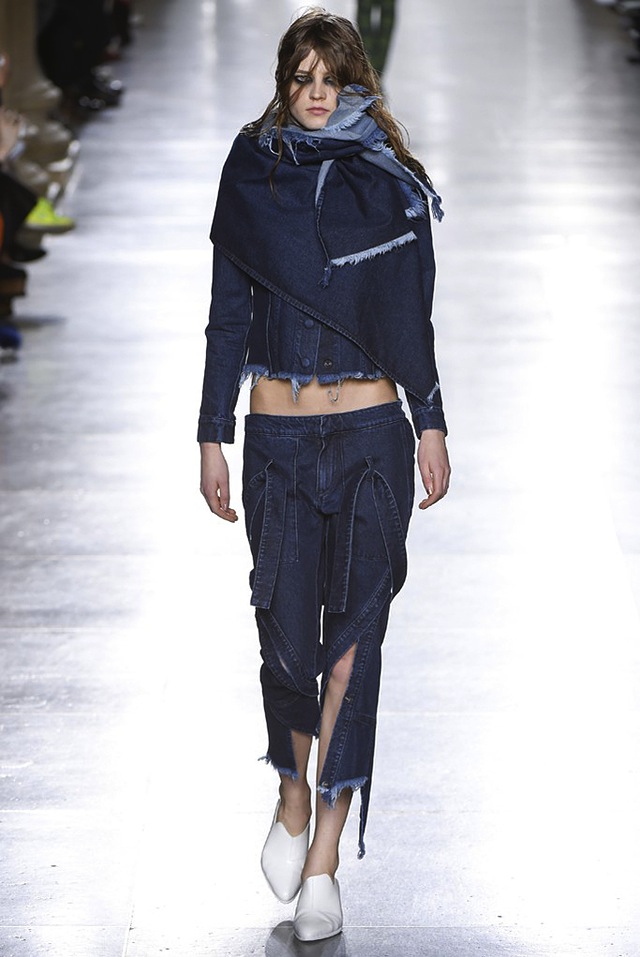 I covered the SS15 denim trends from London Fashion Week last year in September, just like I did from all of the cities, so it's only right that I now round up the Fall Winter 2015 denim trends from London Fashion Week too! I have to say that I was actually really disappointed that there wasn't much denim at all. Only three designers showcased some denim pieces in their collections and that was Marques Almeida (who featured a huge amount), MCQ Alexander McQueen and Faustine Steinmetz.
As always though, the denim trends for London were met with an underground vibe mixed with grunge and layers. I find London to always have a dress sense like this, especially during fashion week, it's the roughest and toughest of all of them. There wasn't any patchwork in these collections, but there was a lot of layering, shredding and oversized fits. That was very apparent in the Marques Almeida collection as you can see just above and below. Dark raw denim and light blue hues were designed with bandage style garments in mind, as well as some heavily oversized jackets, skirts and trousers. I could see Rihanna in these!
Marques Almeida
MCQ Alexander McQueen
MCQ Alexander McQueen went with something a little more classic though, showcasing two denim looks in his presentation. Straight leg, slouchy fitting jeans in a mid blue wash were teamed with leather and longer layers to really give it that underground vibe. There was also a similar wash denim jacket with whiskering that had an oversized fit, making it the focal point of the outfit on the left, above. This isn't something I would personally wear as I prefer my denim tighter, but I think it would suit many.
Faustine Steinmetz
Finally, the third collection of denim from Faustine Steinmetz was embellished with studs and frayed, painted edges. There was even some cow print going on in white and blue denim, making a very cool pair of jeans! One thing I did like about these pieces from this presentation was the raw hems with fraying, those were done to perfection on the bottom of the skirt and the pair of jeans on the left. I love that! Overall though, it's not something I would wear and London Fashion Week as a whole really disappointed me for denim. Last year was amazing when high end designers like Burberry featured it! What do you think?