Fashion Month is a time of year that all of us look forward to and covering the denim from the shows is a given here at The Jeans Blog. Last September we rounded up the denim looks from every fashion week, including the SS15 denim trends from Milan Fashion Week, so it only makes sense to follow on and share with you the new FW15 denim trends too!
There was more denim featured and used in the designers collections during Milan Fashion Week than there was during London Fashion Week. I have found that this season seems to be a bit sparse on the jeans and denim front actually with many designers opting to use other materials instead, in comparison to SS15, however, Milan definitely didn't disappoint! Again there were quite a few patchwork pieces, mixed in with acid wash, denim skirts, metallics, inside out denim, embellishments and baggy fits! Take a look at the FW15 denim trends below!
Moschino
Above we have the FW15 denim collection from Moschino. I can definitely say that they didn't skimp on the denim this season! They were the ones that featured the most denim pieces out of everyone during Milan Fashion Week and I got really excited to see the designs.
I noticed a lot of denim skirts, but the interesting feature with these were the fact that they were symmetrical from top to bottom, so the bottom of the skirts have a waistband and button closure too! How cool is that? They also used an innovative idea of showcasing the denim inside out. A pair of jeans and a skirt with a normal waistband, zip fly and button closure, but the denim was inside out!
There were also denim jackets mixed with jersey material to go with the sporty theme they had and then that leads me to my favourite pieces, the patchwork denim. I loved how they chose to mix light and blue denim squares with gold metallic patches, complete with frayed hems! I think this is so much fun! It comes in a dungaree/overall, a pair of jeans, a denim jacket and a long denim shirt. What do you think of this collection?
I Am Isola Marras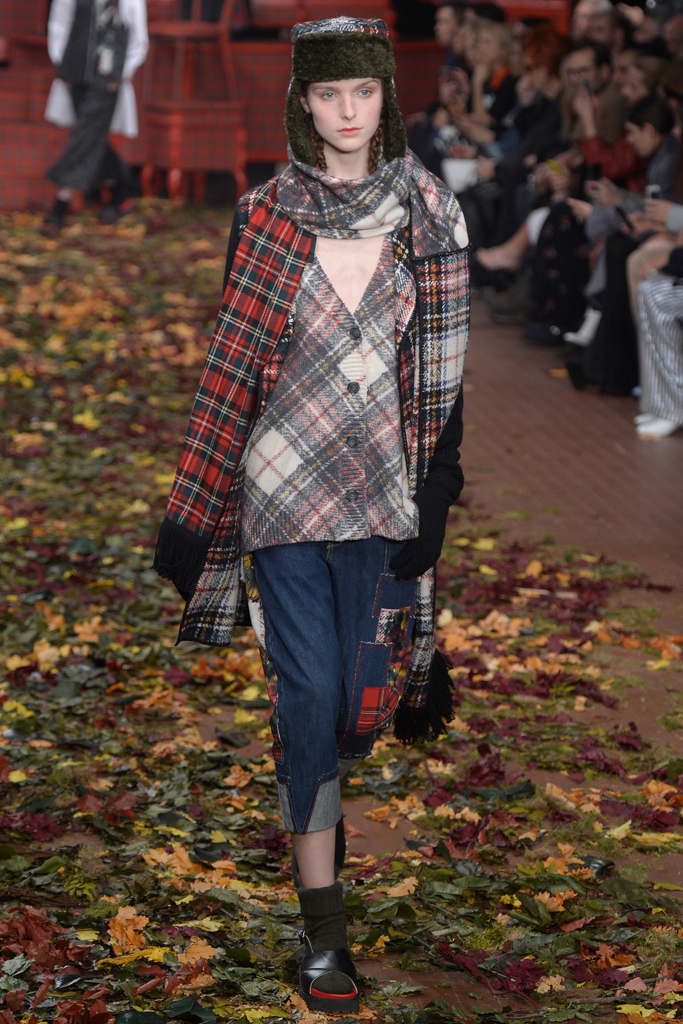 I Am Isola Marras featured only one denim piece in their collection, showcasing a pair of boyfriend jeans covered in patchwork fabrics. I like how they mixed plaid and tartan with florals and other prints to really bring the patchwork to life! The turn up cuff on the bottom is amazing too, I like how the split in the side of the jeans gives a unique edge to the cuff. These are so cool! Not to mention I'm loving the Autumn leaves on the ground!
DSquared2
DSquared2 had a very Native Indian theme running through their collection, mixing tribal prints, fur and denim all into one. The denim pieces were actually quite interesting though, featuring tribal designs across the jackets, shirts and jeans, but done in a more subtle way so the denim is still a statement on its own. The cuff of the jeans is what interests me the most though, I like the mixed materials of silk in red, gold and white. It looks really nice! I am just not personally a fan of using real fur at all.
Fausto Puglisi
And finally, Fausto Puglisi. They only sent two denim looks down the runway, but both of them were a double denim combination! They used a lot of heavy embellishing on their jeans and denim jackets though, in gold and silver, making them some really stand out pieces. The denim itself was acid washed so it had a nice tone to it and a nice depth with bleaching too. I think the varsity style jacket above is pretty cool, as is the distressed thin sweater, but I don't think I would wear such striking embellishments myself. I can definitely see these on some celebs though! What do you think of the denim from Milan Fashion Week?