Lorna Burford's Top 10 Favourite Premium Jeans
I thought it might be a good idea to share with you my top 10 favourite premium denim jeans, ever. I'm sure most of you know by now that I have been working in the premium denim industry for around 8 years now and I've been obsessed with the fabric since I was about 16 (11 years) and with that, I've developed a really vast knowledge of fits, fabrics, washes and almost everything there is to know about denim itself. I've been lucky enough to design jeans of my own with brands like Paige Denim, Yoga Jeans and Prima Denim as well as have insight and chat to lots of designers about fit and what makes their jeans so good etc. Over the years, I've kind of stored all of this knowledge and it plays a huge part in my life, especially when it comes to what jeans I wear.
Not many people will know this, but I do own over 450 pairs of jeans and I know that sounds crazy (it is! I can't deny that!), but to me it's just a normality. I've been collecting them since the age of 16 and much like someone who collects stamps or baseball cards, I've been into collecting jeans. I have some limited edition pairs, raw pairs, normal pairs, literally every pair you can imagine, but I still always look for new ones that I fall in love with. Owning this many jeans though has made me so strict on what I look for in a pair and how I analyse them. I'm sure you know from my reviews that I do just how vigilant I can be when it comes to finding the most perfect fit, the most gorgeous wash, perfect pocket placement etc.
So, with that in mind, I thought what better way to show you some perfect jeans than with my top 10 pairs? It was very hard narrowing it down to only 10 pairs of jeans and of course I have unfortunately left out a lot of my other pairs that I love, just because I decided to choose only 10 to keep this list and blog post bearable. These 10 are based on pairs that I have worn countless amounts of times and absolutely adore, plus still wear today. I would include my old favourites like Diesel Matic 81M, but I no longer wear them due to the super low rise. I'd also be interested in knowing your top 10 pairs of premium jeans and also what you think of my list? Whether or not you expected these as my favourites or you thought others might have been on there?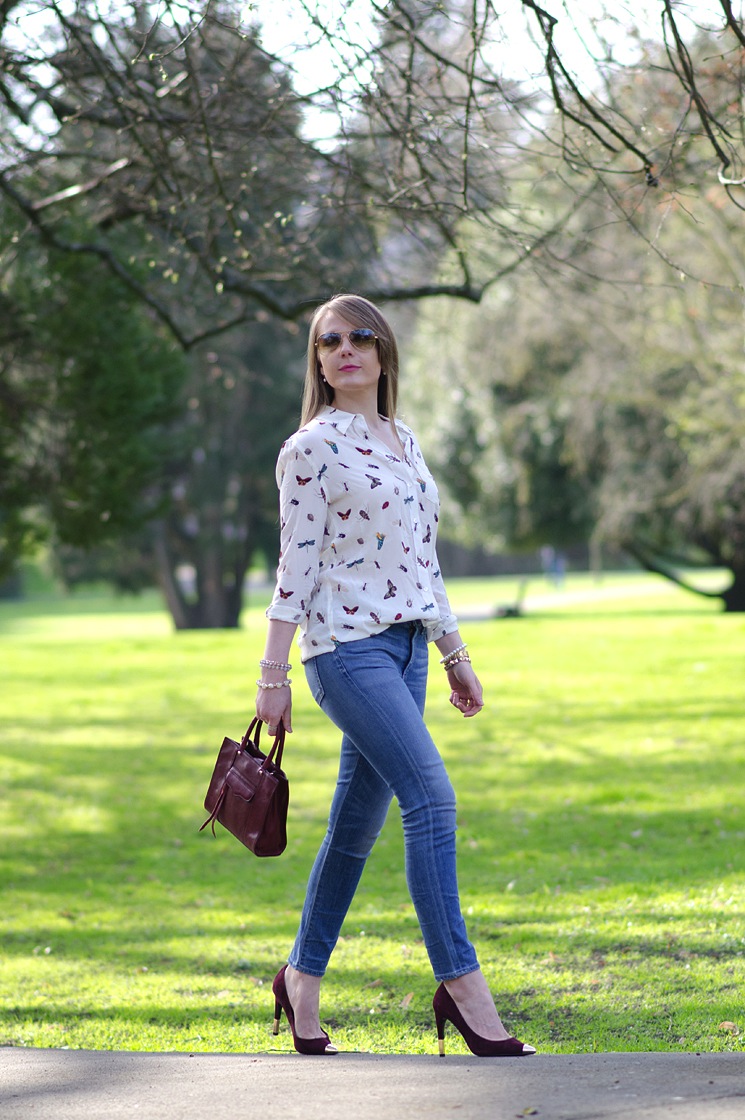 These are my absolute number 1 jeans of all time right now and have been for about a year. I got these a while back after falling in love with the Rocket but wanting one pair a little more cropped. I'm always looking for perfect mid blue washes and this one is amazing. It's not too light or too dark, the whiskering looks good and it's a blue that pairs with anything. To prove how much I love these, I even bought another pair of them in the exact same size to keep for best wear only or for when these break. My current ones have been worn so much that they are quite stretched out and showing some little signs of wear, so having the second pair was a must for me! I can't be without these and Citizens have actually kept them as a staple in their collection for some time now as you can still buy them! Even they know they are perfect! If I could recommend you a high rise, cropped skinny, it would be these all the way.
Burgundy is my favourite colour, as I'm sure most of you already know, and wearing burgundy jeans with black and white became my uniform last year. I got these Koral jeans from the brand about two years ago and as soon as I got them out of the box, I was obsessed. The Merlot colour on these is everything. It has a sheen to it, it has purple undertones in the red and it's intense. They are perfect in every way, not to mention the fit is beautiful. I've worn these more times than I can imagine and because my first pair stretched out a bit too much, I actually purchased a smaller size in them as well, so much like my Citizens above, I have two pairs of these jeans. This was a very close call between my Paige Verdugo Transcend jeans in a similar colour, but as I have had my Koral pair for longer and have worn them more, that's why these are high on my list at number 2. These are one of the best burgundy jeans I've ever come across and trust me when I say, I've analysed many!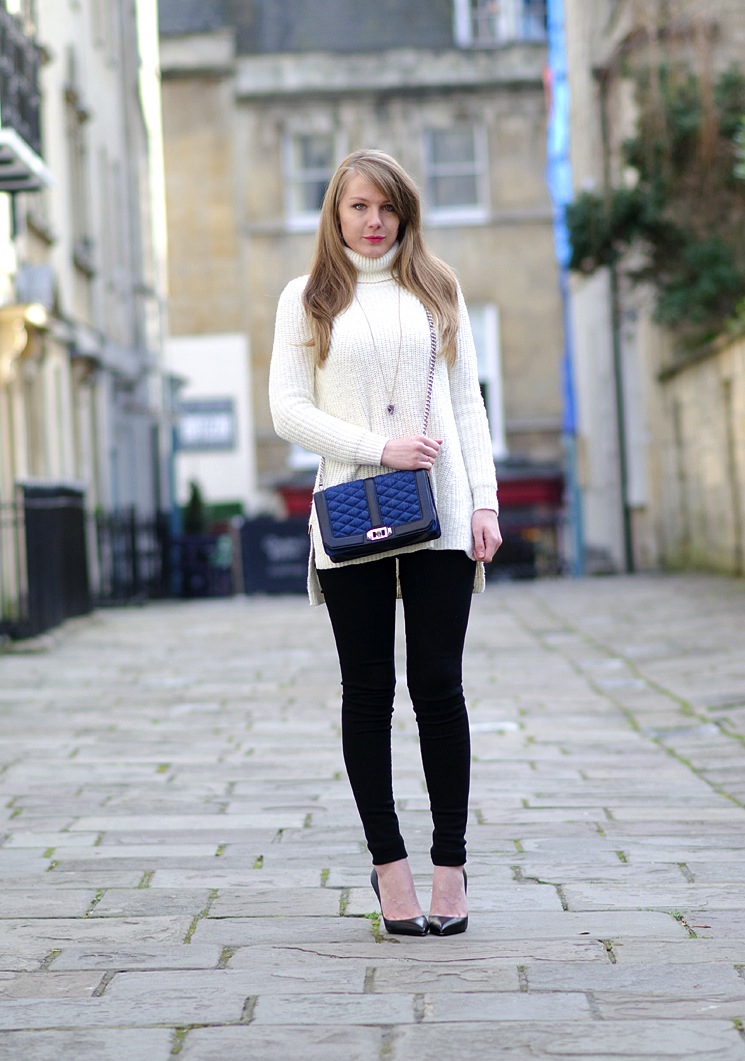 When it comes to black jeans, I was looking for a pure black for some time. My midnight black Levi's Junior jeans used to be my go to pair until I got these Citizens of Humanity Rockets in Axel. Again, these have been a staple for the brand for over a year and you can still buy them now, that's how classic and amazing they are. They feature a beautiful high rise, a super skinny leg and a black wash that's as dark as you could want. The fabric blend is also so comfortable, it's one of the super stretchy, jegging materials, however the denim is thicker so the jeans are sturdy and structured, all while remaining stretchy and comfy. I've worn these more times than I can even count and I never get uncomfortable in them. If you want a classic black then these are for you!
I couldn't not include a pair of my Levi's vintage denim shorts! I have had my darker blue pair for about 3-4 years after purchasing them from Urban Outfitters ages ago. They are the 501 and I think they are from the 80's actually given the sizing and fit, but I literally live in them in the Summer. I couldn't tell you how many times I have worn them, I love them that much! I've always been on the lookout as well for a lighter blue pair, for years since I purchased the first pair, and this year I finally found them after trying about 100 pairs! They are a lighter blue and the fit is just as good as my darker blue! So these are tied for 4th place as I can't choose between the two washes. I suppose in theory I should have the darker blue as my favourites since I've worn them much more and had them for years, but I do love the blue on the lighter ones too. It's a tough call, but I know those of you who have vintage Levi's denim shorts will understand why I adore them so much! I can't be without them!
These AG Stilt Crop jeans were a pair of jeans that I absolutely lived in this Summer. You might remember my review on them, so I wont repeat all of the details, but the cropped leg, the beautiful wash, the perfect fit and back pocket placement combined with the stretchy, comfortable fabric was everything I needed when it was warmer out. I haven't worn them now it's gotten a lot colder, but that doesn't stop them being a high favourite of mine and wearing them again soon.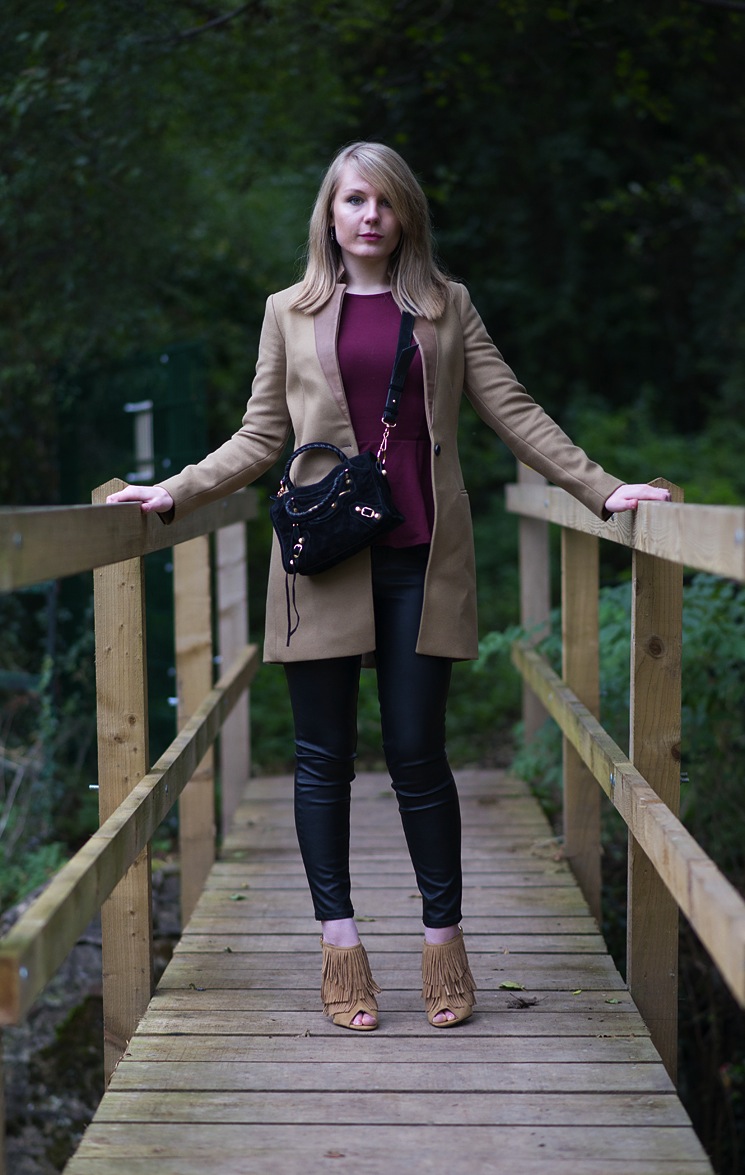 I've owned multiple pairs of faux leather pants over the years from brands like MET and BLANK, so I'm quite experienced with them. While my MET faux leather moto jeans were my favourites for ages and I wore them all the time, I have since found a pair I like just a little bit more. These are from the Shopbop Principle denim collection and they are a cropped ankle skinny with a high rise. A higher rise was what was lacking on my other faux leather pants as now I have matured a lot, a super low rise is no good for me, so these fill that void perfectly! They are nice and skinny all the way down and the fabric is fantastic. It looks a lot like leather and you can't go wrong for the price to be honest! These definitely give an edge to my outfits and I adore them. They do run a bit smaller, so take the size bigger if you are between sizes.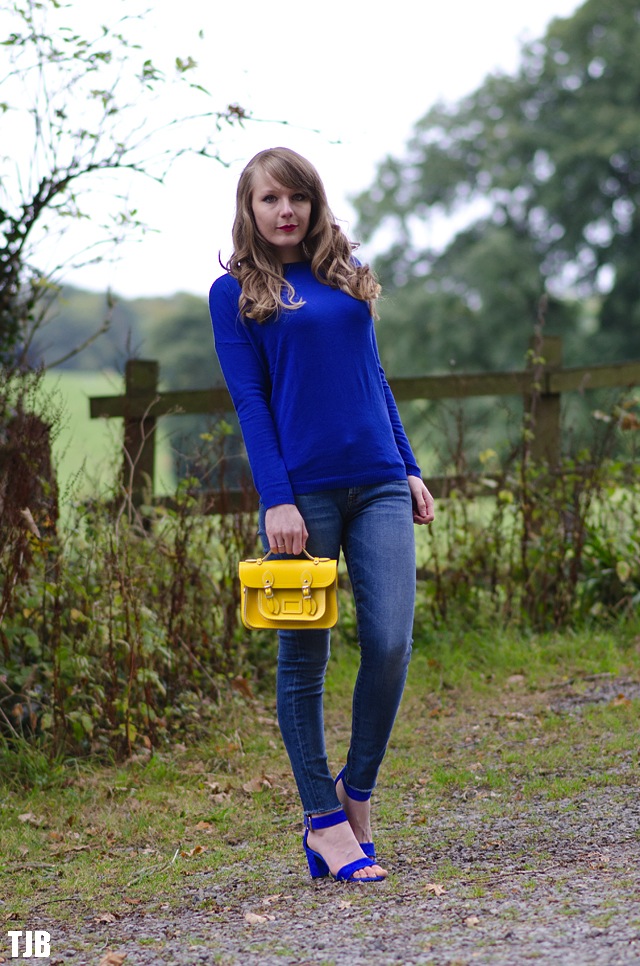 When the raw hem trend made it big earlier this year, I wasn't a huge fan of most of the styles that were popping up, until I saw this pair from 7 For All Mankind. I am not really into hems that are just sliced, I like them to be frayed like these are, so these jeans are perfect. I wore them so many times, I couldn't even count. The leg length hits me just above the ankle, so it's absolutely perfect, the rise is a bit higher, they are super skinny and the wash is a nice mid to darker blue, plus they have a great back pocket placement. I will say that the raw hem is what makes me love them the absolute most though!
If you read my review on these J Brand Maria jeans in Dove, you might wonder why they made it to number 8 on my list, but it's because of how pretty the wash is. These are perfect for me for the Autumn and Winter months because despite me having a small issue with the back pockets being placed too high, when I wear longer tops, it's not an issue at all. Everything else about these jeans though from the wash to the fit is gorgeous and it makes up for the pocket placement in my opinion. Grey jeans are wonderful and not many people actually wear them enough, and I really hope that changes. They are perfect for monochrome outfits and they just give more of a sleek, sophistication to your outfit. If these had better back pockets, they would be much higher on my list. I also love my 7 For All Mankind grey skinnies that are cropped, but because they have an ankle zip, I tend not to wear them too much anymore as they don't work well with boots.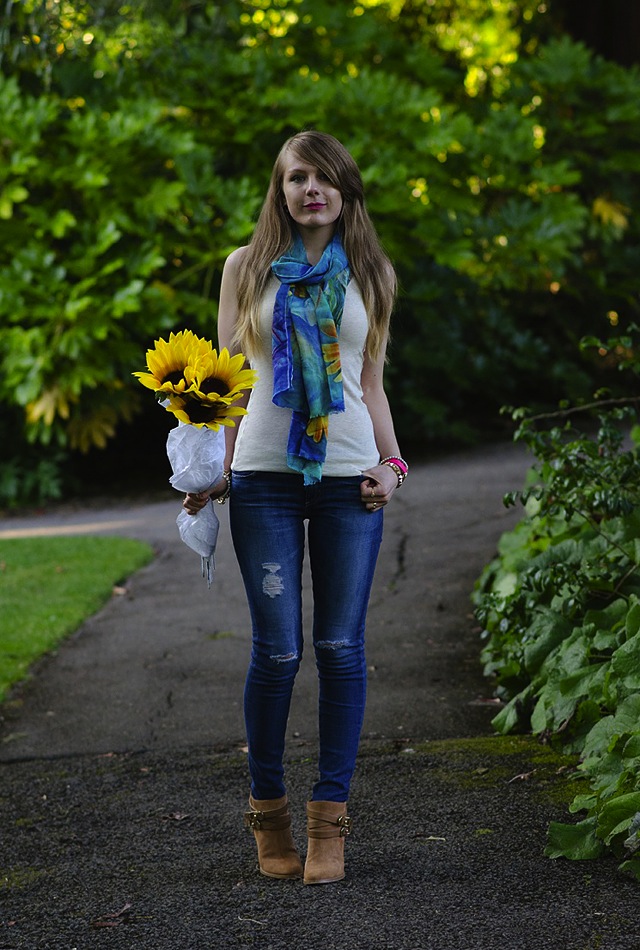 Another pair of AG Jeans and I adored these so much last year. In terms of wash, fit and style, these have everything you could possibly want from a jean. AG make the best, authentic looking washes and the 11 Year Swap Meet is mind blowing. They blue is washed beautifully and has a powdery appearance in some places, while the distressing hits me in all the right areas (actually on my knees!). The rise is a little lower than what I like now, but with a pocket placement that makes the butt look round and a length that hits my ankles, these jeans are more amazing than I could ever explain. I recommended these to a few people and once they bought them, they knew exactly what I was on about!
I hadn't included a dark pair of jeans in my roundup, so I thought I would since it's coming up darker jeans weather. This was extremely hard to choose between this pair of FRAME jeans and my beloved James Jeans Couture skinnies. Reason being, my James Jeans are a pair that I have had for years and they contour your body perfectly and enhance the butt, I've worn them multiple times, but I haven't worn them in a while as they are a bit tight for me at the moment. With that being said, I've had to choose the FRAME Le Skinny in Queensway as my 10th choice. I'm not saying these are not perfect as they absolutely are. The fit is gorgeous, from top to bottom, the back pocket placement is on point and the wash has a sheen to it, making it a luxurious dark indigo, not a cheaper looking one. The details on FRAME jeans are very much like J Brand, however you can see a little F stitch on the left thigh of FRAME and the pockets are positioned lower than J Brand, which I love. For a dark indigo, these are everything you need and more!