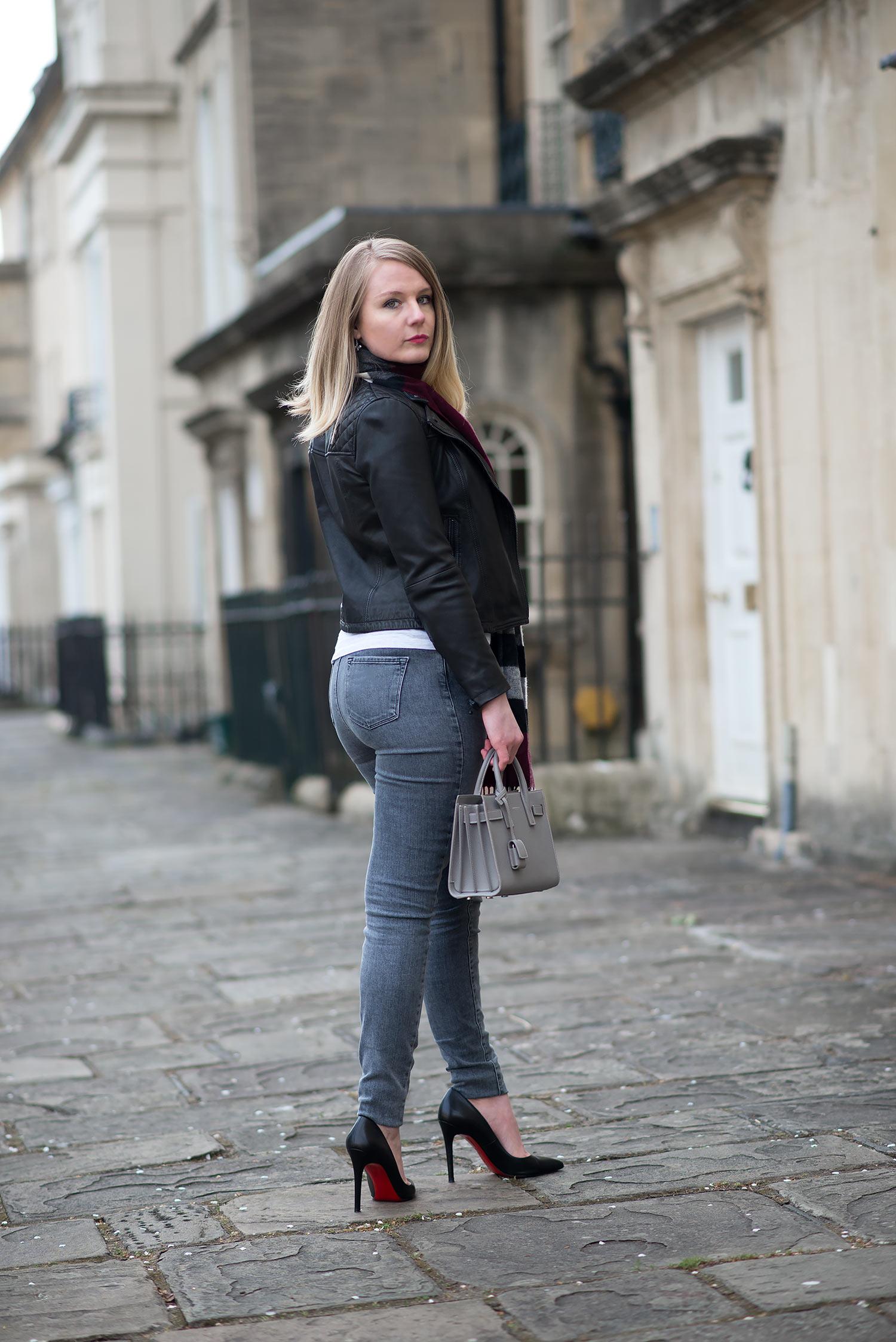 **UPDATE – This was my review on these J Brand Maria Skinny Jeans in Dove from back in September 2015. Can you believe it was that long ago? I thought I would update it though because these jeans are still available on Shopbop and are now a pair that's available at all times of the year. I'm not surprised as the Maria is one of the brand's best selling fits and the Dove grey is stunning! Check out my review below if you missed it. I definitely recommend these jeans to anyone looking for a grey skinny high rise as I still wear them now and we're in 2018 already!
---
My next denim review here on The Jeans Blog is going to be on the new J Brand Maria High Rise Skinny Jeans in Dove grey. I got these jeans from Revolve Clothing a couple of weeks ago (2015) and it's been a long while since I tried anything from J Brand, maybe even a year or more actually. The reason for this was because I wasn't really feeling their fits or washes lately, however I have noticed they have brought out some gorgeous jeans for Fall, so my mind was changed! So, lets get to the review on these jeans.
The Fit – The Maria is a high rise skinny jean, featuring a rise of 9 inches, an inseam of 30 inches and a leg opening of 9 inches, making these incredibly skinny. The leg length is a little bit long for me since I have shorter legs and prefer cropped skinnies, however they work really well as a full length jean. This is my first time trying the Maria and if I were to compare it to another high rise jean that I am familiar with, I would say that the Citizens of Humanity Rocket is quite similar in terms of rise length and leg length, but that's about it. They are quite unique in how they are so I can't compare them too much to any other jeans.
The one thing that I have been a bit unsure about over the past couple of years when it comes to J Brand though is the back pockets. I used to be a fan of them on their 910 cut as they were nicely proportioned and flattering to the butt, but as time went on, they kept altering the back pockets and now they make them quite high up. For me, I love my back pockets to be medium sized, nicely shaped and for the bottom of the pocket stitching to touch where the butt cheeks meet the top of the thigh as I think that's the most flattering place for pockets. With J Brand's newer pockets though, they are quite small in size and they fit quite high up on the butt, leaving about a 3 inch gap below, so they actually create the illusion that my butt is flatter than it is.
For me, this isn't great as my butt is quite round anyway and that's how I like it, so if you are someone with a little more junk in the trunk, these probably wont be very flattering or enhancing as you can see on the modelled photos of mine below. However, if you do have more of a small bottom and it's quite flat, these might work really well actually as that's what I think the back pockets are more geared towards. Considering the back pockets and butt is one of the places that has to look good for me in jeans, it's a little bit of a let down on these jeans as I love the wash so much. From the front however, these jeans are lovely. The rise is really flattering, it hides any muffin top and bumps and it keeps you intact.
The Sizing & Denim – In terms of sizing, I took a size up to a 27 in these because I knew the denim would be thicker and not as stretchy as the other pairs that I'm used to at the moment. I'm a 26 normally in stretchy jeans, but I am glad that I sized up to a 27 in these as they fit quite well in terms of material. They are made from a denim mixture of 92% cotton, 6% elastomultiester and 2% elastane, which does give them stretch, but not as much stretch as the Paige Verdugo or Citizens of Humanity Rocket. These are quite a bit stiffer and the denim actually feels more coarse to the touch too. They are comfortable to wear though and I did wear them for the entire day to wear test them and I had no issues with them slipping down too much or getting baggy. They did mould to my body quite a bit and the only issue I had with the sizing was the inseam length as it was too long for me to the point I had to tuck an inch underneath. But, with all that being said, they are comfortable and from the front the fit is lovely.
The Wash – Now this Dove grey wash was what attracted me to these jeans in the first place. It's a gorgeous mid grey with black and white powdery undertones to it and subtle whiskering on the lap area. It also has some faint honeycombing on the backs of the knees and subtle fades down the thighs and on the butt. It's a very gorgeous washed out and worn in grey denim which makes them perfectly versatile for so many outfits. I love monochrome when it comes to grey so I think black, cream and white would be a great option. In terms of grey washes though, I always find that they can be really hard to get right as they can border on looking cheap or not authentic, but J Brand made this Dove wash just right. It's one of the better grey denim that I have come across and it kind of counteracts the fact that the fit isn't fully ideal for me.
The Details – There aren't many details on J Brand jeans as the brand always goes for the minimalist approach in terms of plain back pockets and no branding anywhere except for the little signature J on the button. I have always liked that about J Brand though as I'm not a fan of over branding and logos, so the subtle curved stitching on the back pockets and the pointed stitch on the fly area is enough for me to know it's J Brand without being over the top.
Overall Opinion – You can probably work out from what I said that the fit wasn't ideal for me because I have a larger more rounded butt so the back pockets aren't the most flattering as they don't sit right, but if you have a smaller butt, I think they will be fine. The rise is gorgeous, the skinny fit throughout is lovely and I would personally just wish for a shorter inseam, but not all of you have shorter legs like I do so these will be fine on most of you in terms of length. The wash is stunning, it's one of my favourite greys that I have come across and I love it so much, it's really versatile. The comfort level is quite nice, it's about a 7-8 out of 10 and the denim is more durable and on the sturdy side with a coarseness to it, but overall, I do like them. Just the few minor details that I would love to change, but the wash makes up for it. It's a very beautiful wash! Have any of you tried the J Brand Maria in Dove?
As I said in the update, I've been wearing these on and off for 2 and a half years now and they're always the grey jeans I reach for. I actually recommend them hugely! I give them 10/10 after testing them and wearing them for so long. They're perfect! I believe Shopbop is one of the only places that stocks them now, so click the link below to get them. They will become a staple in your denim collection for sure. They are in mine! You can see other ways I've worn them by clicking here too. 
Buy these J Brand Maria Jeans at Shopbop.com for $228

Modelled Jeans Photos