J Brand Bella Kick Flare in Deep Mulberry
There's nothing we love more than picking up some brand new denim for Fall! The newer, fresh season means it's time to revamp your wardrobe, start layering and change your fashion colour palette to transition into the colder months. What could do this better than lots of new jeans which have just been released for Fall?
Skinny jeans are of course a huge hit every single season as they are a staple, but flared denim is also having its moment right now and more and more premium denim brands are releasing their versions of a flare in corduroy, velvet and our beloved denim. There's something for everyone, whether you like plain, dark washes, distressing, lighter blues, monochrome shades of black or grey or you prefer something jewel toned like burgundy and purple, there's a new pair of jeans here (or 2 or 3!) to take you right through to Winter.
I've rounded up my personal top 10 favourite designer jeans for you all from Revolve Clothing and I think you are going to love them! I can just imagine some of the darker skinny jeans being worn with knee high boots and blazers while the flares would look grey with oversized knits and platforms. The styling options are endless and looking for a new pair of jeans couldn't be more exciting! From the likes of J Brand, AG Jeans, Paige Denim Rag & Bone, BLANK NYC, Hudson Jeans and Current/Elliott, which new pair will you choose?
AG Jeans The Legging | Hudson Jeans Nico Skinny | Hudson Jeans Krista Skinny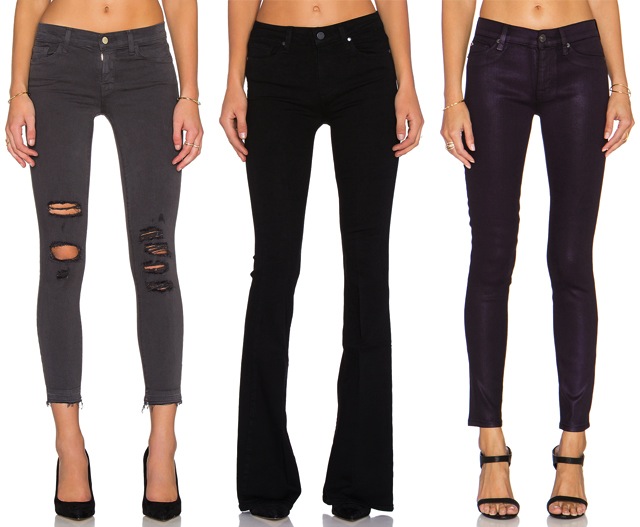 J Brand Low Rise Skinny | Paige Denim High Rise Bell Canyon | Hudson Jeans Nico Skinny
Current/Elliott The Ankle Skinny | Rag & Bone RBW23 Skinny | BLANK NYC High Rise Skinny