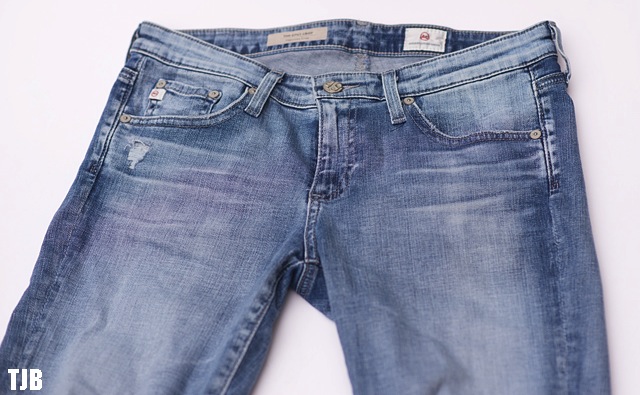 My next denim review for you all is on the AG The Stilt Crop Skinny Cigarette Jeans in 18 Years Ripped. I got these jeans from one of The Jeans Blog's sponsors, Revolve Clothing, and I'm excited to share my thoughts on them with you. I'm quite picky with the jeans I usually choose as I like them to fit perfectly, so I find myself sticking to the same cuts that I love and getting them in various washes, but I wanted to branch out and try something a little different, like these The Stilt Crop jeans, and I'm glad I did. AG Jeans are one of my favourite brands (definitely in the top 2!) so it made sense that I should try these. I have quite short legs, so finding jeans that are cropped on me is almost impossible, so read my thoughts on these below.
The Fit – Getting to the fit of these AG Jeans, they are definitely like a classic, cropped skinny. I say classic because there's slightly more room at the hem than there is on a super skinny. These feature an 8 inch rise, a 25 inch inseam and a 13 inch knee which narrows down to a 10 inch leg opening. You might think a 10 inch opening is quite narrow, which it is on full length jeans, but on a cropped jean that sits on my calves, it leaves some room to look less tight (unless your calves are larger). You can tell from the measurements here that these have a great fit for a Summer jean, not so much for the Winter (unless worn with boots), but definitely for the warmer weather. The rise is the perfect height and the inseam length is amazing. Like I mentioned above, the 25 inch inseam is perfectly cropped on me as you can see in the modelled photos below. Usually cropped jeans just hit my ankles, so I'm relieved to find these!
In terms of back pocket placement, AG make some of the best butt jeans around. Their back pockets are placed perfectly, so they are symmetrical, not too big or too small and the bottom of each pocket hits just above where your cheeks meet your thighs, which only enhances the butt and makes it look uplifted. They really are one of my favourite butt jeans and many people agree with me on that too. The back is just as important as the front!
The Sizing – I took size 27 in these AG Jeans which is one size up from my usual size 26 that I wear in their The Legging cut. I wasn't sure at first whether or not to go with a 26 or 27, but I remembered back to the older days when I had seen The Stilt and it ran a bit tighter as the denim was thicker, so I sized up to be on the safe side. I was wrong about the fabric when I got these though, the fabric is really soft and stretchy, but they do run a little smaller than The Legging jeans do, so if you are between sizes, you might want to take your larger size of the two.
The Wash – If I'm being honest, this 18 Years Ripped wash was what attracted me to the jeans in the first place. I thought they looked gorgeous with the powdery blue shade that they have to them with the fading along the thighs and the butt. They have subtle whiskering along the lap area and honeycombs on the backs of the knees too, creating such an authentic looking and vintage wash. There are two holes on each knee, the right one being larger than the left one, and a distressed area on the top of the right front pocket. Coupling all of this together, it makes such a gorgeous wash. The holes are done to perfection too, cut so nicely that they look worn in and the white threads are placed nicely too. It's definitely one of the nicer washes I have seen from them and I know how hard it is to get a light wash just right. These look like an old pair you love and have broken in.
The Fabric – These jeans are made up of a classic 98% cotton and 2% polyurethane blend denim, but it is extremely lightweight which makes them soft and stretchy. I was shocked when I got these as I remembered the older Stilts and they were quite stiff, so these are actually very comparable to The Legging denim, but not as stretchy. They have more of an authentic denim feel to them as there's less stretch in the fabric, however with the denim being so thin and light, it makes them so comfortable. They stretch perfectly for bending, walking, stretching, sitting etc and I haven't been uncomfortable in them once. I've worn these so many times over the past few weeks that I can't get enough of them. They are extremely comfortable and I guarantee that!
Overall Opinion – So to round things out, my overall opinion of these jeans is that they are perfect! Actually finding a jean that's cropped on someone with shorter legs is a miracle in the first place as finding jeans for shorter women can be impossible! The wash is absolutely beautiful in every way, the fit is amazing and the denim is comfortable. If I was going to find a negative for these jeans, which is actually really hard, I would probably say it's that there isn't enough washes available in the Stilt Crop cut. I know it's more of a Summer jean so I can't imagine them coming out with more washes now we are transitioning into Autumn, but I truly hope they do for SS16! For those of you who are a similar shape or size to me, and I know quite a few of you are, you will love these jeans. I can't get enough of them and I'm being extremely honest when I say how much I love them. You can buy these jeans online at Revolve Clothing for $235 and you can see modelled photos of me in them below.
This is how these AG The Stilt Crop Jeans in 18 Years Ripped look on me. I have worn them about 5 times now in the space of two weeks and I adore them. They have moulded to my body perfectly and they fit so well. They have stretched a very little amount, only to fit me better, but they definitely haven't gotten baggy or saggy in anyway possible. I have shorter legs myself, so you can see these are actually a cropped jean on me and that's a miracle! Usually cropped skinny jeans hit at my ankles and look almost full length, but these fit how they should! You can find out more about my outfit on my personal blog.