Being the denim enthusiast and collector that I am, of course it makes sense that I would have more than one Denim Tale to share with you all. In fact, I have numerous denim stories that I could put into words as denim has played a huge role in my life for the past 10 years. I already wrote my story on my very first pair of designer jeans and how it got me started in this industry, but there is another pair of jeans which were my very first pair of Diesel jeans and these have a huge significance in my life, telling a story on their own. Hidden in the blue threads each time I look at these jeans are so many emotions and thoughts, it's just amazing to me how one pair of jeans can hold so many memories and really have a life of their own.
Going back to before when I spoke about my obsession with Rock & Republic jeans and how I came to love them, it was about a year or so after that I started to develop feelings for Diesel. This was partly because I kept seeing beautiful ladies around in their Diesel jeans, looking perfect and pretty, but also because it was around the time I had just met my best friend (my now boyfriend of 6 years), Adam. He was a part of Honest Forum and had a healthy obsession with Diesel himself, owning lots of pairs and always on the lookout for more, but we had met through the forum and became the best of friends. Our friendship really was brought together by jeans, but I will share more on that in another story.
So as things go, friends always inspire you and I started to look for a pair of Diesel jeans of my own, a pair that I completely fell in love with and had to have. It didn't take long for me to come across the now famous Diesel Matic 81M jeans. I had seen them on another forum member after she posted photos and I thought they were stunning. Everything about them from the insanely gorgeous wash, right down to the little details and the impeccable fit, I knew that I had to have them. The only issue was finding them as they were a couple of seasons old. So, as I end up doing with most things that I fall for and obsess over, I set about on my journey of tracking a pair down.
It took a couple of weeks actually, which was much quicker than I thought, despite it feeling like months, for a pair to pop up. It wasn't me that found them either as Adam was also looking out for a pair for me too! I remember being in the kitchen when I received the text message from him telling me that he had found a pair on eBay from a trusted seller in the US. There was just one issue though, he wouldn't ship outside of the States. I was panicking thinking to myself that my chance might be lost, but Adam's friend who lived over there was willing to help out and I remember sending him the money to purchase them for me and ship them over to me here in the UK. I was insanely grateful for this as these were my dream jeans and I just couldn't wait for them to arrive!
Those two weeks of waiting for my mail were so hard! I kept checking everyday with the postman to see if they had arrived, but it took longer than I had anticipated. Finally, on the day that the postman knocked the door to deliver my jeans, I was ecstatic and nervous at the same time! Even though this was back in February 2007 (over 7 years ago), I can still remember my feelings while opening the package. I was worried if they would fit or not since I had never tried Diesel before and I was worried if they would live up to the hype that I had built up in my mind about these jeans being the best jeans in the world.
I was quickly put at ease when I saw just how stunning they were in person, looking at the whiskers on the lap, running all down the thigh, the little distressed areas, the green trim inside the hem and the pink behind the zipper fly, the gold thread on the back and the beautiful gold signature V shape on the back of the pockets. I was in awe of these jeans and had developed a huge crush on them, they ended up becoming like my boyfriend or an attachment of me. I literally wore these every single day and I didn't really give my Rock & Republic jeans a second thought for quite some time.
I can remember wearing these to some of my singing groups, to some parties, events, shopping, even around the house. They were my live in and go to jeans for about a year. I can definitely say that I must have worn my Diesel Matic 81M jeans at least 100 times, to the point that even some of the stitching wore away and the back pocket started to detach itself from the denim. I still remember that everyone else on the forum also started loving them and buying their own, there was a super thread for Matic too, it was insane just how quickly they became popular, not too long after myself and a lovely lady called TonePone got them!
I was about 18 at the time when I had these jeans and I noticed that my body was changing shape a lot and I was actually gaining some weight, so my jeans were getting tighter and tighter as my hips grew. This scared me as I was thinking that I wasn't going to be able to fit into them for much longer as my curves set in. This was when I found another pair of the Diesel Matic 81M on eBay in a size 27, the next size up. They were such a good price as well, I snapped them up in an instant. When they arrived, I wasn't as happy as I thought I would be though as those of you who know Diesel will know that each of their jeans vary in wash and different runs (LAB numbers), so the new size 27's were actually a lot darker with less whiskering and the gold stitching on the back was different too. I remember feeling upset, but as my 26's were too tight, I had no choice but to wear the new ones.
I ended up loving the 81M wash so much that I bought it in Lowky as well, and then in Liv, but the Liv fit didn't really suit me so I had to let those go, despite them having the most incredible version of the 81M wash that I had ever seen! I even found a pair of 81M Matic in a size 28 and cut them into shorts so I could wear them in the Summer too!
As time went on though, I ended up with lots of Matic jeans, in all various washes, it was like the dream skinny jean for me at the time. The perfect low rise with a skinny leg, what more could I want? Not to mention the way the back pockets enhanced the butt, they were amazing. A few years later though, Diesel ended up changing the fit of Matic and made it less skinny, this was a problem for me as I have small legs and it made them look really sloppy and unflattering and it became the downfall of my love for Matic, so over time I stopped wearing the fit and moved onto other jeans.
To this day though, I am happy to report that 7 years on, I still have my Matic 81M jeans and these photos are some that I took today. I changed my lifestyle around this year and ended up losing a few pounds because of it, but it means that I actually fit into my old Matic 81M in size 26, the ones with the insanely beautiful wash. So, I do still wear them, even after all this time and I couldn't love them and treasure them anymore than I already do. Every time I look at these jeans I just smile and my brain swims with memories and thoughts surrounding them. Adam still loves them too and I honestly feel like these jeans are a part of our relationship now, well, it definitely feels that way in my mind!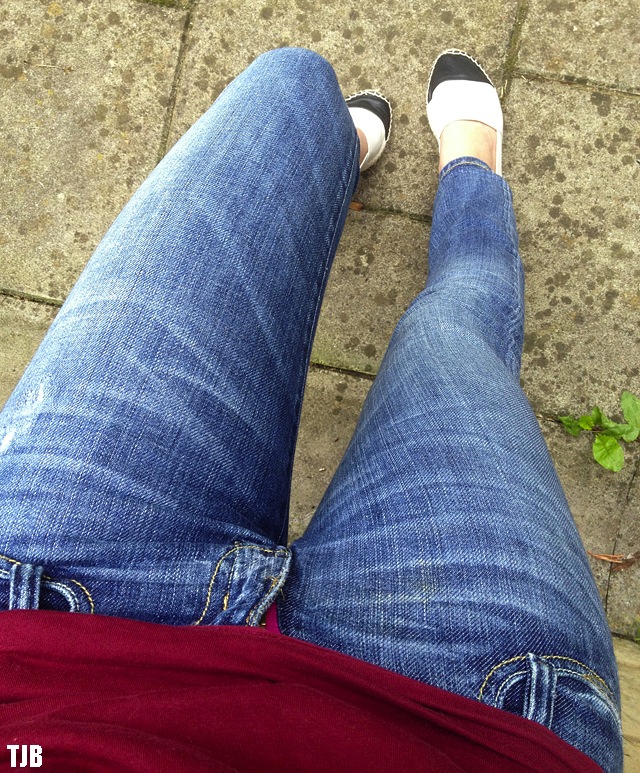 I always remember taking these photos below when I was 18 and had just got the jeans. I couldn't wait to show everyone on the forum how amazing they were, but my figure and style has changed a lot since then! I definitely can't say I would wear pink boots like this again, ha ha. You can also see the pair that I cut into shorts a year or so later.
– So that rounds up my Denim Tale on the famous Diesel Matic 81M skinny jeans. I really hope you enjoyed it and I would love to read more of your stories! Please do get in touch to submit one and it will be published here on The Jeans Blog to share with everyone else! This is a wonderful denim blog and I know so many of you share the same passion, I can't wait to read more stories from you all!