We are starting a brand new and really cool series here on The Jeans Blog called 'Denim Tales' which is basically denim lovers from near and far sharing a quirky and fun little story on a pair of jeans that have stood out to them or meant something to them in their life. As we are all denim lovers here at The Jeans Blog (and I'm sure you are too if you are reading this!) it's always interesting and good to understand and know what other denim enthusiasts love about jeans and how they feel towards them, this is how the idea for Denim Tales came about, courtesy of a friend of mine who is also a denim obsessive.
On thing that's always important to me and has been since I started is the involvement of you readers with my blogs. Whether this is with my personal blogs or with this one, responding to comments, writing reviews, doing interviews and chatting to you on social media is something I am passionate about as to me, denim is a way of life and I don't want this to just be a static magazine based blog. I want you to be involved, like a little community for denim lovers all around, so sharing stories is the way to go!
Since I own The Jeans Blog, I thought it was only fair that I get the ball rolling with a story, so I'm going to talk about my very first pair of designer jeans and how everything got started for me below! If you want to share one of your stories too, please do get in touch and you can be featured!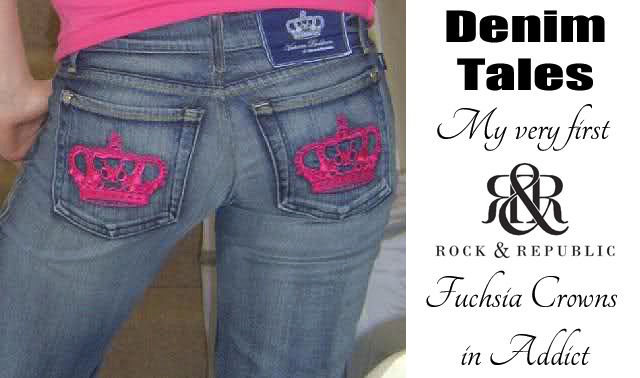 My very first pair of Rock & Republic Jeans was what got all of this started. I have been into jeans ever since I was little, I dressed like a boy in my toddler years wearing denim dungarees and I also wore a lot of jeans throughout my childhood. I first started getting into premium denim though when I was about 15 years old, obsessing over brands like Yanuk and Rock & Republic at the time.
I loved Victoria Beckham being a part of the brand and having her own crown designs on their jeans, so I set out in a bid to find a pair of Rock & Republic crowns. This is where the story begins actually because being 16 years old at the time, I didn't have barely any money and I wasn't aware of fake jeans. This is when I purchased a pair of Rock & Republic jeans on eBay, thinking they were real. I wondered why the crystals were wonky and not very shiny, why the fit wasn't too good and why the stitching was all over the place, thinking surely for a jean worth the price tag, they should be made better than this!
I started researching Rock & Republic on Google and that's when I came to realise that the jeans I had were actually fake and I was heart broken. I found out by visiting the DenimBlog forum, originally called Honest Forum, and talking with other premium denim lovers there, gaining a vast knowledge on Rock & Republic and why so many fakes existed. I quickly threw those fake jeans to the back of my closet and forgot about them, shutting out the humiliation and anger that came with it.
I met a lovely lady on the forum called Cindy and she helped me on my quest to finding a pair of Rock & Republic Fuchsia Crowns in Addict wash, the ones that I had been searching for for a long while. I couldn't afford the retail price, but we came across a pair in Germany from a lady who liked premium denim too after a good few weeks, but the jeans didn't fit her, so she sold them on to me and I waited patiently for them to arrive in the mail.
Once I got my new jeans, I was absolutely addicted to them. I wore them everywhere that I could, and with everything that I could, making sure that I got the most out of them and the price that I paid. The fit was unlike anything I had ever tried before as I was only used to high street jeans at the time and the quality was incredible too. I was in love and completely smitten with my new jeans, but this started an on going obsession with me liking more and more different pairs that had came out and all of the different styles from Rock & Republic. These Fuchsia Crowns were the start of a hidden addiction that I didn't know I had!
Since these denim tales are only focused on a specific pair of jeans and story, I wont go into all of the details that came after, but to outline what happened, I purchased more and more jeans over the years and built up a large collection of Rock & Republic jeans, living in them and obsessing over them all. It was made fun and like a hobby since I got to share this passion with other like minded ladies too. It was absolutely no good on a teenagers bank balance of course, but it was something that I couldn't stop and I still haven't been able to keep under control today as I now own roughly 400 pairs of jeans from all different brands!
Thinking back though, I'm no longer mad or upset about getting a pair of fake jeans because I'm sure I wouldn't be doing what I'm doing now if it hadn't been for them! They led me to blogging and were the key to my way of life now, it all started out with that one pair of jeans and now I have been a big part of the premium denim industry for years and years, working alongside the top denim brands and being able to share my passion and knowledge with all of you, so in a way, I am incredibly happy that I ended up with a fake pair since it opened a huge door for me. I don't condone fake jeans and would never buy them or sell them or tell any of you to either, they are damaging to the premium denim industry, but it's funny to believe that they are the reason I am who I am and where I am right now!
I do have many other denim stories to tell you, but I will be saving them for more posts in the near future. Publishing them among your stories and more! I really hope you like my denim tale and you found it interesting or fun, please do comment and let me know what you think and of course, submit your stories via email if you want to be featured too!