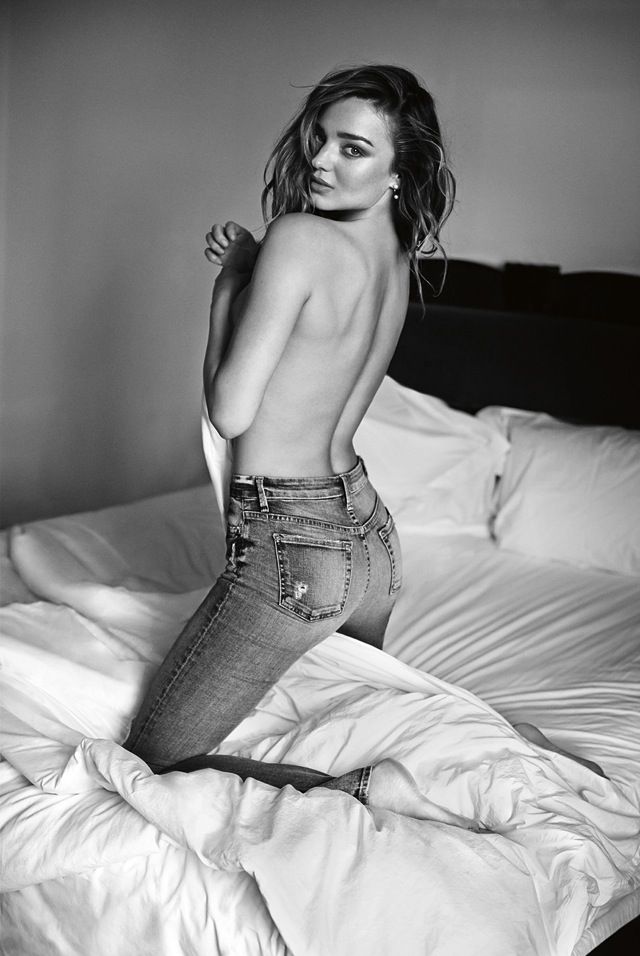 The gorgeous supermodel, Miranda Kerr, is the brand new face of premium denim brand, 7 For All Mankind's, Fall Winter 2014 Ad Campaign. The new campaign is entitled #7OBSESSIONS and also features Jon Kortajarena alongside Miranda in the shots. The concept of the campaign connects the idea of an obsessive relationship between a man and a woman with "a woman's obsession with her jeans." It exposes the dark secrets within a relationship and new things to obsess about; from indie musicians to new blogs to the new 1984 boyfriend jean, 7 For All Mankind will share everything to obsess over.
Kicking off this new 7 For Al Mankind campaign is a 30 second commercial, which will air on August 11th to officially launch the season. Clad only in denim and nothing more, leading lady Miranda Kerr addresses her obsession with 7 For All Mankind jeans. "I love them," she says as she seduces the viewer with her flawless natural beauty. "I love the way they fit. They feel so good." The culmination of the campaign will be the October release of a four-minute fashion art film that shows what happens when obsession meets unrequited love; he loves her. She loves him, but he can't have her. She has the power. She is in control. This is their intimate story. Throughout the month of September, four 30-second teaser films will be released, ultimately leading up to the unveiling of the film. You can watch the first by clicking here.
"This campaign beautifully embodies our Brand DNA. Our campaigns seek to create everlasting images that are effortlessly chic and memorable," said Barry Miguel, President of 7 For All Mankind. "Along with the world-class team we assembled, we have truly created a varied array of imagery that will be remembered for years to come." 
Miranda Kerr's star role was not just as model, but also collaborative partner. "Miranda was involved from the very beginning as we conceptualized #7Obesseions. Her creativity and input was inspiring and her efforts have continued throughout the editing process. She was involved to the very end." says Andy Griffiths, Vice President, Marketing.
Joining Miranda in front of the lens (as I'm sure you can see) is Spanish model and actor, Jon Kortajarena. He has appeared in countless campaigns across the globe and even played a minor (yet memorable) role in Tom Ford's directorial debut, A Single Man, where Jon's rugged sensuality proved a perfect homage to the James Dean-esque archetypal of 1950's sex appeal. Moving back to the campaign though, it was shot by renowned photographer, Sebastian Faena, known for his ability to imitate the energy of young Hollywood, thus creating exceptional images and an intoxicating narrative. Alex White, British-born editor and former Creative Fashion Director of W Magazine, styled the campaign for her inimitable aesthetic and creative denim pairings while David Lipman continues as 7 For All Mankind's Creative partner.
7 For All Mankind's Fall Winter 2014 brand campaign truly epitomizes the brand's vision to make the world's best jeans. Consistent with the brand's aesthetic, this season's black and white imagery is sexy at heart, rooted in sophistication, yet forever cool. Cleverly appealing to both men and women and in the words of Miranda Kerr, "7's: They didn't just mean for all MANkind." What do you think of the shots? Do you like Miranda as the face too? Comment below and let us know at The Jeans Blog what you think!