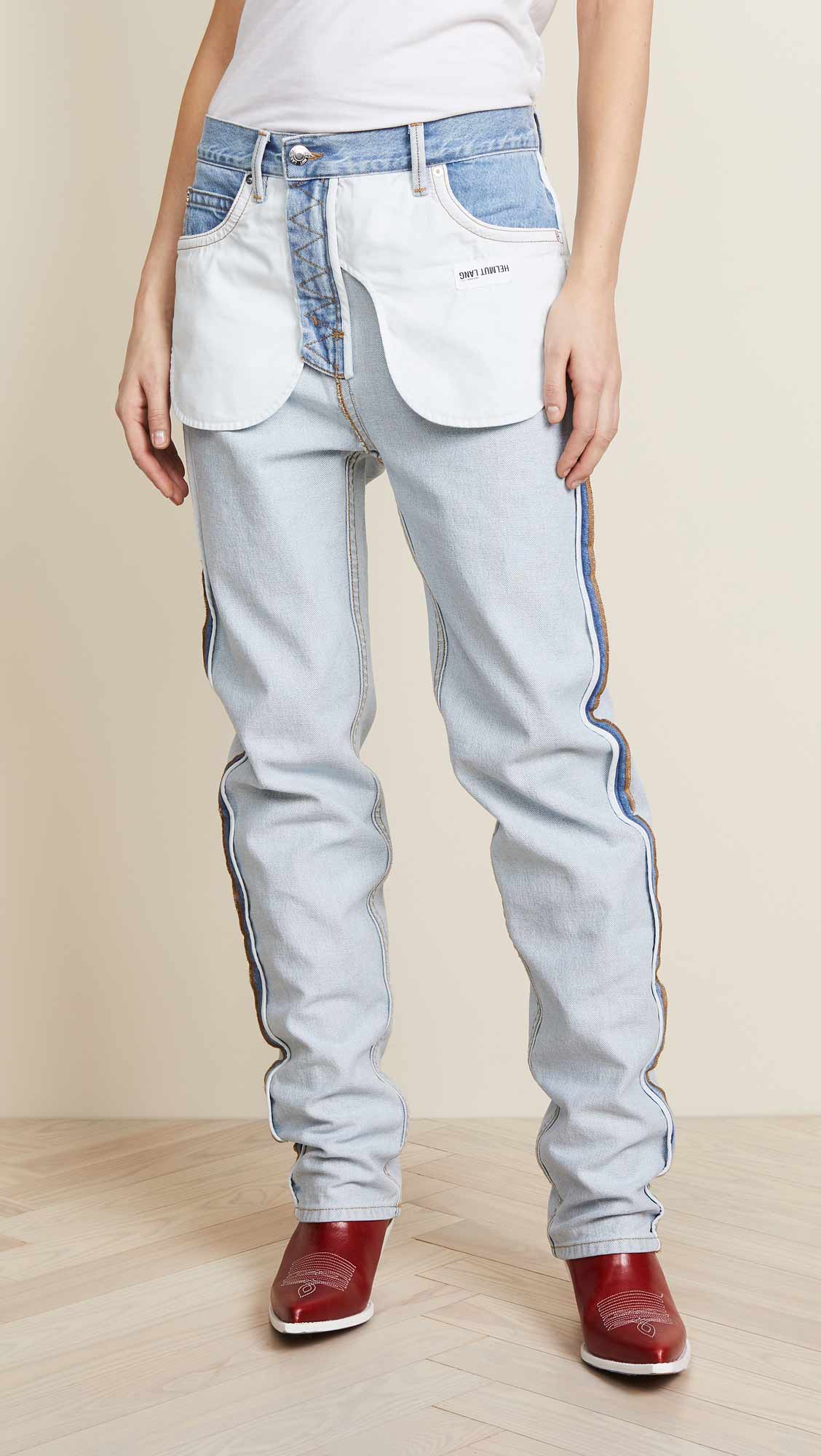 I've done a few blog posts before on weird and crazy jeans that are trending or pairs that are more along the lines of 'what were they thinking?', but as this madness continues, I can't help but wonder, has denim become a gimmick?
I've seen some crazy things in my time working as a blogger, and I thought crotchless chap jeans were astonishingly bad, hoping it would all be a phase that passes by quickly. I'm left somewhat irritated though because the designers and brands genuinely are running out of ideas and rather than sticking to the core heritage of denim; focusing on great flattering fits and authentic washes, or striving for the best quality in fabric, everything now is about thinking outside the box and going well beyond any invisible boundaries that might have been in place.
I don't know if it's just me, but as a true denim lover and obsessive, this really breaks my heart. I'm seeing jeans with multiple waistbands, I'm seeing inside out jeans, jeans with a zip up the butt, pairs with such a high waist band it comes up to your neck (or there abouts) and whatever else they decide to throw at us. I mean when I look at the inside out jeans above, they are kind of cool in a strange way, but why would anyone do such a thing?
I understand that denim is a staple and a core part of everyone's wardrobes, but why take something so amazing and turn it into a fad or a joke? If I had to choose a pair out of this selection that I didn't think were truly awful, it would be the bottom Siwy back zip jeans as they are the least inoffensive to my eyes.
I don't know if this is the way the denim industry genuinely is going now and classic denim is becoming a thing of the past, or if it's just temporary. I understand that everything has been done and in order to be innovative they need to come up with something that hasn't been done before, but please stop making denim a joke and coming out with ridiculous styles that people will feel compelled to wear in order to keep up with the trends, then look back on their photos (just like the 80's and 90's) and question their sanity.
Jeans are such a classic, iconic piece that they should be respected and loved. The fact that they are now a gimmick and turning into something that's going to disappear after a few wears, rather than getting loved and worn in to create a story, does sadden me. I know someone mentioned there's been a detection of melancholy in my writing here lately, so this is why. Like I said before in a previous post, what has happened to denim these days? What's your take on the gimmick denim has become? Comment below and let us know!