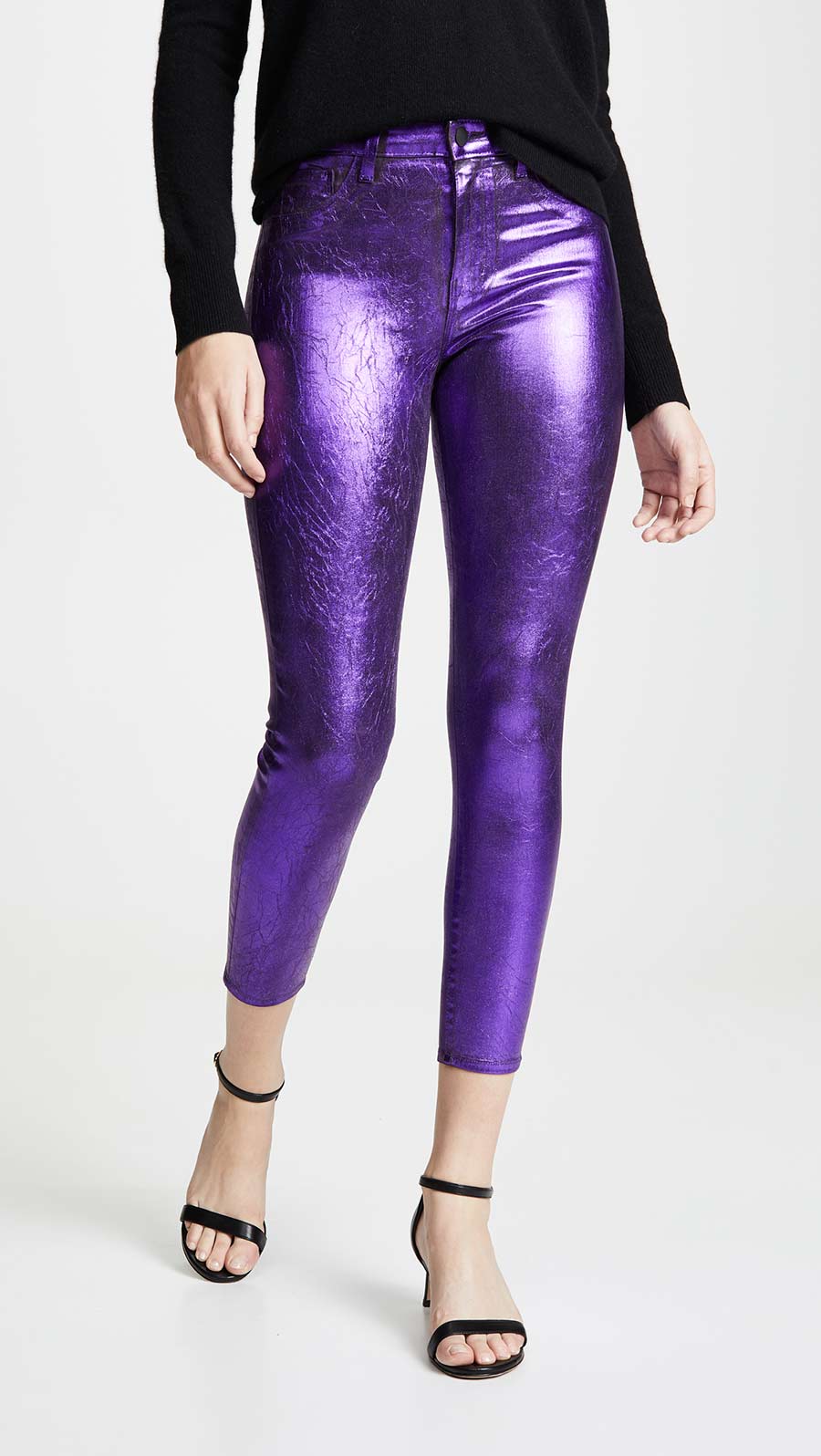 Can you believe it's almost December? We're heading into full blown festive explosion mode and what better way to celebrate than with some new denim that's perfect for the holiday season? Every year when December rolls around, we start seeing lots of metallics, foils, and coated jeans in extremely bright colours, so I've rounded up 8 different pairs that I think are ideal for it.
When it comes to the festive holiday parties, one of the best ways to make a statement is in a pair of jeans like these, teamed up with a smart blazer, some heels, and a clutch. Dresses are of course a fab option, but December's always absolutely freezing and there's potential for snow, so wearing a dress in sub-zero temperatures while travelling? I prefer to pass on that, even with tights… So while everyone else is rocking up in their cocktail dresses with sequins, you will stand out in a pair of metallic foiled jeans that are as stunning to look at on the shelf as they are to wear.
My favourite pair of jeans out of this list are the purple foil ones above. The colour is just spectacular and I don't think I've seen a pair of jeans with this shade of purple before, and even though red and green are usually the merry go to colours, I think this purple screams Christmas just as much as it has the perfect hue! With black blazers and heels, you can't go wrong!
If you prefer something a bit more subdued, a muted coated red could be the option for you. They aren't too shiny, they aren't too bright, but they have just enough colour in them to make them festive and fun while being understated. I'd say these are a winner too!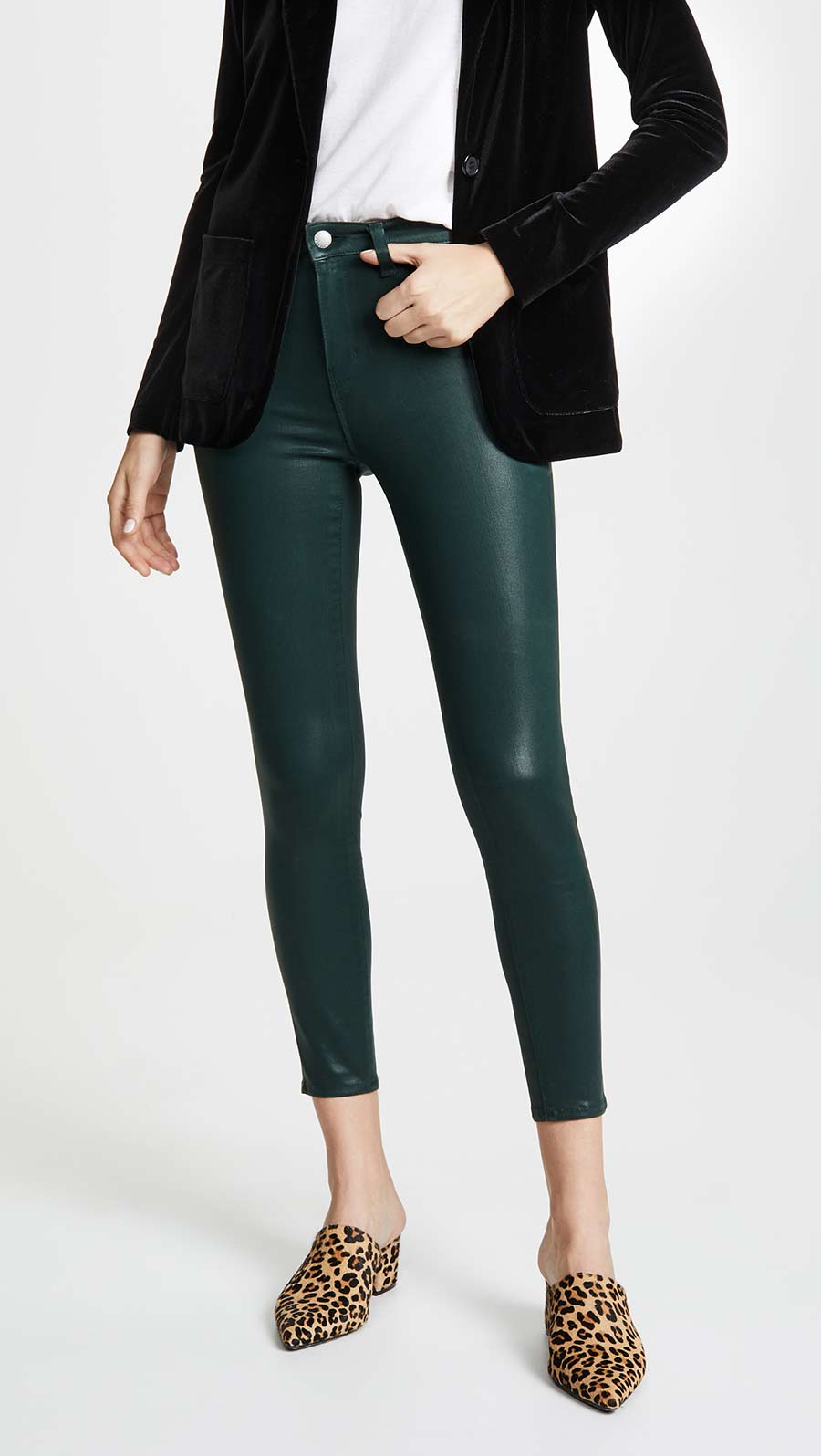 Green! What could say festive more than a rich evergreen? I think this shade from L'AGENCE reminds me of a Christmas tree so that's why I chose it. It's much easier to wear than red as dark green is subtle, but it still has a festive pop to it that you can easily work with when it comes to your other items. I love the model's pairing of the velvet blazer, that really gives it a boost.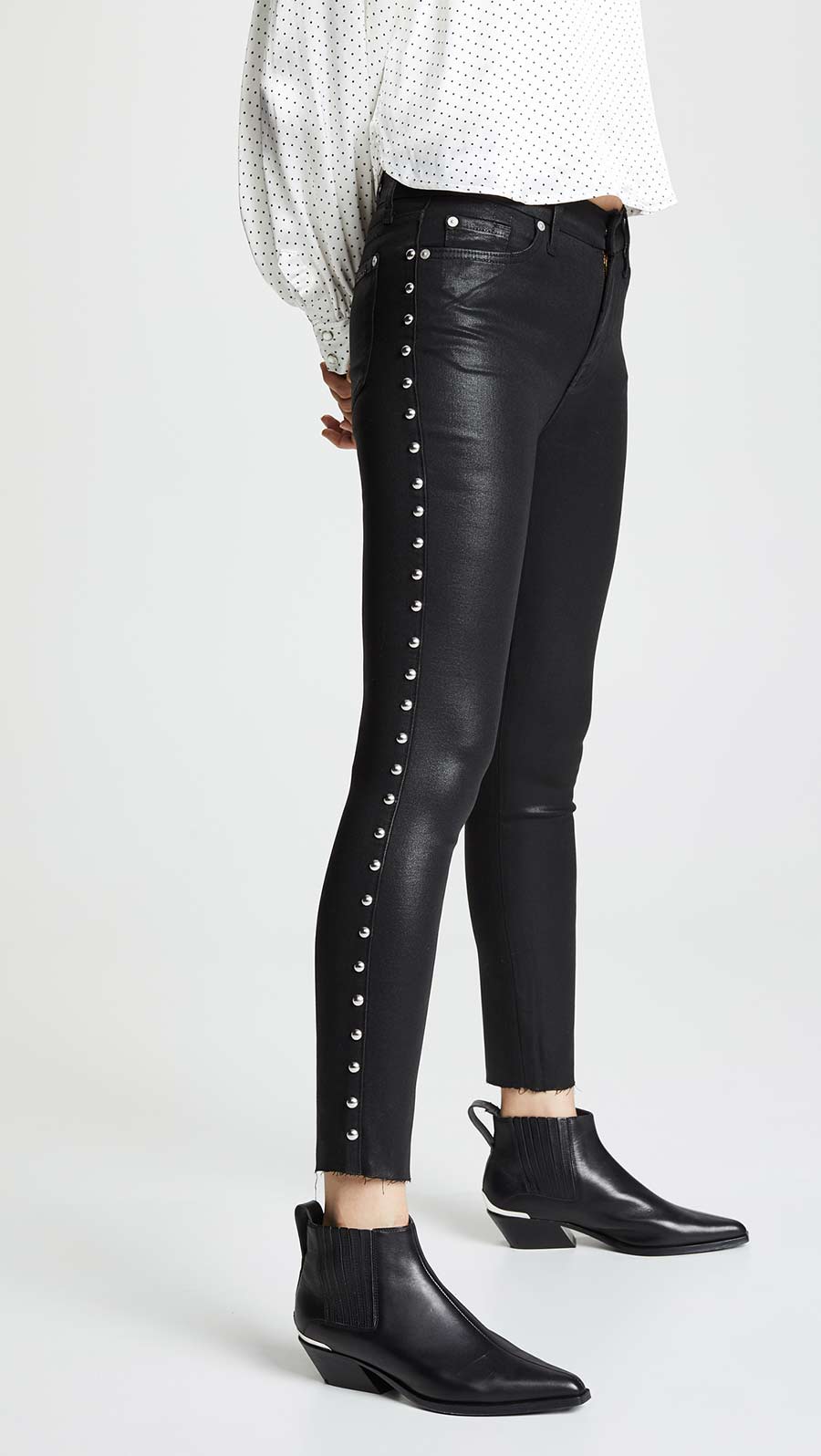 Now if you have more of an edgy style and prefer black, why not try a coated black with some side seam studs? The raw, unfinished hem just makes them tougher, but at the same time if you wore a red top or something velvet with these, it could have a subtle festive undercurrent.
Perhaps colour isn't really your thing, but black is too dark for you, so why not try grey? We don't often see coated or metallic grey options as it's usually silver, but gunmetal has a great vibe. I've already thought up so many ways to wear these, and if you're already a fan of grey jeans, these will be the perfect choice for you as you can wear them in all of the same ways.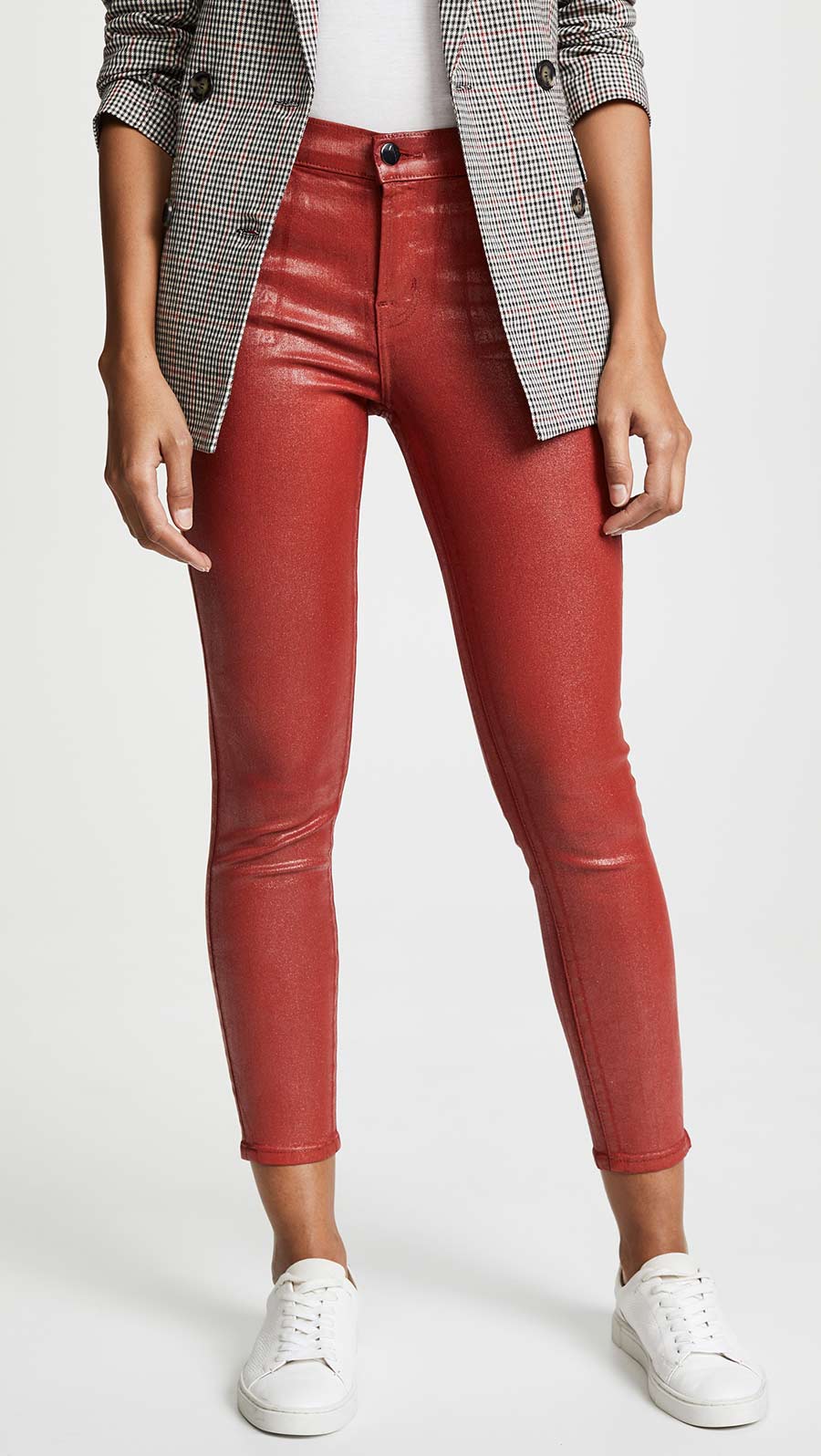 If you do love red, and you do want a brighter pair, these might be a better option over the pair near the top of the list. They're more vibrant and have more of a real red undertone, which suits the Christmas spirit perfectly.
Again, if you loved the green pair but they were too muted for you, 7 For All Mankind have a metallic pair which actually have peacock undertones so they are really shiny and foiled as they're not just coated with a wax. The shine on these looks fantastic and also reminds me of a mallard duck too!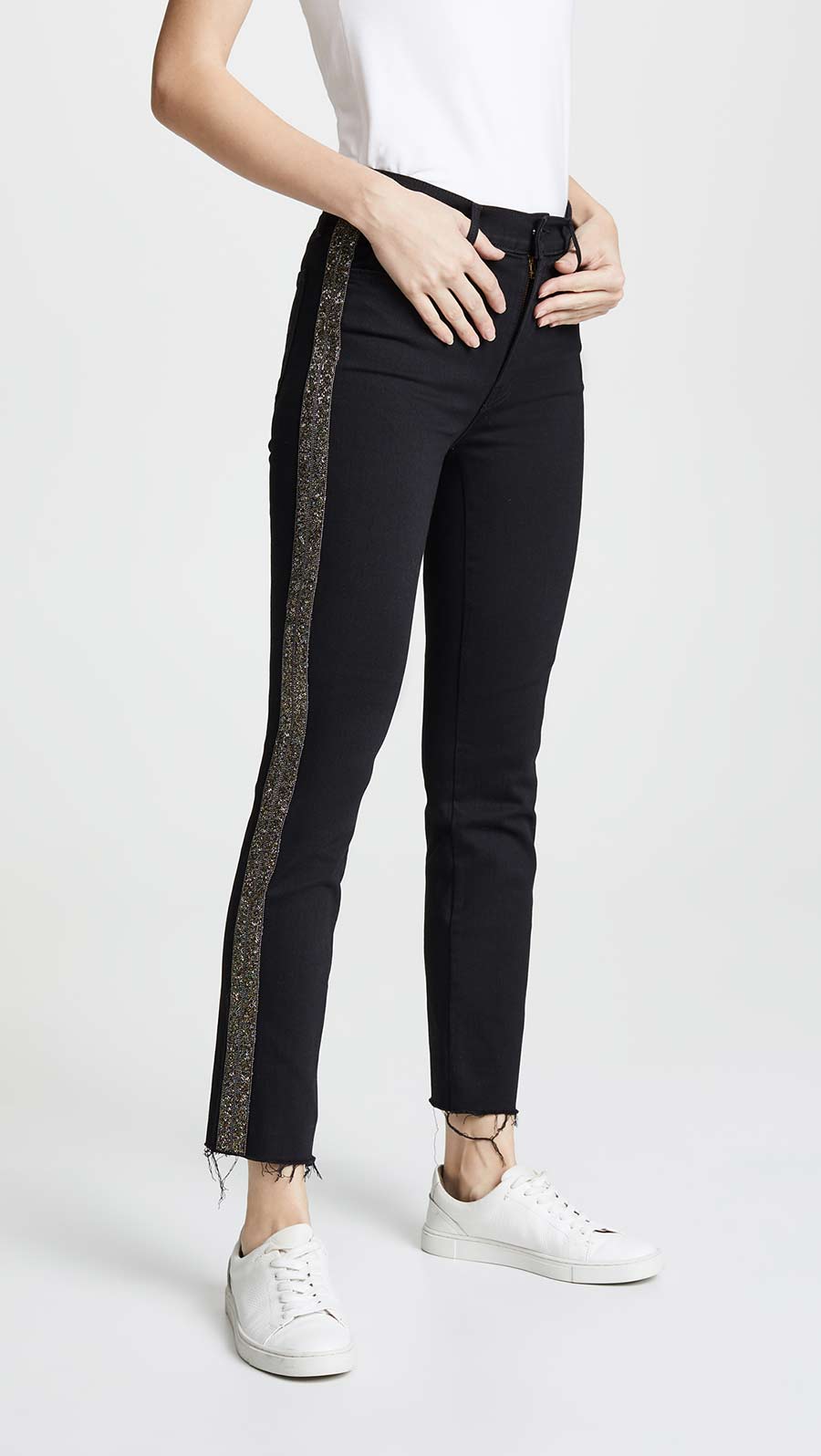 Lastly, if metallic and coating isn't your thing and you really want to keep things as understated as possible, so you blend in at the holiday parties rather than stand out, but you don't want to completely give up a small hint of festive cheer, these could work. They're a simple, plain black jean, but they have a tuxedo stripe made out of lots of little seed beads, all sewn together, so you get that glitz and glam while remaining smart and classic. Could be a win, win?
How are you wearing your festive jeans this year? If you don't have any, either of these will be a perfect choice and you can just shop the jeans with the links below each image. The links are affiliated, so buying them through The Jeans Blog helps to keep the site running. As always though, we would love your opinions! Lorna.