Denim jackets, born from the rugged individualism of the American West, are asserting themselves as a true style icon. Iconic in that they are always around but with varying popularity. Periods of higher popularity have usually corresponded with an uptick in country western styles – faded jeans, cowboy boots, dusty plains, and vestiges of the Marlboro Man.
It is apparent that we are in a time of higher popularity for denim jackets. I know that because even the Wall Street Journal is writing about it. As they pick up on trends like this late in the cycle, it must already be here. This time is different as there isn't an apparent linkage to a surge in general country and western styles. I say that because the selection and variety of denim jackets is greater than it ever has been.
In terms of styles, all of the major denim brands to even high end shops such as Gucci have offerings. Gone are the days of the standard sunflower blue to be replaced with a full spectrum off washes and colors. The darker shades with tonal stitching even open up the possibility of wearing denim jackets for dressier occasions. The embellished jackets offered by Gucci (see Kanye West in his Gucci denim jacket here) are more suited for Coachella or Glastonbury than the dusty plains of the west though.
However, just about any clothing style has a shortcoming. For denim jackets, their limitation as seasonal wear is one. During the hot summer weather, they are too heavy to wear. Come winter, their lack of insulation requires that you oversize them and bulk up with multiple layers to keep warm. If you really want to look bulky you might as well wear a puffy parka. The brands are starting to react to this limitation. There is not much that they can do about summer but we are starting to see styles with lining to allow expanded use during colder weather, taking inspiration from vintage Levi's denim jackets with sherpa linings.
The iconic jean jacket is back. What this means is that if you are thinking of trying a denim jacket, there is one that is out there just waiting for you. To peak your interest, the following are my selections for you to check out, so here are 6 men's denim jackets which are ideal for the Fall season. How are you wearing yours?
Levi's Premium Type III Sherpa Trucker Jacket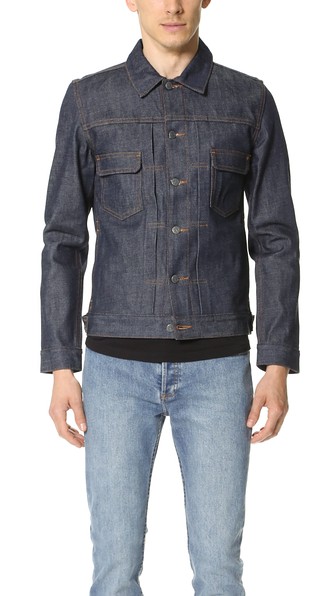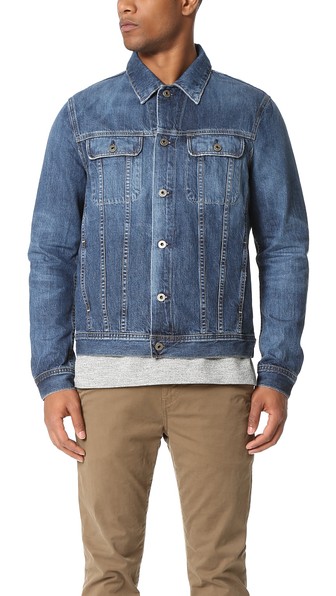 Levi's Red Tab The Trucker Jacket
Rag & Bone Standard Issue Jean Jacket