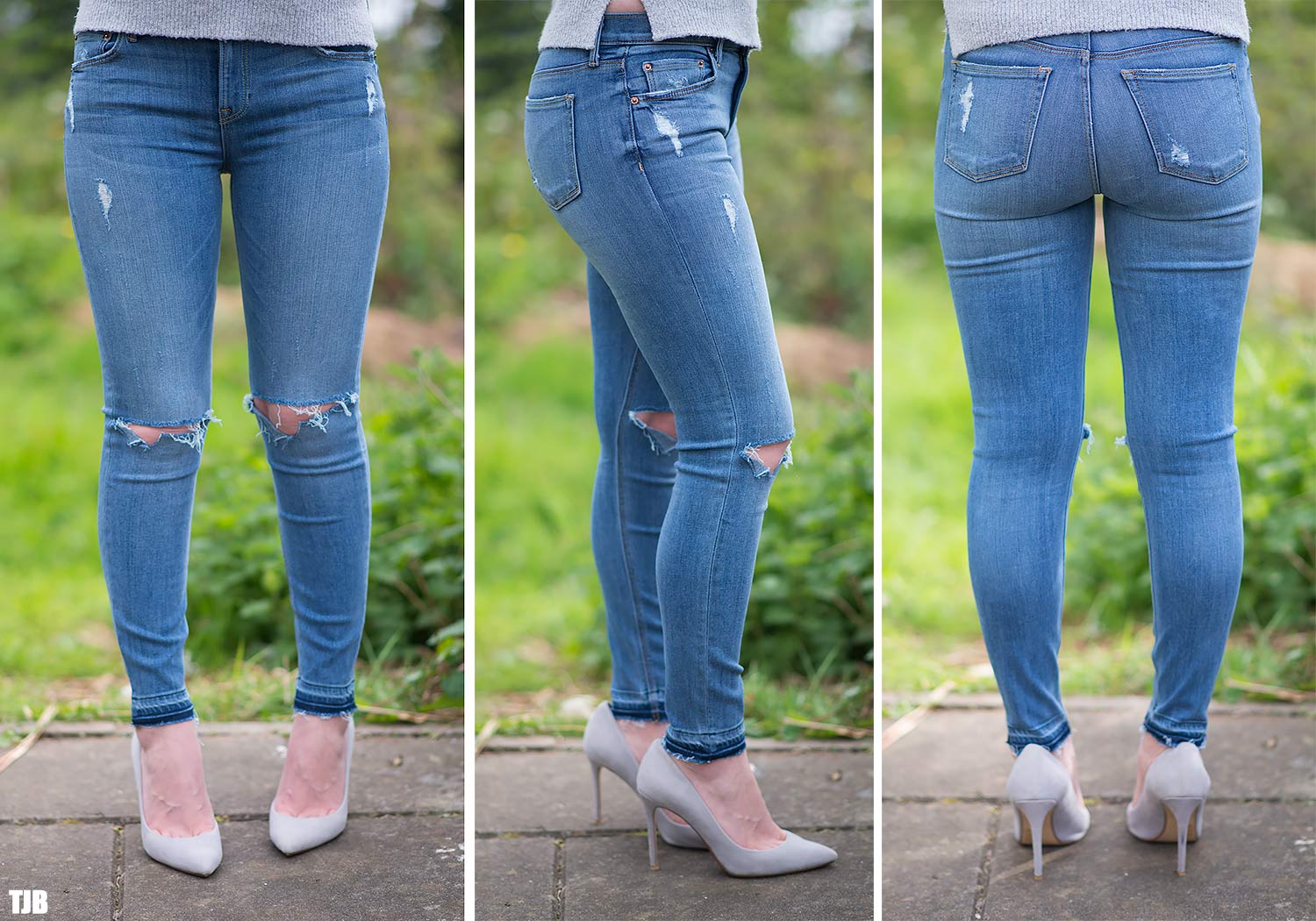 My denim review this week is on the GRLFRND Candice Super Stretch Skinny Jeans in Love Song. You might remember that I did a review on the GRLFRND Candice in Love Hangover before, but I've got a new pair and they fit different to those since they're cropped, so I'm excited to review these. The brand has been gaining popularity since celebrities have been wearing them a lot, so I think it's only a matter of time before they're spotted on many more people too. Check out my review below!
The Fit – For the fit of these GRLFRND Candice Super Stretch Skinny Jeans, I would say they were a mid rise, cropped skinny. I never know where the mid rise height stops and the high rise begins, but these have an 8.5 inch rise so I guess it can be classed as in the middle of both. The inseam is 27 inches, and the leg opening is 10 inches, so you can see it makes them the perfect cropped skinny. They hit me just below the ankles though since I have shorter legs, so if you're taller, they will be cropped which is how they're intended, but if you're shorter, they will be full length or ankle length.
I actually find these jeans to be extremely flattering, especially with the back pockets as they're not too wide or too long, and they're not too small either, plus they're placed nicely apart on an angle to give a flattering look to your butt. A few people have complimented how flattering these jeans are and they even slim your legs down from the front too. I took them in a size 27 which is generally my normal size and I would say they fit perfectly, with plenty of room, which means if you're between sizes, go with your smaller size since they possibly run a little bit big.
The Wash – The wash is called 'A Love Song' and it actually has no relation to the jeans, but it's a mid blue which is quite a blue – blue, if that makes sense. It's not washed out, as I'm sure you can tell from the photos. It features whiskering around the lap area and a few spots on the inner thighs, but there's not much fading on the butt or any honeycombs on the backs of the knees. There are distressed areas all over the jeans and as you can see from the knees, there's two really large holes. I like that these are slit and frayed horizontally, but then the bottom of the rip is cut vertically as well, to create a large hole that flaps down a little bit, giving it more of a unique look. Then of course you have the undone hem which is darker around the parts which would have been folded up, making it look released and raw.
The Denim – These jeans are made from a combination of 68% cotton, 23.8% modal, 7% T and 1.5% spandex, making them extremely stretchy. They almost feel like a super stretchy legging which clings to you and is so comfortable. It's a denim that doesn't really feel like denim because it's so soft and expandable, but at the same time it looks like a jean and the cotton weaving definitely proves it is. For comfort reasons, I'm definitely a huge fan of these! I can stay in them all day without any problems or a hint of getting uncomfortable, which is extremely important to me.
The Details – These jeans are quite plain in the sense that they don't have any signature detailing on the back pockets or anything, but they do have two really open slits/rips at each knee, distressing, and raw/undone hems to make them look unique. The stitching mixes a combination of the classic orange and a yellow tone thread which complements the brass coloured rivets. Other than that, and what I mentioned in the wash section, they're very minimal and for a trendy jean with the undone hem and ripped knees, I think they're very flattering and not too over the top, which is great.
Overall Opinion – My overall opinion of these jeans is definitely positive! I LOVE how comfortable and stretchy they are, they are definitely in the same stretchy and softness department as the Hudson Barbara in Hideaway, so they're giving those a run for their money at the moment. I like how flattering the fit is and I'm loving the undone hem and knee holes, they're all great points to the jeans. I'm not overly fond of how blue they are or where some of the distressed patches are, but that's only a small issue as the blue will fade in time and the distressing can add character. If you're looking for a really comfortable jean that's lightweight for Summer as well as flattering and fun, these are it!
Shop these GRLFRND Candice Jeans at Revolve.com for $228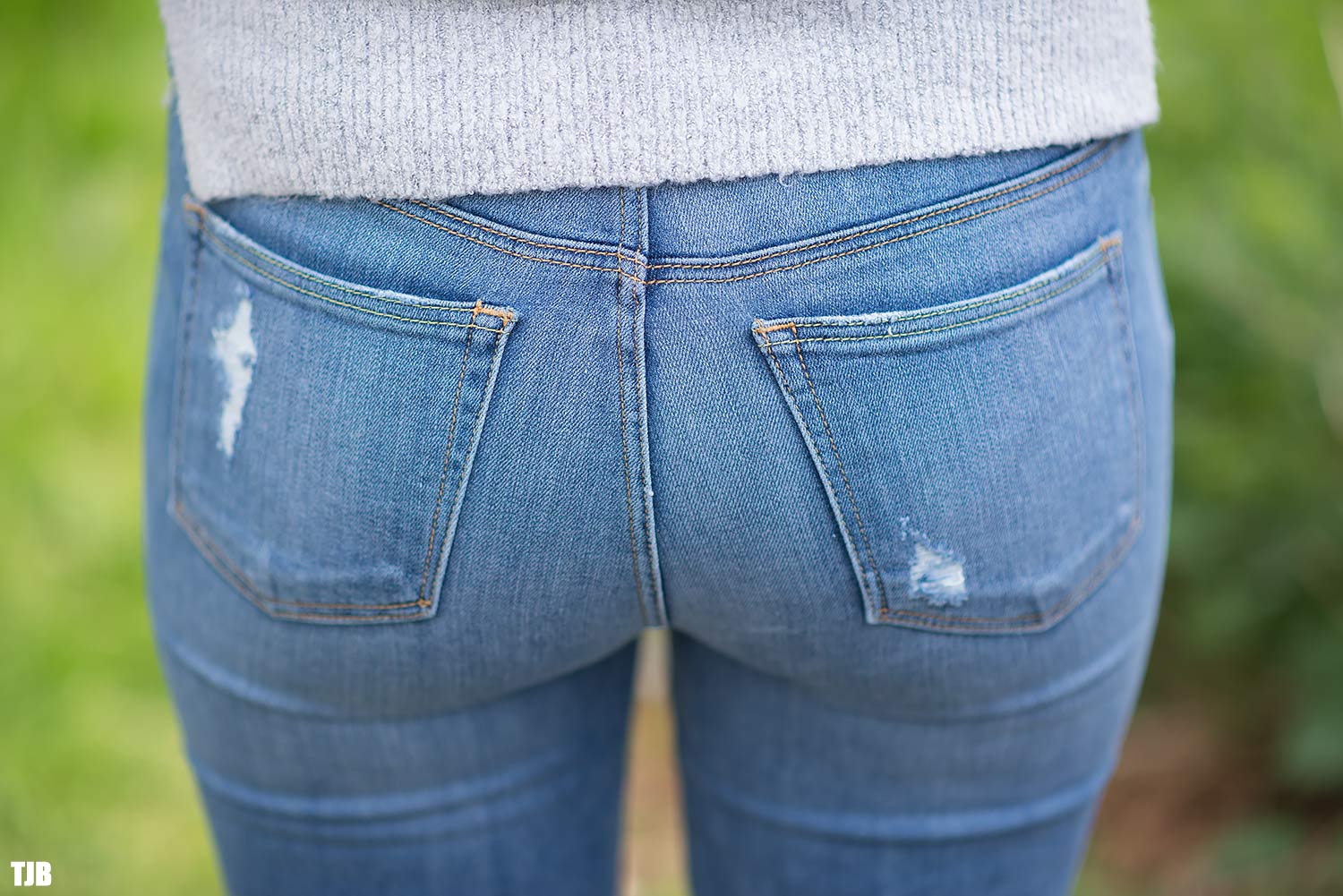 Jeans courtesy of Revolve/Opinions all my own.