My favourite artist has done it again and outdid himself! He has created even more hyper realistic detailed work – how does he make it so detailed, out of only jeans? When I first discovered Ian Berry over ten years ago, he was still sometimes looking at the history of denim, with such pictures of James Dean, with the James Dean Museum in the late actors home town, Fairmount, Indiana, or Marlon Brando. He would even do portraits for the likes of Giorgio Armani or Lapo Elkann, but then went on to use it as only his material and not about jeans. Now he has done one of another Italian, and visited history and hundreds of years back, with the man known as one of the country's favourite men. Ever. Giuseppe Garibaldi.
Known now in England by the namesake biscuit, but in his day he was a star not only in Italy, but across the world. The 'Hero of the Two Worlds' and the Father of the Fatherland in Italy, the General, Politician and Nationalist helped to unify Italy. His achievements were undoubted, however it was his look that also contributed to his fame and adoring crowds flocked to see him. In a look known as the 'Communication Style' he knew how to play the media, in ways modern celebrities could only dream of. From his travels in South America and fighting Guerrilla Wars, he brought back the Red Shirts and Ponchos however of interest here, if can you believe, well before Levi Strauss, he did it wearing blue jeans.
That would be enough to immortalise the great man in the iconic Denim Artists trademark look, but even more special it's in the city that gave our favourite garment its name. Garibaldi was an inhabitant of Genoa, the Ligurian city famed for its port and this great city's maritime links led to a melting pot to help weave together what would become to be known as blue jeans. Importing fabrics in from Nim in France (Denim) and indigo in from India, the mix would become the look of sailors as well as the Ligurian sea captain who dressed in trousers made of the tough blue cloth named "blu de Gene", blue of Genoa, thus once in English, blue jeans.
While we all wear jeans today and may not find it surprising, it was another 100 years before Levi Strauss got a patent for adding a rivet with Jacob Davis to indigo dyed work overalls and helped create what we now know as jeans, with the style and material forming differences, but the name, remained. Now Genoa, or, Genova in Italian, has set a project to make the world know about this, Genova Jeans is now a Festival and Ian Berry is an important part of that. What better combination – the world's leading artist in denim with the historic city?
The piece hung in the Museo del Risorgimento in Genoa alongside important artifacts and paintings of Garibaldi in a selected collection featuring stories and garments connected to the jeans story of the icon. It caused a great emotion to visitors who saw the work of Ian Berry, some for the first time in real life.
Readers in Sweden will note he will soon be showing at Textil Museet, the national Textile Museum of Sweden Oct 23 2021 to May 1 2022. When I first wrote about Ian Berry he was living and working in the Nordic country. Now the East London based artist will return to the country having made a name for himself around the world.
Back to Genoa and the piece was launched during Genova Jeans, other highlights included the recreation of the first pair of jeans, recreated by Diesel as well as a beautifully displayed show of their archives including Renzo Rosso's first ever garment. Italian Denim Mill Candiani showed an immersive walking installation showing how they are pushing sustainable technologies and there was a jeans street where shops decorated their windows with jeans. Lectures and panels discussed not only the past, but the future and with the support of Eco Age pushed for making the city a centre for sustainability and the future.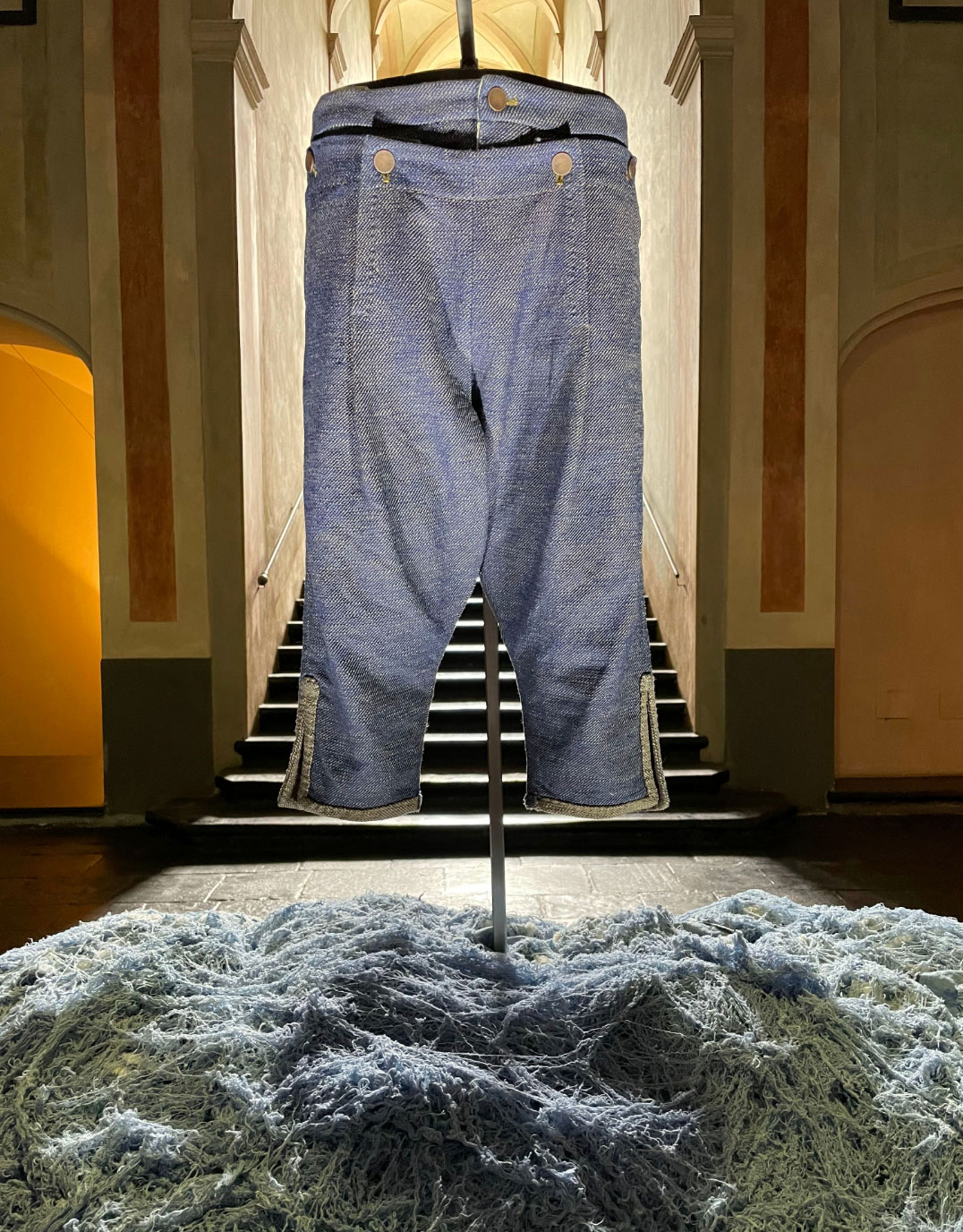 I asked how Ian found being in the Genoese city.
'Walking around you feel the history everywhere. But not so many know, outside denim people, that Genoa is the city that lent its name to our favourite clothes. It was a privilege to see many artifacts and to learn so much more by experts and historians. A highlight was seeing the Passion Canvases and is a must see to anyone in the city. I was lucky enough to have a private audience with the curator and it was emotional.

'It's been great to get to know Garibaldi more and its interesting how he wore the material that would be come to be a symbol of freedom by America.'
You can check out some photos from the festival below, and you can read more at Ian's website by clicking here. Isn't this denim portrait incredible? Ian's talent knows no bounds!