Fashion trends come and go, and it's no surprise that there's always new denim trends coming on the scene, to push the old ones out. Some remain, staying the course of a few seasons, while others only last just the one, but I've rounded up 5 on trend denim styles for Autumn 2021 and they're popping up everywhere! Especially the dad jeans and the crossover jeans – they are must have denim! Fashion Week has proven that, as they're all we're seeing! Take a look at these 5 denim trends below!
Dad Jeans/90's Jeans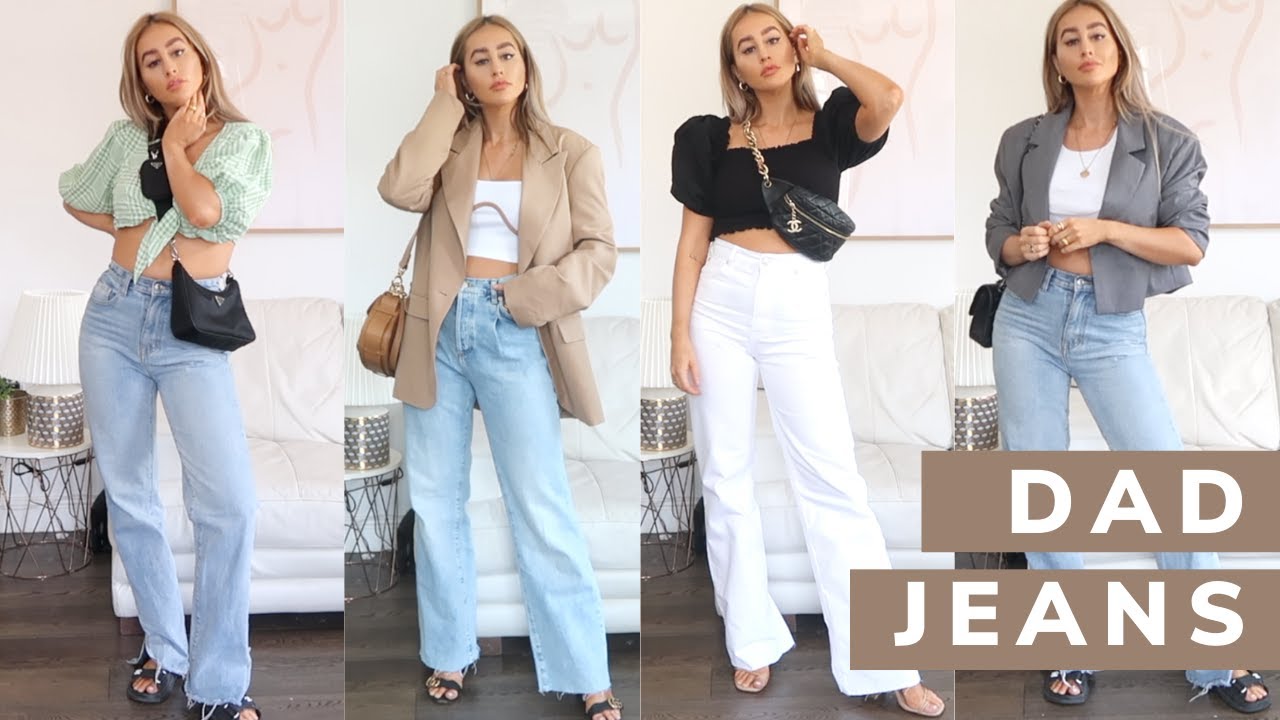 The dad jeans trend has been around for a few months now, and it takes it much further than mom jeans. For those of you who love a looser fitting jean, dad jeans are the option for you! It's basically like going back to the 90's or wearing a pair of men's jeans that are huge on you. They're often too long, really wide in the legs, and paired with sneakers and more of a masculine ensemble. I've seen plenty of fashion magazines covering them (see how to style dad jeans here), as well as some YouTube videos, so if comfort and style is what you're looking for, dad jeans are it! We recommend choosing the vintage and faded light blue washes, or you can opt for white. The lighter denim looks best!
Mom Jeans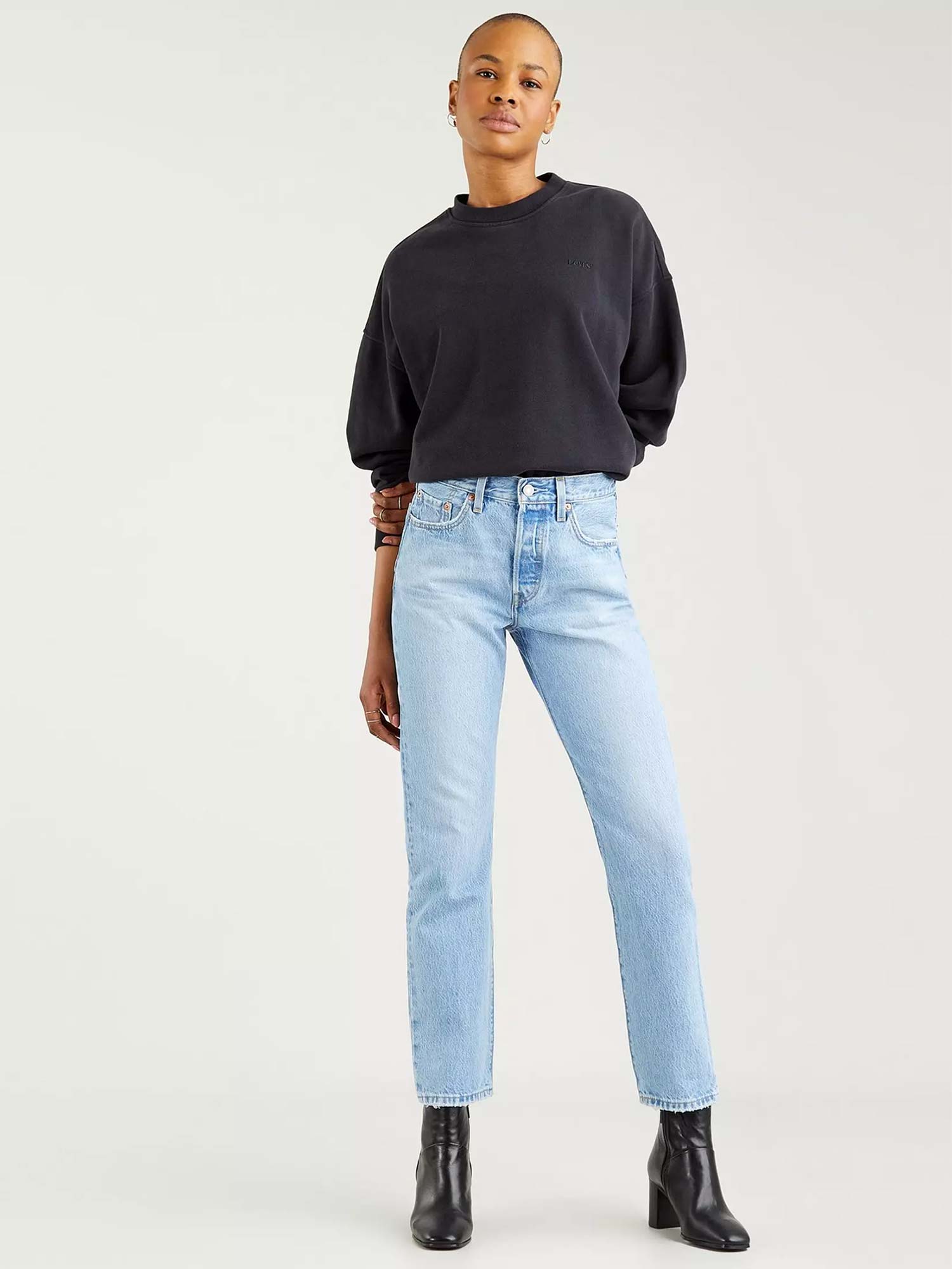 Mom jeans are still very much on trend! They have been on the scene for the last few years and I'm happy to report that they're not going anywhere. The key is keeping them slim fitting and not to jump into the dad/90's jeans trend, as they're two separate things. You want to go for a high rise, a vintage light blue wash, a rigid denim, and a cropped length so that it hits above the ankle. Levi's 501 are great for this, just make sure they're more on the fitted side. I remember doing my initial mom jeans post back in 2016, so they are standing the test of time! Not to mention, all of the celebs and influencers have adopted them and they're somewhat of a staple trend now!
Crossover Jeans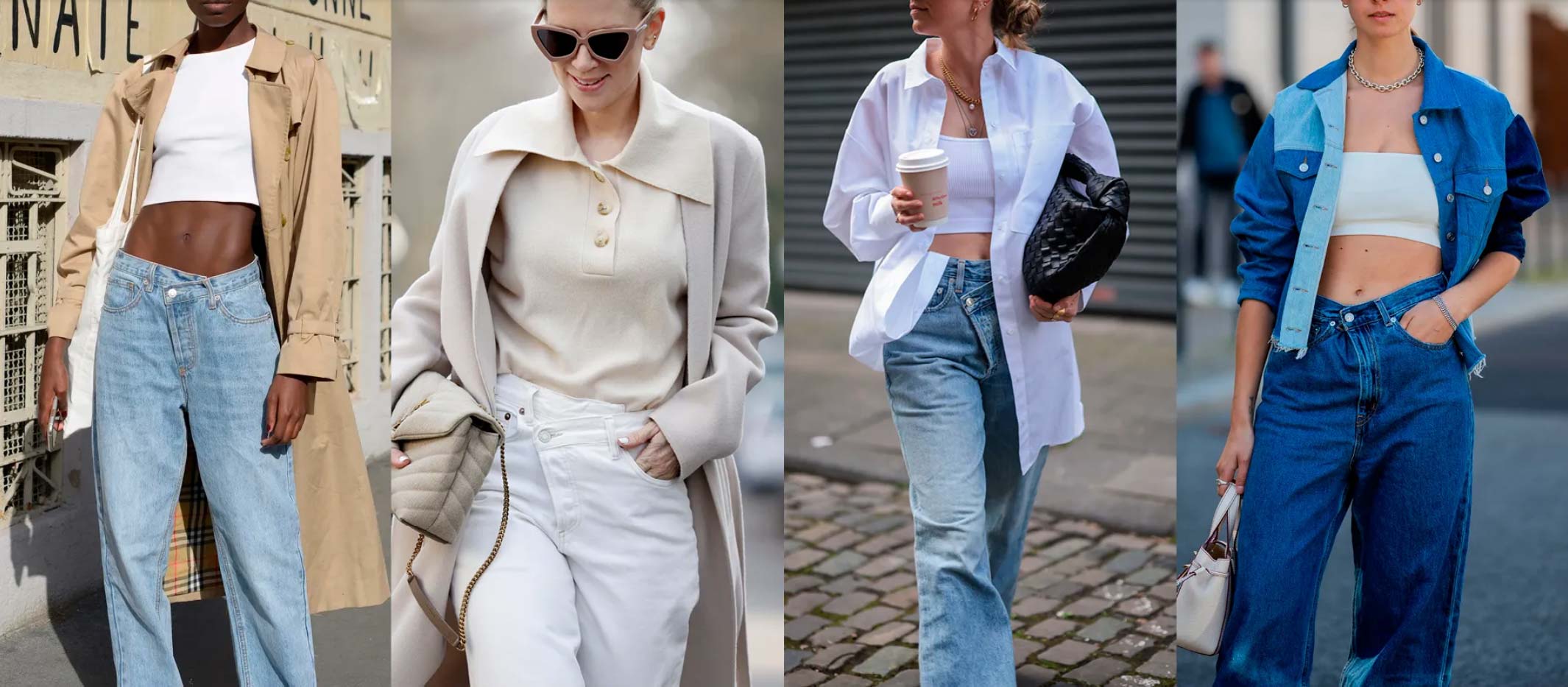 If you have a social media account, specifically Instagram, you have definitely seen crossover jeans or criss-cross jeans already! They are absolutely everywhere on influencers, bloggers, and celebrities. I personally haven't got a pair yet, but I definitely need some. I think the placement of the button is really cool and they look great when they're worn looser, so the waistband isn't too tight – it really helps the cut fall nicely. Always wear them so that the waistband is showing, like in the pictures above, if you want to be rocking this seasons hottest denim trend!
Flared Jeans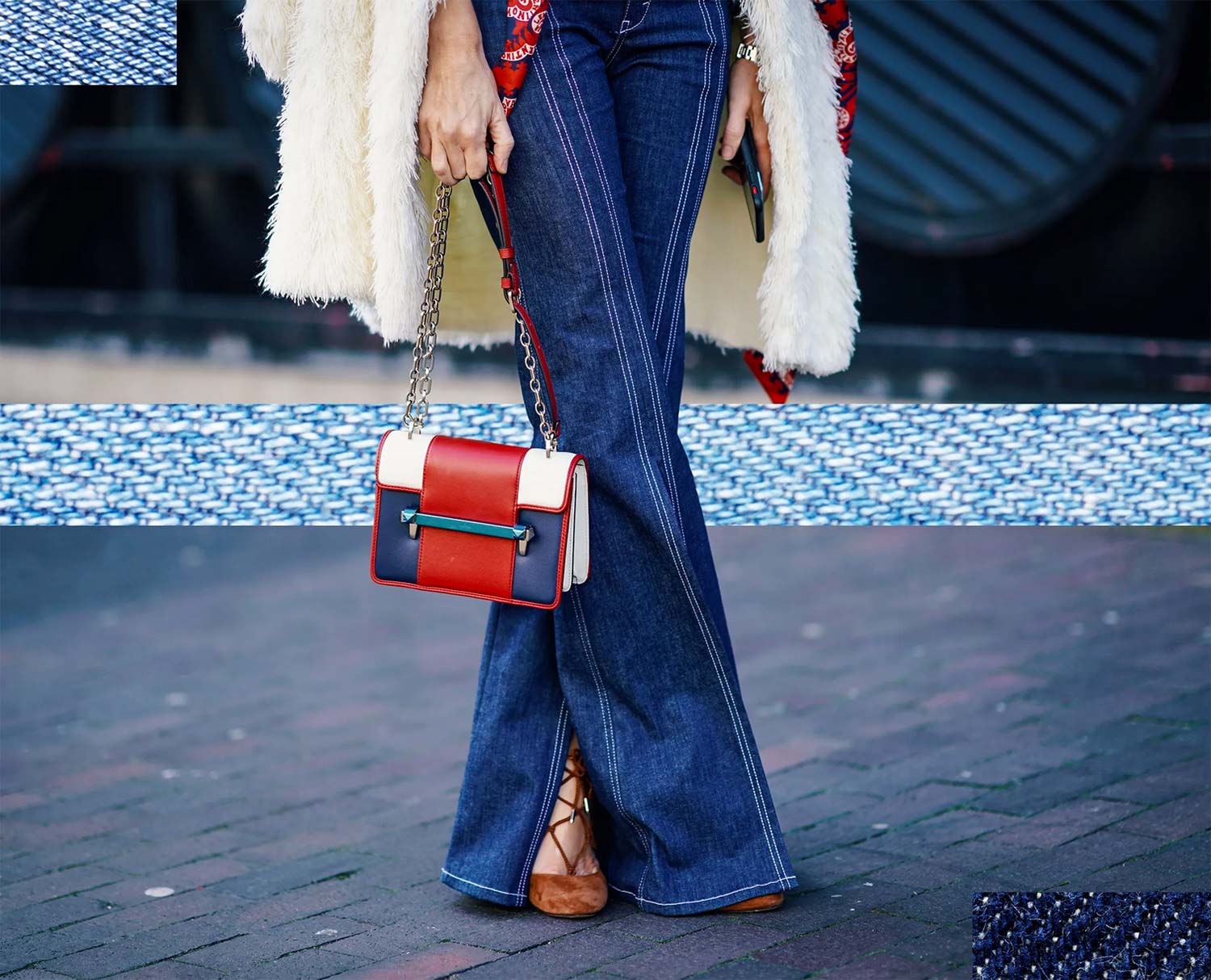 Flared jeans are back again! They always do the rounds every few years and I find that they just hang around for one season or so, and that's it, however… this time around for Autumn 2021, they are huge! I've been seeing them everywhere and women are sick of the skinny fit, opting for looser jeans all around, as you can tell from this blog post. Unlike dad jeans, I think the coolest way to wear flares is with heeled platform shoes as it really elongates the legs and allows the jeans to fall correctly to the floor, allowing you to rock the silhouette perfectly. Layering works wonders for flared jeans, and keeping your tops minimal and sleek is also key, to help the proportions of the entire outfit.
Skinny Jeans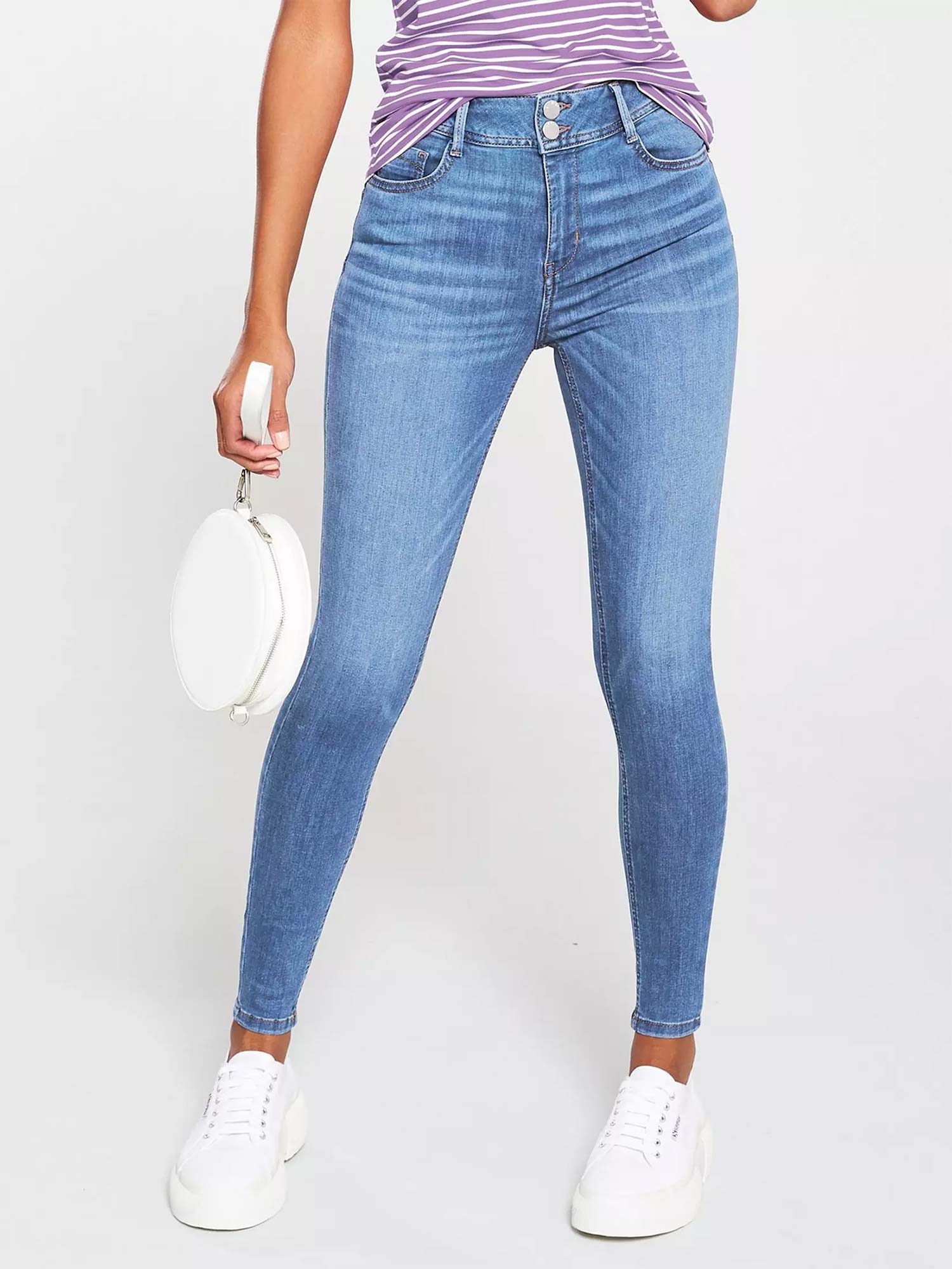 Skinny jeans ran themselves out of the trend category and into the staple/classic section of denim. There was a time, way back when, skinny jeans were just a trend item and everyone went crazy for them. Now, they are classic cuts that every single brand has a pair of, and usually the option we take when looking for a non trend pair of denim. With that being said, that makes skinny jeans perfect to include in this roundup because Autumn means tonnes of over the knee boots! You can't wear over the knee boots without a good pair of skinny jeans to tuck into them! That's why we love them! Usually the best choices in terms of washes for skinny jeans in the Autumn is a plain blue or plain black. You don't really want to opt for anything with distressing, rips, or prints, as the boots will clash. The pair I shared above are by V by Very and they're perfect for mixing neutrals and browns with! If black is your preferred option, you can try these River Island black skinny jeans too!