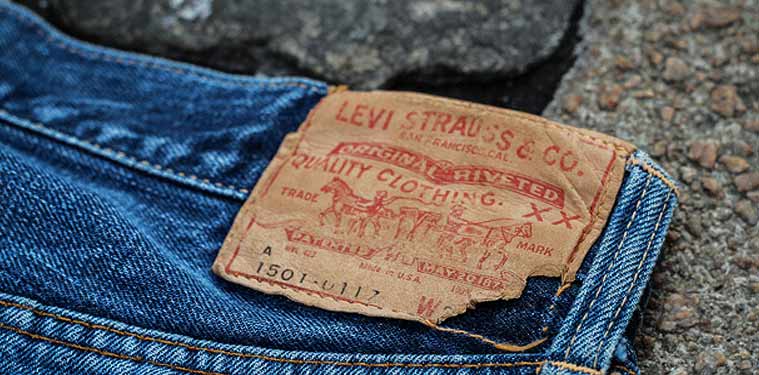 Here is our third guest written article from a reader who loves The Jeans Blog and adores denim. This one was contributed by Tommy Stewart, giving you the history of the Levi's 501 and why it's such a staple and iconic jean in today's world. We hope you enjoy it and look forward to more guest written articles from fellow denim addicts, such as yourself. Lorna.
When it comes to denim there is nothing more iconic than a pair of Levi's 501s. Everything from the red tab, to the rivets, to the stitching on the back pocket makes Levi's the most recognizable brand in denim. They've been part of the daily uniform of so many people it's impossible to deny them their rightful place as one of fashion's most vital brands.
501s, along with the Levi's brand, has gone through its ups and downs over the years. Fashion trends have come and gone, yet nothing has been able to stop Levi's jeans. The 501 lives on and perseveres as one of the most important staples of fashion. I believe one of the key reasons 501s have endured through various generations is their versatility. Levi's jeans have served a variety of purposes throughout the years, filling a number of purposes best suited for the times.
The brand started out primarily as a work garment, meant for those who needed a strong, durable pair of pants as they put in a hard day's work. The sturdy material with the added strength of the rivets ensured that the work pants were capable of holding up to the rigorous work being done by the laborers. This original purpose was one of functionality. At the time the look or fashion of the pant was essentially immaterial.
The ability to help the worker get the job done and to hold strong made Levi's a successful brand. 501s evolved from a functional work garment into becoming a prominent fashion statement; a garment of choice for some of society's most beloved figures in popular culture such as the rebellious James Dean and the iconic Marilyn Monroe. This helped launch the 501 jean into becoming a fashion staple in so many personal wardrobes for both men and women. Levi's in a very real way became a vital part of daily life for so many people.
Although 501s maintained their functionality and ability to take a beating during a hard day of work, they became a garment for everybody, whether for school, work, or leisure. This was reflected throughout the 80s and 90s as the jeans not only made their way into the daily lives of countless individuals, but also made their way as well into an array of movies, television shows, and music videos. It's nearly impossible not to spot a pair of the jeans being represented in popular culture during this time. From episodes of Seinfeld or Friends, to memorable album covers like those of Bruce Springsteen, Levi's were consistently being represented. At their height, Levi's 501s were a part of everyday life, establishing their place in American and international culture.
Over the years, the number of denim brands has grown exponentially, offering an almost endless variety of fit, style, and quality. Through it all, Levi's 501s remain as the standard-bearer when it comes to jeans. A recent revival of vintage denim has given the 501 new life as people rush to grab a pair of the historic jeans, hoping to make them their own. Each pair of vintage Levi's 501s carry with them the unique life experiences of those who have worn them. Fortunately the marks, battle scars, and memories of those who have worn them carry on to the next person, who in turn gets to leave their unique mark on the beloved pair of denim.
Some of the contemporary titans of denim fashion, including Chiara Ferragni and Rachel Roy, proudly keep the flag flying for vintage 501s, owing the look and giving the 501 continued vitality as a fashion staple in today's world. So much so, a brand called RE/DONE Levi's have taken old Levi's and made them more modern, all while carrying that vintage appearance. Urban Renewal at Urban Outfitters do the same as well, making the fit more modern, but keeping the vintage wash and denim.
One of the most prominent trends in today's denim world is raw denim. The appeal to raw denim is obvious, as those who purchase a pair have the opportunity to make the jeans completely their own. The wash, whiskering, and fit are custom to those who are willing to put in the time, shaping and molding the jeans to become their own. Here Levi's 501s were well ahead of the curve. For generations the Shrink to Fit 501s gave us the opportunity to make a pair of jeans completely our own and unique to our lives and experiences. These jeans were used for the purposes mentioned above, whether one needed a strong, sturdy pair of jeans to work in, or they needed a fashionable garment while out and about. Levi's 501s were, and are, second to nobody when it comes to making a pair of jeans yours.
As long as there is denim, the Levi's 501 jean will remain one of the ultimate icons of fashion. The evolution of the 501 showcases how versatile the garment is. Instead of fading into obscurity, they have gone from work pants, to part of the uniform for society's rebels, to an everyday fashion staple, to a part of the current revivals of vintage and raw denim. The brand recently brought out a new version of the famous cut called the Levi's 501CT and it's a more modern fit on the classic, so there's no stopping them! Nobody will be able to match the unique evolution and history of Levi's. Long live the 501!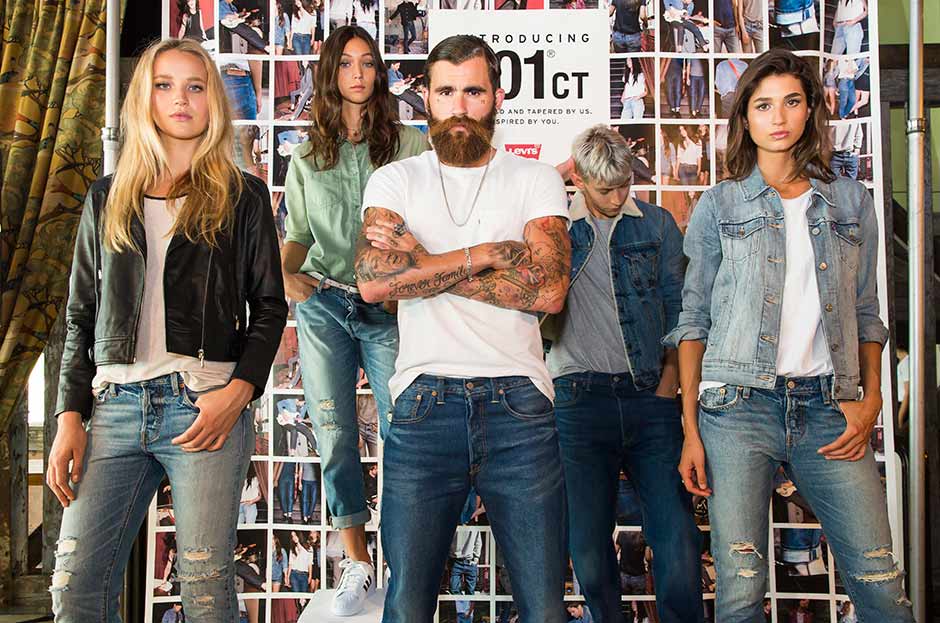 Author Bio: Tommy Stewart is a denim lover and a huge fan of Levi's Jeans. He wrote a denim tales story for us earlier this year on his favourite pair of Levi's 505 Jeans, which you can read to get to know him better. You can follow Tommy at his blog, TheDenimDude501.com and on Twitter @DenimDude501.