Why Men Should Only Wear Skinny Jeans
After the great response for the bootcut jeans post, I wanted to do one for the men and I think it's quite controversial. I'm a strong believer that men should only wear skinny jeans. I have multiple reasons behind this, so I thought I would turn it into a blog post.
Skinny jeans on men, for me, are the best fit. I'm not saying they have to be super skintight like a legging, but somewhere between a very slim straight, and a fitted skinny is the best. Much like women's jeans and how the men's denim trends follow them over time, bootcut and flared jeans are just not a thing for men anymore, which I am happy about. I've never thought bootcut jeans look good on men at all as I find they have a strange silhouette that doesn't suit the male body.
Another reason that skinny jeans on men look better is because you actually see the shape of the legs, which is highly flattering. Whenever a guy is in baggy jeans, it looks messy and untidy, there's nothing classic or sleek about it (goodbye 90's!). Loose and ill fitting jeans always swamp the body and are not flattering to the male body shape at all. Much like women wearing skinny jeans shows off their figure, it does the exact same thing for men and keeps them looking proportionate.
Skinny jeans on men leave room to show off your footwear choice as well, so if you have some great sneakers, boots, loafers, driving shoes etc, your skinny jeans will show these off perfectly! There's no bulky denim fabric covering them up, staining them blue, getting wet in puddles etc and ruining the shoes. It's just a smarter choice all round.
I'm hoping that skinny jeans for men never, ever go out of fashion and they remain a thing, permanently. I know women's have, so men's should be the same. I think it's one of the best denim trends there is because it's so flattering, stylish, and even considered sexy actually when there's a great fitting pair of jeans because of how much they show off the male frame. The pictures I included here of male fashion bloggers really highlight how good they look as they can be worn with anything, as you can see.
Obviously there are some exceptions, if you're an older/mature guy, skinny jeans might not be for you, but my recommendation is to opt for a slim fit instead, don't choose anything baggy. It's much smarter to get a good fitting pair of jeans. If you're a guy that's bigger, and skinny jeans make you feel uncomfortable, that's ok, my recommendation is a straight/slim fit, worn a size up. This way you still have that slimmer leg, but it's not too fitted against the skin. Obviously if you're using them for their original purpose of work and hard labour, a loose fit is fine, but for style purposes, I don't think anything but a skinny/slim fit is ok these days. It's skinny all the way guys! What's your opinion?
I think the slimmer the better, to an extent, so I know a lot of you men wear women's skinny jeans to get a more comfortable fit. Men's jeans can often be thick and stiff, while women's are really stretchy and lightweight, which makes them a great option for men to choose. I like that the boundaries in fashion are being pushed a lot these days! Let me know your thoughts!
Buy men's skinny jeans at Topman.com and Asos.com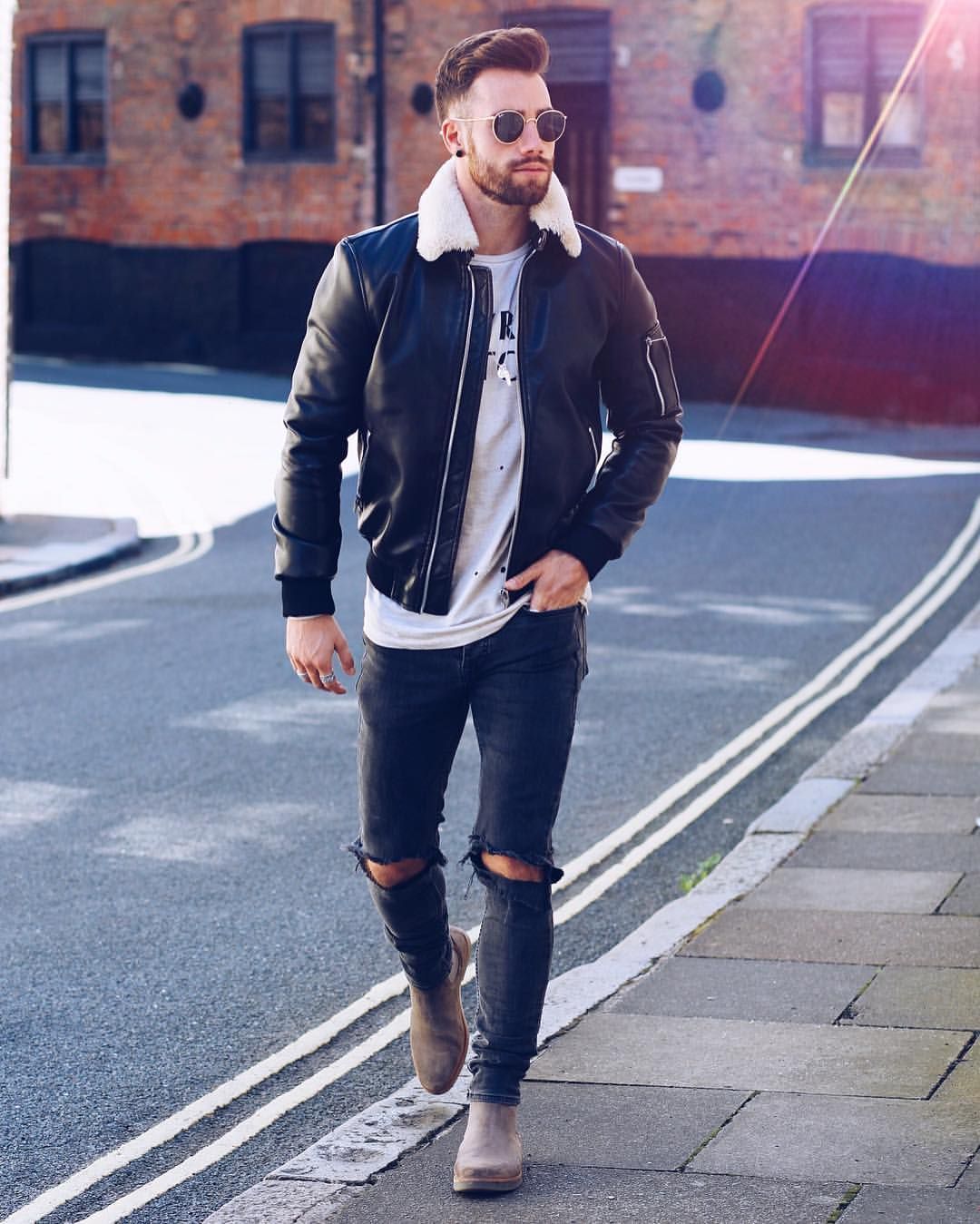 Image Credit: Your Average Guy, Rowan Row, Chez Rust, Magic Fox & BACKGRID.