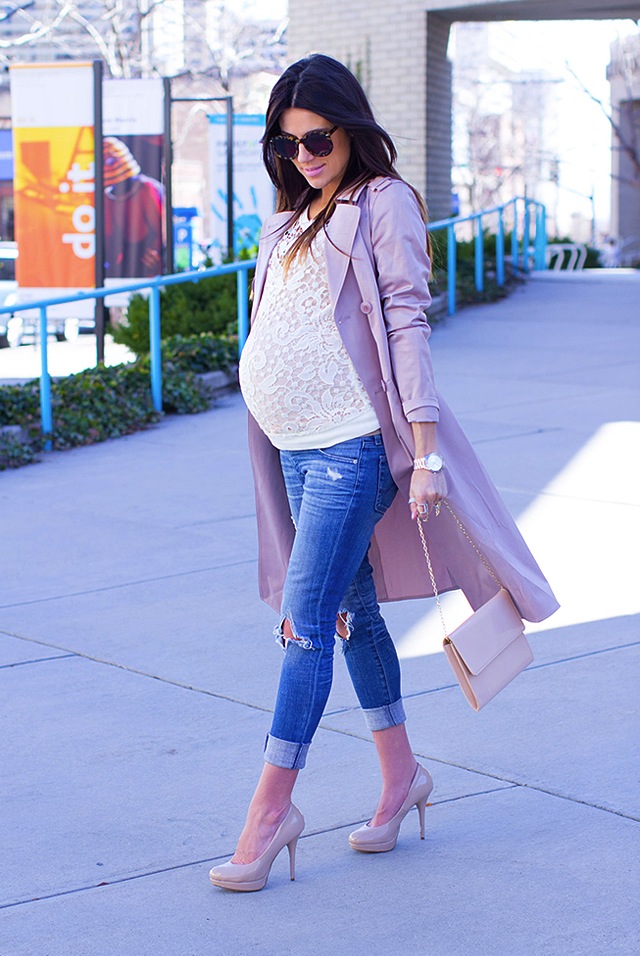 Who says that you have to sacrifice style when you become pregnant? It's a joyous time of your life, welcoming a new baby into the world, one that you will be carrying for 9 months of your life, so why does it mean you have to look frumpy in baggy shirts with leggings just because you have a little bun in the oven? I know comfort is the main factor when it comes to pregnancy, which is why so many ladies opt for looser fitting clothing, but I've seen so many celebrities, bloggers and women in the street looking fabulous and stylish in their maternity wear, especially when it comes to jeans!
So, what's the secret? So many of you might think that jeans would be one of the most uncomfortable choice of leg wear you can think of when you are pregnant, but that's where Blossom's range of Maternity Jeans comes in. Blossom Mother & Child is a London based maternity boutique and they specialise in maternity denim! Not only do they travel the world to source out the best and most comfortable designer pieces and give you a personalised, tailored to your needs, shopping experience, but they have an eye for choosing the hottest maternity pieces out there. They even have their very own maternity denim brand called, you guessed it, Blossom!
One thing that really got me interested in Blossom though was the fact that they can take regular premium denim from the likes of AG Jeans, 7 For All Mankind, J Brand, True Religion, Citizens of Humanity etc and turn them into maternity jeans with their expertise and skills, creating an elasticated Blossom band! How amazing is that? I'm going to be finding out more about this over the next few weeks, but this means that you don't have to sacrifice style in the slightest when it comes to jeans! You can have the current jeans of the season (even the ones that are widely worn among the celebs) as maternity jeans that fit you perfectly! Take a look below at the 8 pairs of premium denim maternity jeans that I chose.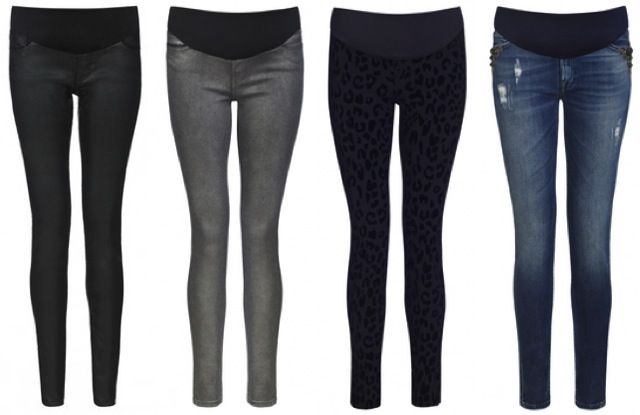 I chose these 4 pairs first as I wanted to show that you can truly keep up with the trends even though you are expecting. The first pair is the ever popular AG Leatherette jeans, so they give the faux leather appearance, how much hotter can you get? The second pair is J Brand's coated silver jeans, so you can have a little more fun with your look! The third option is another from J Brand, it's their Black Cat jeggings, featuring leopard print to show your more adventurous side, then finally, I chose the 7 For All Mankind HTC Rocks & Stones skinny jeans. These have crystals and studs on the sides of the pockets so they add that little bit of sparkle to an otherwise plain pair of jeans!
Now, keeping things classic, the first option is the 7 For All Mankind Silk Touch skinny jean as it's a great mid blue with fading, everyone needs at least one, if not 5, pairs of jeans like these in their closets! Secondly, we have the AG Jackson Tuxedo skinny jeans, so the black is one of the most classic colours when it comes to denim, but the Tuxedo style is flattering with the panelling. Third is the AG Stilt in Cream as everyone always needs something a little brighter for the Summer months and just because you are pregnant, it doesn't mean you have to go without! Then finally, I've opted for the True Religion Shannon skinny jeans in a darker blue wash with whiskering. These are extremely classic and I know these would be worn with so many things, over and over again!
Styling Your Maternity Jeans
Now you know that you don't have to miss out on the current denim trends due to your little bundle of joy growing inside you, take some of those gorgeous new premium denim jeans and style them like these fantastic bloggers and celebrities! I think they look amazing and this is definitely a way to stop yourself feeling frumpy, hefty and bulky during your pregnancy. You truly will be glowing!
Bloggers featured are: Cute and Little, Pink Peonies and Hello Fashion