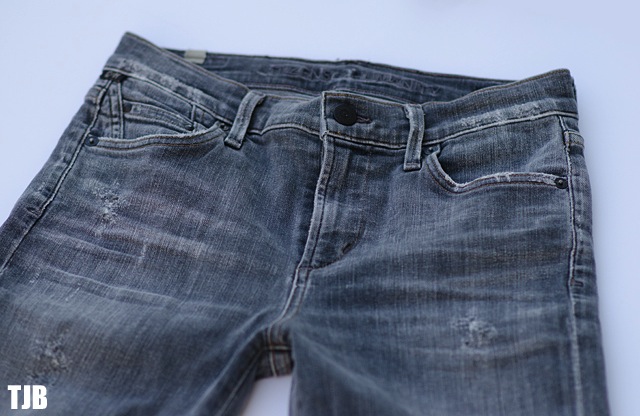 I'm kicking off January with the first review of the year, talking about the new Citizens of Humanity Rocket High Rise skinny jeans in London Calling. I originally saw these jeans online a few months ago and I also spotted them on Cara Delevingne a couple of times around London, which is when I knew I adored them! I'm lucky enough to be able to review these gorgeous jeans for you and I couldn't be more excited!
Those of you who know me and read my denim blog regularly will know that Citizens of Humanity is one of my favourite brands (read my interview with Citizens of Humanity here) and the Rocket cut is actually in my top 3 cuts of all time, almost at the number 1 spot! It features a high rise of around 10 inches, so it's perfect for holding you in at the right places, eliminating muffin top and looking great with longer or shorter tops! The knee area is about 13 inches and the leg opening is 10 inches, so as you can see from this, these are very skinny. The inseam on these is around 30-31 inches though, so they are a little on the longer side when it comes to shorter legs, like mine. So if I could change one thing about the fit, it would be the inseam length, but I know that Citizens already do a Rocket Crop, just not in as many washes unfortunately, but I'm hoping they will be releasing more as the Spring/Summer months come in!
The actual Rocket fit is really flattering too though, even with the higher rise, they keep the pockets in the usual position which makes me happy. I really don't like it when denim brands raise the pockets up on high rise jeans so they don't sit where they are supposed to. It's highly unflattering on the butt, but these fit well. They sit just as they should, with the bottom of the pockets at the crease of your butt cheeks and they are the right size to be flattering, which is something I always look for too.
Now getting to the fabric, unlike a lot of the super stretchy jegging or legging jeans on the market right now, these have a classic 98% cotton and 2% polyurethane blend, with a thicker fabric weight, so they feel a little more structured and durable. They don't have as much stretch as the Byron Bay or Axel washes that I own, but they are stretchy, incredibly soft, surprisingly comfortable for a thicker denim and really nice to wear. I've worn these for longer periods of time and the main thing I look for is comfort, so these definitely held up their end of the deal in that department. I wasn't uncomfortable at all, even though they are thicker and a little stiffer, they are still easy to wear. Sometimes now when I look back at the denim that I used to wear, I can't believe I ever wore such thick, rigid pairs and thought I was comfy!
In terms of sizing, I took a size 26 which is my usual Citizens of Humanity size and they do fit me quite tightly. They feel tighter than my Axel Rocket jeans, but the fabric blend is completely different between the two, since these have less stretch than those. I would say they run true to size, just a little on the more fitted side since they are a thicker fabric. They will stretch out a little bit too though, which I'm waiting to happen at the moment so they fit a little better.
Now, the all important wash. I loved the name of these 'London Calling' not only because I'm English and I adore London, but because it's something different and fun. It actually reminds me of the nitty gritty more old fashioned London, around the markets and more of the underground scene with the dirty grey that it has to it, combined with the rips. It's really fashionable though.
I love grey jeans, but I do find grey one of the hardest washes to get right because often they can look non authentic as well as 2D and flat, but I'm happy to report that Citizens of Humanity got it right with these. They have depth to them due to the whiskers around the lap area, the backs of the knees and the more faded appearance down the legs, especially around the shin and calf department. Usually grey jeans come in plain washes, so it's nice to see these with some rips and distressing all over them, giving them more of a worn in and roughed up feel. I think they did a great job with the rips too as they do look really well done and quite authentic actually, which is something that I am pleased to see.
Overall, I think these are really nice jeans. When I first got them out of the package, I was pretty impressed with the vintage and more rough vibe they have to them, but I find it to be a lot more creative since it's in a grey wash and not the usual blue. I love that about them. Coupling this unique wash with the flattering and gorgeous fit of the Rocket, I'm really happy with these jeans! I don't have modelled shots of them just yet, but I will do soon so I will share those with you as soon as I have them, but for now, you can see the close up shots of the jeans laid flat and hanging up. What do you think of them? I would love to know! If you love them, buy these jeans online at Revolve Clothing and Singer22.